Keeping Cool with Frozen Desserts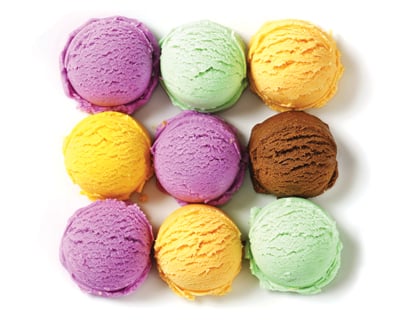 Certain foods evoke fond memories of summer as a child. Gelato and snow cones fall into that category. For those who grew up getting a snow cone as a reward on a hot summer day, there are few foods out there that conjure the flavors, scents and memories of childhood as well as this cold, sweet treat. Perhaps the use of Styrofoam cups revolutionized the snow cone as opposed to the original paper cones that usually didn't make it through the full eating of the treat without sagging and tearing. Say what you will about Styrofoam, but it does keep a snow cone longer and fresher.
The variety of textures of ice, combined with more intense flavors, has earned loyal followings of certain snow cone establishments by snow cone aficionados.
Gelato is newer to the game for most in Louisiana, but it has quickly earned a place in the hearts, minds and stomachs of those who enjoy a little splurge in the afternoon or late night.
Carpe Diem! Gelato-Espresso Bar
812 Jefferson St., Lafayette
(337) 534-4155
Carpe Diem is Acadiana's crown jewel of flavorful frozen treats. Silvia Bertolazzi, a native of Italy, has brought the art of gelato-making to Acadiana. Her gelato shop has proven to be a hit across the region for its authentic gelato tastes and texture combined with its local flavors. Bertolazzi uses as many local ingredients as possible to create traditional and unexpected, seasonal flavors, like mayhaw and Satsuma.
Locals love the shop not only for its delicious gelato and pastries, but also for its vibe. Carpe Diem is simply a nice place to be. Bertolazzi's attention to detail, even beyond the complimentary cucumber water and crayons for kids, is notable. For example, by installing Italian style toilets that conserve water and playing "Learn Italian" CDs in the bathrooms, she makes a statement that Carpe Diem is not just a pretty face.
Her dedication to sharing her gelato and culture has earned the praise and patronage of many.

---
Other gelato places to try in Acadiana:
The Lab in River Ranch
1042 Camellia Blvd. Suite 6, Lafayette
(337) 889-5782
Desserts (in L'Auberge Casino Resort)
777 Avenue L'Auberge, Lake Charles,
(337) 395-7777
---
Snow Cones
Sno B's Express
426 Roberts Ave., Jennings
What do you get when you combine an old caboose with a snow cone stand? You get the Sno B's Express in Jennings. The joint has traditional versions of snow cones, but they take it a little further with flavors like dill pickle snow cone. They take the juice from a dill pickle jar and pour it over the snow cone ice.
Yes, you read that correctly.
The dill pickle snow cone has a loyal following. They sell out of them on a regular basis. So the lesson here is, if you want a dill pickle snow cone, get to Jennings early. (By the way, it comes with a dill pickle on the side.) On the non-pickle side of the snow cone business, at Sno B's, when available, they will "stuff" your snow cone with fresh berries.
Red Barn Snow Cone
301 E. 15th St., Crowley
(337) 783-1571
The Red Barn in Crowley has been serving snow cones to generations of children and adults and continues to be a popular choice.
Matt Lyons of Jennings is a loyal fan who prefers the Popeye flavor. Anyone who sees someone who has eaten a Popeye snow cone recently and is paying attention generally recognizes the telltale green. Now that Lyons has grown up and is working, he says he has to select a less obvious snow cone flavor choice.
"Normally, now I have to go with the clear," he says. "But I really like wedding cake and the strawberry cheesecake is on time. However, these days, I normally go clear cherry or strawberry. If you want to get really fancy, get the cream on top."
Patti Spell Broussard grew up going to the Red Barn for special treats. To this day, she loves to go back.
"The Red Barn pink lady is my favorite," she says. "It's delicious and they're generous with cream topping. The Red Barn is all about childhood memories for me!"
Cajun Sno
4303 Johnston St., Lafayette
(337) 981-3342
Cajun Sno is a Lafayette classic. If the sun is shining, there is sure to be a 20-30 minute wait (at least) at the Johnston Street "sneaux" cone icon.
"Their line always makes me happy," said Jeannie DeRoueun DelGreco. "It cracks me up that people will wait in a 20-car line for snow cones!"
It may come as a surprise to many, but Cajun Sno serves more than snow cones.
"I love their snow cone, but when I was pregnant, all I wanted were their nachos," said Anna Maragos Kedinger of Lafayette. "You can't go wrong with $2 nachos and they're open year round!"
Juju's Great Balls of Ice
205 S. Thomson Ave., Iowa
(337) 660-4627
If you're in Iowa and needing a snow cone hookup, Juju's is the place to go. Juju's has a loyal following for its traditional flavored snow cones and is making a name for itself with sports-inspired snow cones. They have a black and gold snow cone in honor of the New Orleans Saints and a purple and gold one for the LSU Tigers.