Hugh Thompson's Broad Shoulders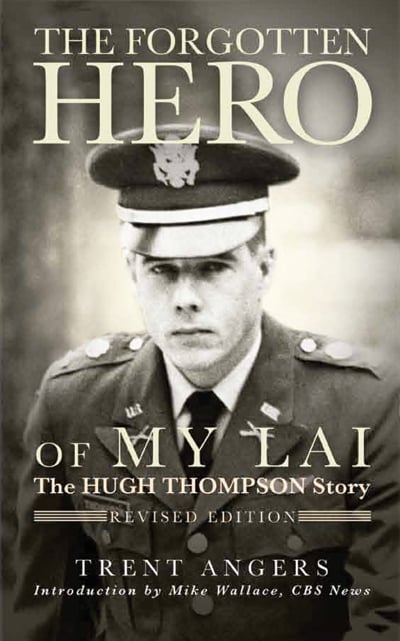 One of the high points of my career in journalism has been the privilege of writing the life story of Vietnam War hero Hugh Thompson of Broussard.
He was the United States Army helicopter pilot credited with stopping the My Lai massacre – one of the darkest chapters in U.S. military history. In this shocking episode of March 16, 1968, some of our own U.S. soldiers slaughtered 504 unarmed, unresisting Vietnamese civilians, including women, children and old men.
Thompson's heroic action was the silver lining around this dark cloud that hung over our country and our military for a long, long time.
I wrote extensively about Thompson's courageous behavior in my book, The Forgotten Hero of My Lai: The Hugh Thompson Story. It was first published in 1999, and the revised edition was issued earlier this year.
Not only was Thompson a hero for what he did on the battlefield, but also for what he did in the courtroom as the Army's star prosecution witness against the butchers of My Lai. He was under intense pressure to be quiet about what he saw. But he kept testifying in his quest for justice. For a year or more, he served as a professional witness for the Army; this became his duty as a soldier, and he did his duty with courage and resolve.
Among those who didn't want U.S. servicemen prosecuted for war crimes at My Lai was President Richard Nixon. I suspected this was the case when I wrote the original version of Thompson's biography, but I didn't have enough evidence to prove it then, so I didn't include it. However, after extensive research, study and interviews, I now have concluded – beyond any reasonable doubt – that President Nixon initiated an effort to sabotage the My Lai massacre trials so no U.S. soldier would be convicted of a war crime. And, in order to reach his goal, Nixon targeted Hugh Thompson as the witness who needed to be silenced. What Nixon did – obstruction of justice and tampering with a witness – was an impeachable offense that could have brought down his Presidency if it were known at the time.
Working with Nixon in the campaign to undermine the trials were his chief of staff, H.R. "Bob" Haldeman; one of his top propagandists, congressional liaison Franklyn "Lyn" Nofziger; and two of the leaders of the House Armed Services Committee, Congressmen L. Mendel Rivers (D-S.C.) and F. Edward Hebert (D-La.).
Primary sources for this new piece of American history include the handwritten notes of Bob Haldeman, The Haldeman Diaries, the autobiography of Lyn Nofziger, interviews with an Army prosecutor in the My Lai trials, and letters from a former Secretary of the Army and more than a dozen former congressmen.
Haldeman's notes, taken in a meeting with Nixon on Dec. 1, 1969, reveal the president's orders to stem the worsening public relations nightmare in which the U.S. government found itself beginning in the fall of 1969 after the massacre was brought to light by the news media. The notes include:
"Dirty tricks – not too high of a level … Discredit one witness … May have to use a Senator or two …"
Congressmen Rivers and Hebert worked diligently with Nixon to achieve a goal they shared – protecting the image of the U.S. armed forces at all costs.
One Army prosecutor who saw through their scheme was Col. William Eckhardt.
"Hebert and Rivers decided that these trials were detrimental to the interests of the United States of America and they tried, calculatingly and technically using the Jencks Act, to sabotage them," Eckhardt charged.
Moreover, Eckhardt added, besides trying to get Lt. William Calley and the other defendants off the hook, they tried to turn the tables on Hugh Thompson and set him up to be court-martialed for threatening the lives of fellow soldiers in his attempt to rescue unarmed civilians at My Lai.
"Another key to sabotaging the prosecution was to get Hugh Thompson," Eckhardt observed, explaining that if Thompson were to be successfully discredited and intimidated then one of the pillars of the prosecution's cases would collapse.
Throughout the trials, and during the congressional inquiry into the massacre, Thompson was greatly burdened. He felt what seemed like the weight of the world on his shoulders. He felt all alone, as though he had no friends, no support – other than his own strong character. Fellow soldiers treated him like a traitor. Members of Congress – particularly Rivers and Hebert – badgered him, trying to get him to back down as a witness. But Thompson refused to cower, despite the threat of being court-martialed and sent to military prison.
What Thompson wasn't aware of, though, was that the leader of the team working against him was the most powerful man in the world, the president of the United States.
---

Get copies of The Forgotten Hero of My Lai at www.acadianhouse.com, or by calling (337) 235-8851.
Questions or comments about this column can be addressed to tcangers@cox.net