Houston Food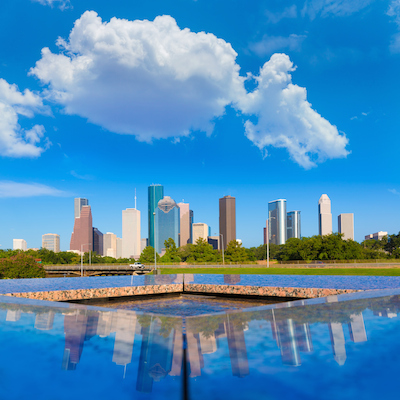 By population, Houston is the biggest city in the South, and about the 4th largest in the country. It's also the most diverse city in the country, demographically speaking, at least according to recent studies.
I was in Houston recently, only for one night, and in that time I managed to fit in two dinners and a couple of cocktails around the work that brought me there in the first place.
Here is where I have a downside to the trip; I landed at Hobby Airport at 11:30 a.m., with plans to attend a meeting that afternoon at 1:00 p.m. For 90 minutes, I waited in line, along with about 20 other people, to get the car I'd arranged to rent from Advantage Rental Cars. There were, amazingly, no non-reserved cars available from other rental companies (at least none that wouldn't cost an extravagant amount) and so all of us in the Advantage line simply waited.
The $10 or so I saved by renting from Advantage was not well-spent, as I ended up being late to my meeting, and I certainly didn't have a chance to stop and get a quick lunch as I'd tentatively planned.
Fortunately, the people with whom I was meeting were accommodating, and when we wrapped things up around 4:00 p.m., I headed to my hotel, downtown. Once I'd checked in, I walked around a bit and ended up getting a beer and a couple of appetizers at a joint called Batanga, which bills itself as a Latin tapas bar.
It was fine, and I got some great information from a few people there, but the chicken croquettes were nothing to write home about and I absolutely regret ordering the crispy pig ears with pickled chiles and cucumbers. The pig ears had a texture that suggested they were crispy at some point, but alas, no longer. The pickles, both varieties, were good, but there aren't pickles enough in the world to fix soggy pig's ears, my friends.
There were a lot of other things on the menu that looked interesting, and I was there at around 5:00 p.m. on a Monday, so my experience may not have been typical, but there's no chance I'd return to Batanga, given the options.
At this point I should mention that I have cousins living in Houston. These cousins, whom I'll call S and W, because their names are Susan and Ward, are a few years older than I am. They are also cool. They are the type of cool cousins who, when I was turning 12, gave me a cassette tape with Queen's "The Game" on one side and Steely Dan's "Gaucho" on the other. (These are outstanding popular music recordings, for those not familiar).
S and W have been singing the praises of a particular Houston restaurant – Uchi – but when I was planning the trip I thought I was going to be having dinner with clients, and an indeterminate number of clients at that. Given that Uchi is wildly popular and often completely booked, I'd almost given up on checking it out. But then the clients backed out of dinner. After being less than completely impressed by Batanga, I decided to call Uchi and see whether they could fit me in.
If you take nothing else from this article, you should at least know that regardless of how popular a restaurant is, they can often find a place for a solo diner. Even if you're eating at the bar, or in a corner, if it's a restaurant you really want to try, there's no reason not to at least call and ask.
When I called Uchi, I was told they could probably fit me in; if not immediately, then after only a short wait. That was enough for me, particularly since the place was only a couple of miles from my hotel.
I'm glad I did it, and grateful to S & W for the recommendation, because that was a great meal. I went through about 12-15 individual pieces of nigiri sushi, all of which were excellent, and a few cooked items as well. Highlights were the sea urchin roe the restaurant had from Japan and Santa Barbara, California; the various ways the chefs prepared scallop, and the "Wagyu" beef morsel I got to taste.
I ate far too much, and almost certainly annoyed the hell out of everyone in proximity to me, as I grilled the poor bastards about Houston restaurants and dining in general. I tended to hear the same themes, and a lot of the same restaurants from everyone I spoke with.
"Houston is a melting pot" was typical, and the restaurants Pass & Provision, Oxheart, Da Marco, Revival Market, Coltivare and a few others came up more than once. I was told that there are excellent Indian restaurants (Biryani Pot, London Sizzle and Himalaya each came up more than once); excellent Vietnamese (Saigon Pagolac, Pho Binh by Night), two Chinatowns (east and west) and got recommendations for Thai, Korean, Barbecue, Tex-Mex and many other sorts of restaurants.
In addition to the folks at Uchi, I spoke with staff at my hotel, folks at several bars/pubs I stopped into, passersby and just about anyone I could corner for a minute. That's how I met Tommy, a bartender at a joint called Anvil Bar & Refuge. Was it pretentious? Not other than the name; I found the people there, customers and bartenders alike, to be friendly. Fantastic craft cocktails, too, and also special because the aforementioned Tommy confirmed what I'd heard about another Houston restaurant, Underbelly.
Underbelly is run by a chef named Chris Shepherd, and what I'd heard is that his food was all locally-sourced and delicious. I have no reason to doubt the former, and can confirm that at least the dishes I tasted were excellent.
Underbelly is an odd bird, I think, because they have no license to sell liquor, yet they can sell you bottles (marked down up to %40 from what looked to me to be very reasonable list-prices) to take home. One thing I'd also been told about Underbelly is that it is best experienced in a group, because there are a lot of things on the menu that are designed to be shared. From the menu, I see that's probably true, but I was still eating alone, and it worked out pretty well regardless.
I started with grilled canteloupe with a smoked beef carpaccio and garnished with shallot jam and fresh fruit (in this case, blackberries).
Thereafter, I had what I was told is the only menu item that never comes off of the menu – the Korean Braised Goat with Rice Dumplings.
Both dishes were outstanding (though maybe not quite to the level that a few of the courses at Uchi met), and yet again I got to speak with a couple of folks in the restaurant industry about my confusion.
At Underbelly I had many of the same recommendations I'd already received, but I also got the same blank stare when I asked, "What is Houston Food?"
Typically that question was met with 2-3 minutes of silence, after which the words "melting pot," "ethnic food" and "huh?" came out a lot. What occurred to me is that as good as things are in Houston where food is concerned, there just doesn't seem to be an indigenous cuisine there, or more accurately, an indigenous cuisine apart from other cities in Texas.
If you read my articles here and in New Orleans Magazine, you know I am a "homer"; that I love New Orleans and our food and culture and food culture. But that doesn't mean I can't recognize that other cities have things we don't. The greater Houston metro area is home to around 6 million people, so it would be hard to imagine if there weren't a lot of good restaurants to go along with the chains and the greasy spoons.
It also seemed to be the case that even fine dining restaurants had multiple menu options designed to appeal to folks more into "comfort food" than cutting edge gastronomy. In some cases, the restaurants were literally bisected along those general lines (Pass & Provision, for example).
I don't really know what all of this means, and obviously 48 hours in a place as big as Houston is not enough to really get a sense of the dining scene, but I will say that I'd love to go back sometime soon to continue exploring the scene – had you told me a year ago that would be the case, I'd have laughed at you.
It's times like these I need to remind myself that an open mind is a good thing, and that I can still love New Orleans food while appreciating other cities as well.