Historically Passionate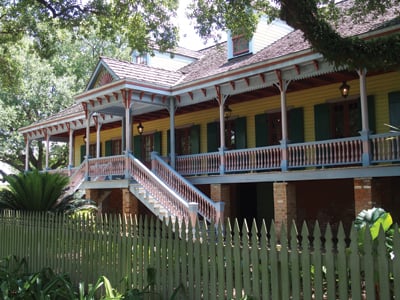 Once upon a time, a young Louisiana man named Norman Marmillion became captivated by tales of a crafty rabbit named Compair Lapin and even presented them as puppet shows, fairs and festivals. His enthusiasm doubled when he learned that Compair Lapin was the hero of age-old folk stories in far-off Senegal, and inspired the beloved Br'er Rabbit character of Uncle Remus fame. Complete enchantment ensued when Norman Marmillion learned that those folktales traveled to his own River Road with Senegalese slaves in the 18th century and would be heard and collected in the 19th century by future Tulane literature professor Alcée Fortier during his visits to Laura Plantation at Vacherie. How enchanted was Norman Marmillion? Well, he and his wife Sand Marmillion bought Laura Plantation in 1993 and began stabilizing structures, improving the grounds and conducting enough research to script the first tours.
That early research inspired them to do more and more, and to redirect their ardor and dedication to the human characters of the plantation's history, from the most ambitious planter to the most hapless field hand. The result is a museum housed in an overseer's cottage, which was recently attached by an elevated walkway to the big house. Cultural anthropologist Sand Marmillion and research assistant Katy Shannon plunged two decades ago into the daunting search for 200-year-old details about the lives of masters and (often with no surnames and minimal written records to go on) their slaves. Imagine 20-odd years of library archives, death notices, census records, church records, online genealogy programs, military duty and pension records, notarial archives, city directories, conveyance and succession records. Each source to be combed exhaustively then cross-referenced to every other.
The big reward, they say, was finding clues to a slave's thoughts and emotions — his or her interrelationships revealed in legal depositions or in personal letters and journals written for or about them by the landowners. Or painstakingly pieced together from several sources, like the story of Austin Wilson who, working in the fields one day in 1862, spied a Union gunboat tied up at riverside. He walked straight to the boat, boarded and enlisted on the spot, returning after the war to resume work as a field hand and acquire several tracts of land, some of which he donated for construction of a church.
Center stage on the plantation was the big house, built in 1805 by Guillaume DuParc, a French naval officer who fought the British at Pensacola and commanded the military district of Pointe Coupee. The home and lands would eventually be named for his grandson's daughter, Laura Locoul (1861-1963), who would own the vast estate for many decades.
The most valuable finds for masters and slaves alike, says Sand Marmillion, were Locoul's own journal (now published as "Memories of the Old Plantation Home"), a vast album of words and photographs assembled by the family to celebrate Locoul's century of life, and 900 pages of testimony by family members and servants during Locoul's mother's petition (as a French citizen) for reimbursement for losses and damages inflicted on the plantation during Union occupation.
Norman Marmillion meanwhile, besides operating Laura Plantation alongside Sand Marmillion and conducting a major restoration after an electric fire in 2004, has been busy establishing a "new" home: buying a 1782 colonial called Columbia in Edgard (once home of his four-greats-grandfather), moving it six miles upriver, masterminding its complex restoration and surrounding it with a series of gardens that will present traditional plants of Native Americans and every wave of inhabitants that have followed. When can you see it? Stay tuned.
In the Creole tradition, Laura Plantation has no hallways, the rooms accessed via doors into each other and French doors from the surrounding gallery. The home's size, five rooms wide and two deep, meant that the center rooms could provide a parlor and dining room and still leave four two-room suites available for multiple generations or for the families of grown siblings. Thus a home tour reveals, room-by-room, appropriate family portraits, vintage photography and furniture, many pieces returned to the home from France and around the United States by relatives.
Then the tour moves outside to see the pleasure garden, kitchen garden, key outbuildings and slave cabins, always ending back at the genealogy museum for some quality time. The genealogical findings are of primary interest for many (did you know Antoine "Fats" Domino's parents worked as sharecroppers on property formerly of the plantation?), but save some time for slave and freedman topics like Slave Trade, Runaways and Skilled Labor, and for plantation-life topics such as Health and Medicine, Domestic Life, Religion, Agriculture and the Civil War.
Laura Locoul was the fourth mistress of the plantation.
She was born in the house in 1861.
Needless to say, for Norman Marmillion and Sand Marmillion, there's still a special place in their hearts and museum exhibits for Compair Lapin and Br'er Rabbit stories, after which the boardwalk leads back into the big house for some time in the more-than-T-shirts shop, actually, for all practical purposes, a library and bookshop for titles related to Louisiana plantations, the River Roads, slavery and the Civil War.
Laura Plantation | Open 9:30 a.m. daily, with tours 10 a.m. to 4 p.m. | 888-799-7690 | lauraplantation.com
---
DO
"Twelve years a slave"
For information on the new "Twelve Years a Slave" audiobook featuring the voice of Lou Gossett Jr., or on a tour app featuring directions to Avoyelles Parish settings of events described in Solomon Northup's 164-year-old book, visit twelveyearsaslave.org. That site is maintained by Frank Eakin in honor of his mother, the late Louisiana historian Sue Eakin whose "young readers" version of the book and years of research on Northup were credited by the film's director Steve McQueen with keeping the story alive.
---
Plantations Along the River
Downstream on the west bank are splendid Evergreen, with an oak allée lining its double row of 22 cypress slave cabins, and ancient Whitney where structures, sculptures and special name-bearing memorials focus on the grim visage of slavery throughout the state.
Upriver, the cane fields of St. Joseph (still operating amid its slave-built cabins and dependencies) have been farmed by the same family since 1877, and Oak Alley (known for its 28 columns and avenue of 28 giant live oaks) offers interpretive exhibits in restored slave cabins as well as tours of the manor.
Across the river stand the famed "steamboat gothic" house called San Francisco, built in 1853 on a plantation developed in the 1820s by a free man of color named Elisée Rillieux, and Destrehan, a transitional colonial/Greek Revival mansion where the exhibits of one wing preserve the story of America's greatest slave revolt, which swept the east bank in 1811.
For maps, schedules and scenes of these and other landmarks and activities along the Great River Road National Scenic Byway, visit or contact New Orleans Plantation Country offices at 2900 Hwy. 51 in LaPlace (985-359-2562, visitnopc.com).
---
DETOURS
A plantation pilgrimage can be a vacation too, and to accommodate River Road travelers with ample time, five major plantations offer overnighting in grand style, dining and even swimming pools, julep bars and tennis courts.
Nottoway and Houmal House
First (in downriver order) come Nottoway near White Castle on the west bank and Houmas House near Burnside on the east side, both featuring opulent dining rooms and cafés, lavishly furnished cottages and sprawling gardens. Houmashouse.com, 225-473-9380; or Nottoway.com, 225-545-2730.
Oak Alley
Downriver on the west bank, Oak Alley near Vacherie boasts comfy B&B cottages scattered about its oak-strewn acreage, plus free country breakfasts, Cajun/Creole restaurant, café and room service. Oakalleyplantation.com, 225-265-2151.
Poché Plantation and Ormond Plantation
On the east bank, the Judge Felix Poché Plantation in Convent, a Victorian Renaissance beauty built in 1867, is now a classic B&B with guest rooms in the big house, and colonial Ormond Plantation is a full-fledged restaurant plus guestrooms in the circa-1787 manor. pocheplantation.com, 225-562-7728; or plantation.com, 985-764-8544.
---