Heads Up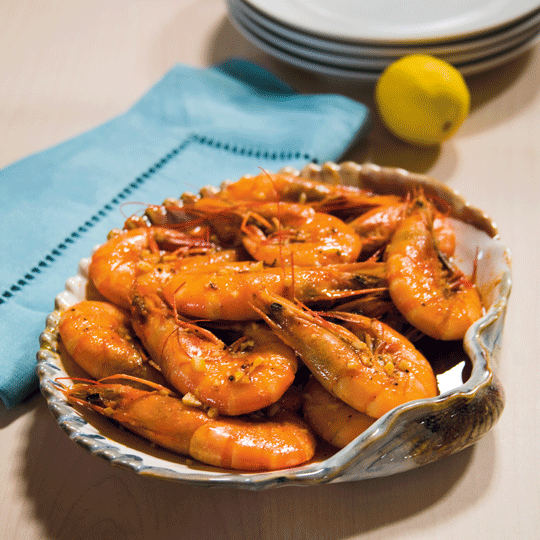 Even people who don't like seafood love shrimp.
In one preparation or another, shrimp appears on menus all over the country. It's a restaurant staple as ubiquitous as steak and much more versatile. Shrimp can be cooked just about any way you can think of: fried; boiled; broiled; baked; sautéed; grilled; steamed; stewed; smothered; even microwaved, which steams them in their own juices. They can be stuffed or pickled; they can be served hot, warm or cold and embellished with countless sauces and seasonings.
Shrimp star in some of the most iconic dishes of Louisiana cooking: shrimp rémoulade; shrimp-and-okra gumbo; seafood gumbo; shrimp poor boys; shrimp jambalaya; barbecued shrimp; stuffed mirlitons, bell peppers and artichokes. In his delightful Creole Gumbo and All That Jazz: A New Orleans Seafood Cookbook, the late Howard Mitcham wrote that he had collected more than 500 shrimp recipes. And that was in 1978. By the time of his death in 1996, he must have accumulated many more than that.
Shrimp freezes better than many kinds of seafood, which accounts, in part, for the crustacean's national popularity, but it goes without saying that fresh shrimp are better, and fresh heads-on shrimp are the best. That's where we Louisianians have the advantage as beautiful Gulf shrimp are landed all across our coast and are available for a reasonable price, particularly at the dock.
Before there were frozen shrimp, there were dried shrimp, and there still are. Popular as a snack, dried shrimp also are used in cooking, either on their own or as an addition to fresh shrimp. Dried shrimp impart an intensity of flavor that can contribute mightily to gumbos and stews. Dried shrimp also can be ground and used in place of salt as a seasoning in a variety of seafood dishes.
The most talked-about New Orleans dish made with heads-on shrimp is the barbecued shrimp at Pascal's Manale restaurant, a delicious and wonderfully messy concoction that is a misnomer: It doesn't have anything to do with barbecue but instead is made with gargantuan amounts of butter and black pepper that combine with the fat in the shrimp heads to make a toothsome sauce. Recipes for the dish always concur on those points, but beyond that there is little agreement on what other ingredients go into the dish.
In fact, there is a complex mythology that has grown up around barbecued shrimp, perpetuated by stories and legends that no doubt change with each retelling.
Indicative of this is the following yarn: Years ago, a friend told me that a friend of his (you see how this works) got soused one night with a member of the family that owns Pascal's Manale, who, in the course of their revelry, revealed the secret recipe. The problem was that my friend's friend had been so drunk that the next morning he couldn't remember what he had been told. The bearer of this tale was a state legislator at the time, so the whole thing should probably be taken with a grain of salt, which may or may not figure in the recipe.
Many recipes for barbecued shrimp include Worcestershire sauce, various herbs and wine, but Mitcham maintained in Creole Gumbo and All That Jazz that those additions would ruin the dish. His recipe includes only three ingredients: shrimp, butter and black pepper. The source for his version was a friend (here we go again) who hired a cook who formerly worked at Pascal's Manale. "The cook could neither read nor write, but she had all the treasured secrets in her head," wrote Mitcham. Even so, he concluded that the "recipe may not be Manale's, but it is sublime."
Another famous New Orleans shrimp dish for which there are several versions is shrimp rémoulade. In all of the variations, the shrimp are boiled and served cold on a bed of lettuce, but it is the sauce rémoulade itself that appears in different guises. One version is based on Creole mustard, olive oil and vinegar. Another is a white sauce with mayonnaise as its base, and the third principal type is made with mayonnaise tinted pink or red with paprika and, sometimes, ketchup. Other ingredients that appear in recipes include green onions, parsley, celery, horseradish, anchovies, capers, lemon juice, TABASCO and cayenne.
Various claims of authenticity are made for each type of shrimp rémoulade, but that issue is largely academic. As has happened so often with Louisiana dishes that bear French names, our versions have evolved from the original and are noticeably changed. None of the New Orleans rémoulade sauces conform exactly to the French sauce rémoulade –– though the white version is the closest –– but so what? An outlander could understandably be totally perplexed by encountering so many variations going by the same name, but I bet he would find each one delicious in its own way.
To my mind, all of the variations of dishes that go by the same name are merely indicative of the free-form, improvisational nature of Louisiana cooking. Certainly there are parallels between our food and our music. Our food evolved from the hands and minds of cooks, not from books, just as jazz, as well as Cajun and zydeco music, evolved from the creativity of musicians, not sheet music. And all of them are still evolving. All I can say is, God help the person who ever tries to codify Louisiana cooking.
Sweet-and-Smoky Shrimp
4 pounds heads-on shrimp
1/2 cup olive oil
1/4 cup lemon juice
2 tablespoons smoked paprika
2 tablespoons Creole seasoning
2 teaspoons freshly ground black pepper
8 cloves garlic, minced
Place the shrimp in a roasting pan. Place the remaining ingredients in a small mixing bowl, and whisk to combine. Add the contents of the mixing bowl to the shrimp, and toss gently to coat the shrimp. Set aside for an hour.
Preheat the oven to 400 degrees. Bake the shrimp for 10 minutes, then stir the contents of the pan, and bake for another 10 minutes. Makes 4 servings.
Dried-Shrimp-and-Tasso Gumbo with Poached Eggs
1 tablespoon vegetable oil
2 cloves garlic, minced
1 onion, chopped fine
1 stalk celery, chopped fine
3 cups low-sodium chicken broth
3 cups water
2 tablespoons dark roux
1/4 cup dried shrimp
1/4 cup tasso, diced
Freshly ground black pepper to taste
TABASCO to taste
1 tablespoon fresh parsley, chopped
2 tablespoons green onion tops, chopped
4 eggs
Steamed rice
Filé
In a large pot, heat the oil and cook the garlic, onions and celery until softened, about 5 minutes. Add the chicken broth and water, and bring to a boil. Add the roux, and stir to dissolve. Add shrimp and tasso. Reduce heat to low, and simmer for 30 minutes. Skim the surface to remove excess oil. Season to taste with pepper and TABASCO. Add parsley and onion tops.
Bring the gumbo to a boil. Break the eggs into the gumbo, and poach until the whites are cooked but the yolks are still runny, about 3 minutes.
Ladle the gumbo into bowls over steamed rice, and top each serving with a poached egg. Serve with filé and additional TABASCO if desired. Makes 4 servings.