Happy Holidays Acadiana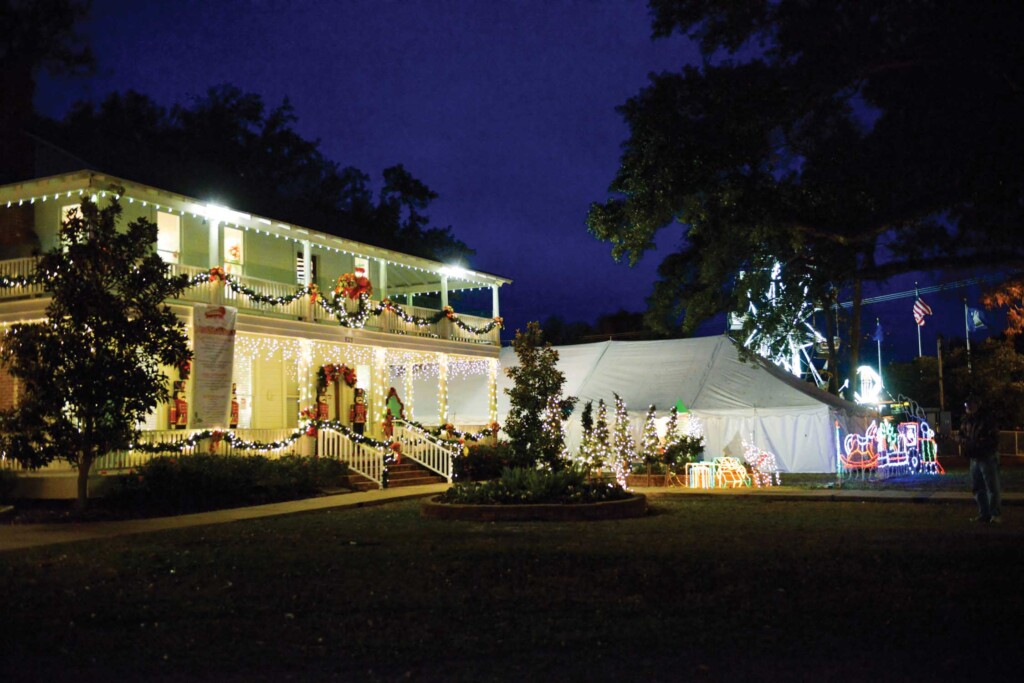 How lucky we are in Louisiana to enjoy the year-concluding holidays, ring in the New Year of 2023 and then roll right into Mardi Gras. Acadiana has more than its share of these celebratory events. We've assembled a few to get you in the spirit — then it's time to dust off those Carnival costumes.
Lafayette
Acadian Village and Vermilionville serve as bookends to Lafayette's Cajun & Creole Christmas, each historic village stringing up lights and hosting holiday events throughout December.
Acadian Village is owned and operated by LARC (Lafayette Association for Retarded Citizens ) and its annual fundraiser Noel Acadien au Village attracts thousands annually, bringing in much needed revenue. There's live music, carnival rides, Santa Claus and more every night from 5:30 p.m. to 9 p.m. Dec. 2-23, weather permitting.
"It's turning into a very big thing," said Karon Davis, Noel Acadien coordinator and assistant to the CEO. "Last year we had 47,000 visitors."
This year, the celebration features new displays, a petting zoo and more than a half-million lights.
For ticket information and a schedule of events, visit acadianvillage.org.
Vermilionville also decorates its miniature village, a collection of historic buildings brought on site to teach visitors about Cajun and Creole history. Look for a schedule of holiday events, including a Sunday "Bal du Dimache" concert and dancing, at bayouvermiliondistrict.org/vermilionville.
For more information and a long list of holiday happenings, check out Lafayette's Cajun & Creole Christmas at lafayettetravel.com/events/holiday/christmas.
Along Bayou Lafourche
Drive through Peltier Park in Thibodaux to enjoy the lights display and Christmas trees decorated by local organizations, churches and schools. "Christmas in the Park" runs from 6 p.m. to 9 p.m. nightly Dec. 1-31 with train rides through the park on specific nights and a Bayou Community Band concert at 3 p.m. Dec. 11.
Louisiana's Cajun Bayou Oyster Shell Ornament Contest returns this year Dec. 1-16, allowing residents to pick up an oyster shell to decorate at the Louisiana's Cajun Bayou Visitor Center in Raceland. Return the decorated shell to be used in the official Lafourche Parish Tree, plus you may win a prize. 
Take a photo with Santa at the Bayou Country Children's Museum in Thibodaux on Dec. 17, with photo sessions at 3 p.m. and 6 p.m. There will also be games, crafts and opportunities to decorate cookies, write a letter to Santa and make your own snow.
Lake Charles 
There's so much going on in the Lake Charles area for the holidays but one not to miss is Christmas Under the Oaks Dec. 1-3 at The Grove at Heritage Square in Sulphur. The first day features a ticketed wine and cheese preview party for the Holiday House shopping experience. Days two and three includes the Holiday House, plus a lighted balloon parade, Santa Claus, a gumbo room (yum!), carnival rides and a chance for Louisiana children to enjoy snow.
Grand Coteau
Every year, Christmas at Coteau at the Academy of Sacred Heart serves up local cuisine, incredible holiday shopping and live music. This year's event will be Dec. 1-3 with a Christmas at Coteau Preview Party on Dec. 1, gourmet luncheon on Dec. 2 and gumbo cookoff, pictures with Santa and holiday shopping Dec. 2-3. For more information and a complete schedule, visit ash1821.org/events/christmas-at-coteau.
St. Martinville
St. Martinville's Garden Club hosts the annual Christmas Tour of Homes Dec. 4, which includes several historic and modern homes and a local business, decorated with a Christmas theme.
The annual St. Lucy Festival of Lights, with its music, food and holiday activities, surrounds the historic St. Martin de Tours Catholic Church beginning at 4 p.m. Dec. 10. St. Lucy is the patron saint of vision and light and the church and surrounding church grounds will be lit up once the sky becomes dark.
Eunice
Get in the holiday spirit with the Eunice Community Concert Band and Choir for its annual Christmas concert at 7 p.m. Dec. 8 and 9 at the historic Liberty Theatre.
The ECCBC was established in 1990 as a choir concert band, adult band, adult choir and children's choir. This year marks the 32nd anniversary and the event includes an art exhibit by Ted Bertrand and friends.
Washington
Christmas in Washington along the historic town's Main Street is 10 a.m. to 7 p.m. Dec. 10 with the majority of activities centered on the former Doucet Motors sales lot. Vendors will sell wares from 10 a.m. to 5 p.m., Santa arrives at 1 p.m. and the town's Christmas tree lights up at 7 p.m. The day also includes live music and a Kids Corner for games, face painting and balloon artistry.
Houma
In addition to the numerous holiday events occurring in the Houma area, the Market at the Marina outdoor farmers market from 8 a.m. to noon Dec. 2 features several vendors selling items perfect for holiday gifts. The Market is located at the Downtown Marina across from Terrebonne General and happens rain or shine.
Morgan City/Berwick
Purchase unique holiday gifts and crafts at the Berwick Town Market, held from 9 a.m. to 1 p.m. every third Saturday of the month under the Highway 90 Bridge at the corner of Lima and Sixth streets in Berwick.
Looking Ahead to Carnival
Carnival begins with Epiphany on Jan. 6, 2023, with balls and related events happening until the big day of Mardi Gras, Tuesday Feb. 21. Take a breath on New Year's Day, then start planning for the festivities unique to Acadiana.
For a list of events in Southwest Louisiana towns with Lafayette as its hub, which includes the unique Cajun traditions of Courir de Mardi Gras, visit lafayettetravel.com/events/festivals/mardi-gras.
Lake Charles lists its numerous events at visitlakecharles.org/swlamardigras.
Houma goes big time with Carnival events and you can find them all at explorehouma.com/do/mardi-gras.
For St. Landry Parish, visit cajuntravel.com/events/opelousas-mardi-gras-parade.
Holiday Parades
December 3 
Noël à Broussard festivities begin with a 3 p.m. parade at the corner of Morgan Avenue and Albertson Parkway in Broussard and ends at Arceneaux Park. Post-parade activities in front of Broussard City Hall include children's activities, Papa Noel's Market and the annual lighting of the city Christmas tree at 7 p.m.
December 4
The Thibodaux Christmas Parade begins at 2:30 p.m. at Nicholls State and rolls through Thibodaux, ending in Peltier Park with photo opportunities with Santa Claus, known locally as Papa Noel.
December 8
A Christmas parade rolls through Opelousas every year on the second Thursday in December. The festivities include floats, marching bands and, of course, Santa Claus.
December 10
Dozens of boats of all shapes and sizes light up for the annual Delcambre Christmas Boat Parade. The fun sets sail from the Delcambre Docks at 6 p.m. with boats cruising down Bayou Carlin to Christmas music.
December 10
The New Iberia Christmas Parade rolls at 6 p.m. through historic downtown, followed by a boat parade and fireworks on Bayou Teche. More than 100,000 lights have been installed along the parade route, from Torrido Village to Jefferson Street.
December 11 
The annual Sonic Christmas Parade begins at 1 p.m. in downtown Lafayette, moving down Jefferson Street through the University of Louisiana at Lafayette campus into the Oil Center.
December 17
The Cajun Spirit of Christmas Parade, featuring a visit from Santa and various dance groups and businesses, begins at 6 p.m. on Second Street in Morgan City and traveling the Morgan City Historic District.