Grill Baby Grill
Burgers with all the trimmings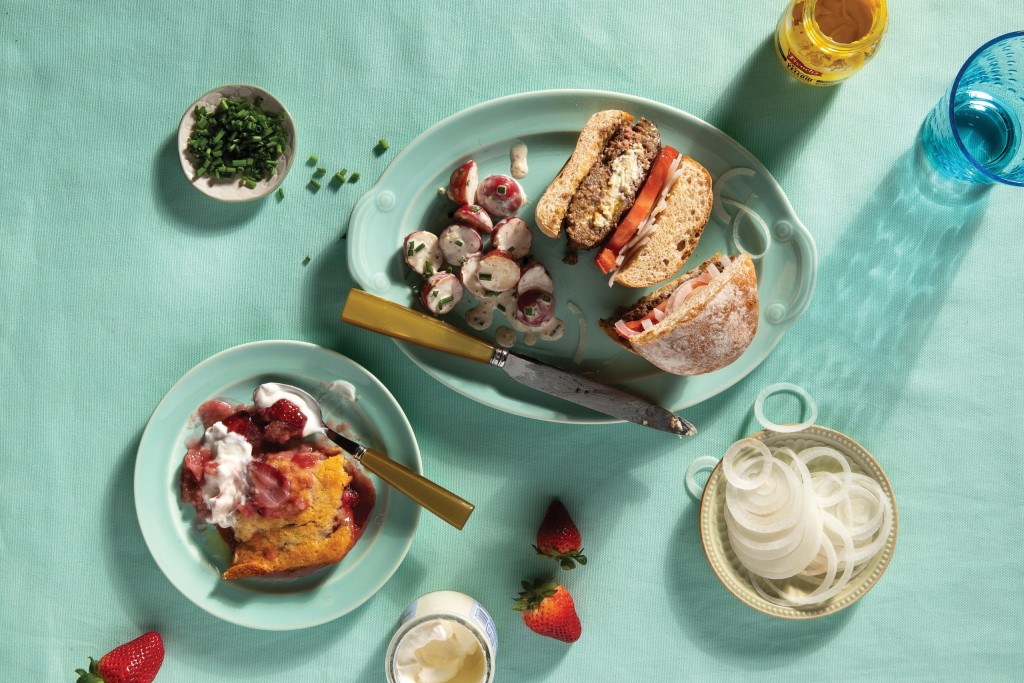 M. F. K. Fisher once wrote "Almost every person has something secret he likes to eat."
My very favorite secret thing to eat is a good hamburger. I like a traditional beef burger on a sesame seed bun, but when I really want to treat myself, I let my imagination run wild.
But my routine remains about the same. While I make my hamburger patties, I sip on a martini and listen to Ray Charles. The sides to my burger meal are usually baked beans and coleslaw, or oven roasted potatoes, but there are other choices, like marinated vegetables and a potato salad tweaked with garlic.
I also have some tips for a perfect, juicy, beefy burger.
Whenever possible, I get my butcher to grind my beef when I purchase it. My personal preference is a combination of sirloin (to give it a tender texture) and chuck (to add some fat and flavor). About 15% fat gives the burger a good beef taste, and I like a medium-course grind to give it texture.
I don't add too many seasonings and herbs to the meat. Salt and pepper (no chopped onions, breadcrumb or Worcestershire sauce) is about all that is needed to bring out the flavor of the beef. Don't overmix the beef when mixing in the seasonings as it will make it tough. Also, I don't make a big, thick patty. I think a patty weighing about six to eight ounces is fine, but keep the patty fairly thin (about three-fourths-inch thick) so it can cook evenly and quickly.
Main Course
Roquefort Burgers
I like to cook a burger on the grill, but that will cause valuable juice to escape, so I usually cook mine in a heavy, cast-iron skillet because the burger then cooks in its own fat, keeping the meat juicy.
Makes 6 to 8 servings
2½ pounds ground sirloin
½ pound ground chuck
1¼ teaspoons salt
¾ teaspoon freshly ground black pepper
¾ pound Roquefort cheese, crumbled
8 hamburger buns, toasted
thinly sliced yellow onions (optional)
Combine beef, salt, and pepper and mix well. Divide mixture into six to eight equal portions. Form into patties. Make a pocket in the center of each patty and fill with cheese. Cover cheese with meat.
Heat a griddle or skillet over high heat until very hot. Lay burgers in the pan without crowding them. Reduce heat to medium-high and cook for 4 to 5 minutes. Flip burgers and cook until meat feels firm, but gives slightly in the center, about 2 minutes.
On the Side
Potato Salad With Garlic Mayonnaise
I'm a big fan of potato salad and this one has a little kick that I particularly like.
Makes about 4 servings
2 pounds small boiling potatoes
3 garlic cloves, minced and mashed with 1 teaspoon salt
3½ tablespoons fresh lemon juice
1/3 cup mayonnaise
1/2 teaspoon Creole mustard
1/3 cup chopped chives
salt and freshly ground black pepper
Boil potatoes in lightly salted water until just tender. Drain and cool. In a large bowl, combine garlic paste, lemon juice, mayonnaise and Creole mustard. Whisk to blend well.
When the potatoes are cool, peel and cut in half. Add potatoes and chives to the mayonnaise mixture and toss to coat evenly. Season with salt and black pepper.
Dessert
A Strawberry Cobbler
Serve the cobbler with vanilla ice cream or vanilla yogurt if you wish.
Makes 6 to 8 servings
¾ stick butter, melted
1 ¼ cups sugar
2 ½ cups trimmed and sliced strawberries
¼ teaspoon ground cinnamon
¾ cup all-purpose flour
2 teaspoons baking powder
Pinch salt
¾ cup milk
Preheat oven to 350 F.
Pour melted butter in a 9-inch square baking dish and set aside. Toss strawberries with ¾ cup of sugar and cinnamon in a bowl and set aside.
In another bowl, combine the remaining ½ cup sugar, the flour, baking powder, salt and milk. Stir to blend. Pour batter over the butter in the baking pan. (Do not stir.) Arrange berries over the batter and bake until batter is golden, about 45 minutes.
Remove from oven and cool a bit before serving.
Marinated Mixed Vegetables
Makes about 8 servings
3 garlic cloves, crushed
1 cup olive oil
2 tablespoons fresh lemon juice
2 tablespoons red wine vinegar
1/4 teaspoon sugar
2 teaspoons Dijon mustard
Salt and freshly ground black pepper to taste
1 small head cauliflower, broken into florets
3 carrots, cut crosswise into 1/4-inch slices
1 large green or red pepper, seeded and cut into strips
1/2 pound green beans, trimmed and blanched in salted boiling water
1 large zucchini, cut into strips
1/2 pound cherry tomatoes
In a medium-size mixing bowl, combine the garlic, oil, lemon juice, vinegar, sugar and Dijon mustard. Whisk to blend, then season with salt and freshly ground black pepper.
Put the vegetables into a large shallow container fitted with a lid. Pour in the marinade and toss to coat evenly. Cover with the lid and marinate, tossing the vegetables two to three times, for at least 24 hours.