Going Coastal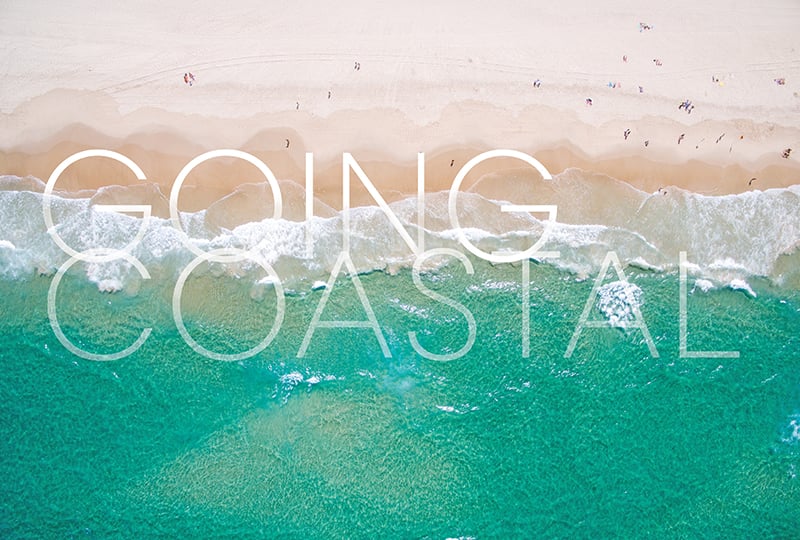 There are so many new things happening on the Gulf Coast these days it's difficult to keep up — new hotels and attractions, restaurants, shopping and the list goes on. This year also marks the beginning of Alabama's Bicentennial, which happens in 2019 but the state celebrates early with educational programs and community activities.
New Hotels Last summer, Hotel Pass Christian opened, joining the resurgence of the Mississippi Gulf Coast town that includes the Hotel Whiskey, shops and the fun Cat Island Coffeehouse. Hotel Pass Christian overlooks the Gulf and Bacchus on the Beach restaurant, which offers room service to guests.
In Ocean Springs, Mississippi, The Roost opened in an historic property that's surrounded by ancient oaks and includes six rooms, a grab–and-go market and a comfortable communal area. Architectural Digest called the boutique hotel the most beautiful hotel in Mississippi for 2017.
The Grand Hotel of Point Clear, Alabama has been an acclaimed resort for years but is currently undergoing a massive $32 million transformation, scheduled to be completed this month.
At the end of 2016, the Henderson Beach Resort quietly opened in Destin, Florida. The luxury resort and spa has multiple dining and bar options, an adult pool, a lazy river and a world-class spa, and is only steps away from the beach.
New attractions Do you love to get on the water to learn about nature? The Betsy Ann Riverboat offers two-hour trips in the Mississippi Sound and Back Bay of Biloxi with a focus on nature and local history. Visitors can watch the shrimping nets fly and learn more about the industry on the Biloxi Shrimping Trip. Ship Island Excursions travels to the Mississippi Coast barrier island with its white sandy beaches and blue Gulf waters.
Be artistic The Coastal Arts Center of Orange Beach recently opened a 10,000-square-foot gallery showcasing and selling artwork from more than 100 local artists. For those who want hands-on activities, there's The Hot Shop, the only public-access glassblowing studio in Alabama, or the Clay Studio where visitors can try their hand at the wheel.
Ocean Springs artist Walter Anderson loved his cats and used them in his artwork. The Walter Anderson Museum of Art examines his feline love with a new exhibition, "Thou Who Carriest the Sun: The Feline in Walter Anderson's Art."
Get outside Bon Secour National Wildlife Refuge outside Gulf Shores offers 7,000 acres of wildlife habitat and an opportune place to view the more than 370 species of migratory birds that visit Alabama every spring and fall. It's also a sanctuary for nesting sea turtles and the endangered Alabama beach mouse and houses an outdoor classroom on flora and fauna. Visitors can view this pristine spot on boardwalks and trails and this year the ADA-compliant and restored Jeff Friend Trail reopened. Visit fws.gov/bonsecour.

Shopping New Orleans has had a long history of cigar manufacturing, much of which occurred with tobacco from Cuba before the embargo. The Cigar Factory re-established that history with stores in New Orleans but recently opened shop in Destin-Miramar Beach and Pensacola.
While in downtown Pensacola, check out the Palafox Market, a farmer's market that sells fresh produce and meats and arts and crafts from 9 a.m. to 2 p.m. Saturdays.
Hit the beach The city of Gulf Shores has invested $15 million to enhance its Gulf Shores Public Beach and what's new are beach access points, public sidewalks and green space, walking paths, shade structures, restrooms and more. Also getting a facelift is Gulf State Park, which will offer more trails, an enhanced golf course, campground improvements, pedestrian bridges, dune restoration and a future adventure park, to name a few. Visit alapark.com/gulfstate for more information about the park and mygulfstatepark.com to learn more about the enhancement project.
Be adventurous Gulf Adventure Center at The Wharf entertainment district in Orange Beach recently added the Hummingbird Zipline to its repertoire; the course consists of eight ziplines ranging from 300 to 1,600 feet in length and towers as high as 115 feet. As visitors sail across the landscape, they'll enjoy views of the Intracoastal Waterway and Wolf Bay. Reservations are recommended; for more information, visit zipthegulf.com.
Gumbo Love Lucy Anne Buffett, sister to singer Jimmy Buffett, has been hitting the Gulf Coast promoting her latest book, "Gumbo Love: Recipes for Gulf Coast Cooking, Entertaining, and Savoring the Good Life." She's also busy opening new restaurants, expanding her original LuLu's in Gulf Shores (which started as a bait shop and burger joint and is now an impressive fun spot on the Intracoastal) to include restaurants in Destin and North Myrtle Beach this summer. You can order the Cheeseburger in Paradise, named after a Jimmy Buffett song, but don't miss the fresh seafood straight from the Gulf.

Pensacola Beach, Florida

Orange Beach, Alabama

Sea turtle nesting at Bon Secour National Wildlife Refuge

Mississippi. Hummingbird Zipline at The Wharf in Orange Beach

The Roost Hotel in Ocean Springs, Mississippi