glass houses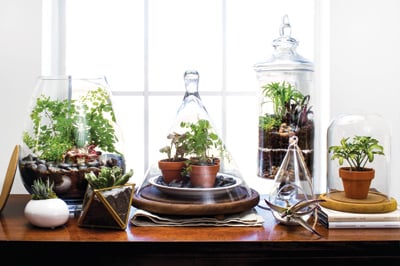 Terrariums can breathe life into any room – literally. Not only are they aesthically pleasing, but they have health benefits, too: Studies have shown that indoor plants can improve cognitive function, help fight colds, and reduce stress. Plus, setting up your own gets your creative juices flowing and is a calming but productive activity.
---
Succulents like dry, sunny environments. Be careful not to overwater.
Container: Consider what kind of environment you want to create. Humid environments work best with a lid. For a dry environment, a lid is optional. If you find a container that you like, but it lacks a lid, you can make one out of a piece of corkboard.
Soil: Do your research and make sure that the soil is appropriate for the plant. For moss, use a peat moss mixture, which is less likely to mold. For succulents, blend potting soil, sand and perlite.
Charcoal: cleans excess water
Gravel: improves drainage
Accents: Use your imagination and invent a world with HO figures and animals. Check out Hobby Town in Lafayette or any shop that sells model train accessories.
Give air plants bright, indirect sunlight and water at least 2 times per week by immersing the whole plant in water.
---
Check out:
Hobby Town USA hobbytown.com
All Seasons Nursery buyallseasons.com
Native Sun Nursery nativesunnursery.com
Greengate Garden Center ggate.com
---