Garden to Table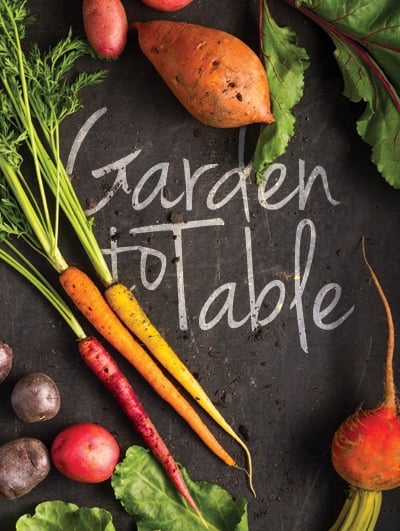 This is the time of year to plant beets, carrots and potatoes in anticipation of all the earthy flavors we'll enjoy a few months down the road. The days when beets were predictably red, carrots were always orange and potatoes were white are long gone. Now we can choose from an amazing variety of colors, varieties and shapes. Those who don't have space for an outdoor garden can even grow beets and carrots on a patio or balcony, since some varieties are suitable for container gardening. As with all produce that goes straight from the garden to the table, simple preparations are best.
Beets
Once known as "blood turnips," beets today include golden and white varieties, as well as a wide range of reds and even a candy-striped Italian heirloom. In addition to the beets themselves, the greens are delicious and can be cooked as you would chard or mustard greens. If seeds are planted close together and thinned, the baby beet greens are perfect for salads.
In the Garden
Sun: Full / partial sun
Soil: Sandy, loamy
PH: 5.5 – 6
Water: Keep moist
Fertilize: Every 3 – 4 weeks after they sprout
Harvest: 50 – 70 days depending on variety
Tip: You can plant beets successively, 3 weeks apart, so you can have multiple harvests throughout the growing season.
On the Plate
BEET SALAD
Preheat oven to 375 degrees. Cut greens from 1-1½ pounds beets, leaving about one inch of stem. Reserve greens for another use. Wash beets and wrap individually in aluminum foil. Place foil packets on baking sheet and bake in oven until a toothpick or the point of a small knife pierces them easily, about 30-90 minutes, depending on size of beets. Remove from oven and cool.
Whisk 2 tablespoons extra-virgin olive oil and 1 tablespoon cane vinegar together to make vinaigrette. Peel beets and slice or cut into wedges, as desired. Toss beets in vinaigrette and arrange on serving plates. Season to taste with Coarse salt and freshly ground black pepper and sprinkle with 1 tablespoon snipped chives and 1 tablespoon chopped parsley.
Makes 4 servings.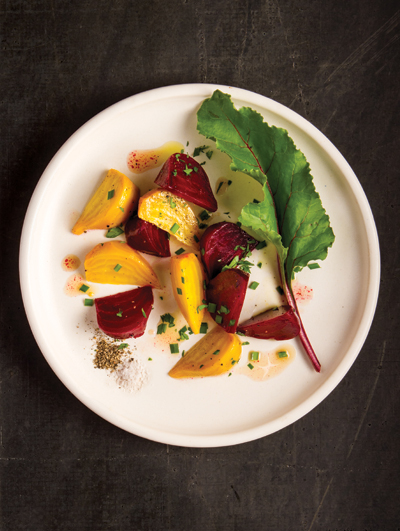 Prep Tip
If possible, use beets of two or more colors for a stunning presentation. Since red beets will stain, toss beets of different colors separately in vinaigrette, red ones last.
Health Tip
Beet roots contain folate, manganese and potassium, and the greens provide vitamin K, as well as potassium, magnesium and fiber.
---
Carrots
The earliest carrots are thought to have been purple, yellow and red, while the familiar orange carrot was probably developed by the Dutch in the 17th century. Today, seeds for purple, red, yellow, white and myriad shades of orange carrots in a wide variety of shapes and lengths are available to the gardener. Some short varieties are particularly suited for container gardening.
In the Garden
Sun: Full
Soil: Sandy, loamy
PH: 6 – 6.8
Water: inch a week
Fertilize: 5 – 6 weeks after sowing
Harvest: 50 – 75 days depending on variety
Tip: For carrots to have perfectly straight, long roots, your soil needs to be light, sandy and deeply tilled. If the soil is heavy clay or full of stones, the carrots will have a hard time penetrating the soil. They may end up stunted or forked.
On the Plate
GLAZED CARROTS WITH JALAPENO
In this preparation, the natural sweetness of carrots is juxtaposed with hot jalapeño pepper.
Scrub or peel 1 – 1½ pounds carrots and cut into julienne strips about 3 inches long and about ¼-inch in diameter. Combine carrots, 2 tablespoons butter and ½ cup water in a large skillet, cover and cook on medium heat until carrots are tender, about 10 minutes. Uncover skillet, add 2 tablespoons minced jalapeño pepper, or to taste, increase heat and cook, stirring occasionally, until water evaporates and carrots glaze. Season to taste with Coarse salt and freshly ground black pepper.
Makes 4 servings.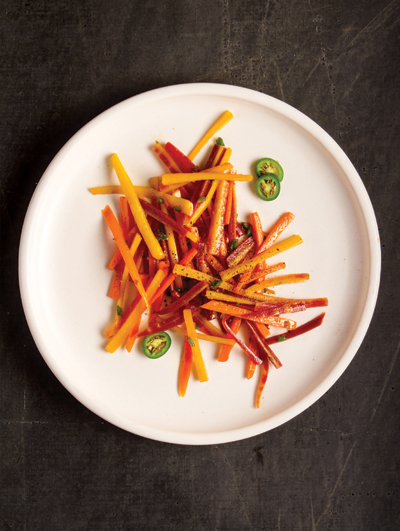 Prep Tip
A mandoline works best for cutting small strips that will absorb the flavor of butter. If you do not have a mandoline, cut the carrot into 2 or 3-inch slices. Cut a piece into 1⁄8 strips, length-wise. Stack several slices atop one another and cut lengthwise through all layers.
Health Tip
In addition to beta-carotene, which the body converts to vitamin A, carrots contain many phytonutrient antioxidants, which vary depending upon the carrot's color.
---
Potatoes
There was a time when the American consumer's only choice in potatoes was either big baking potatoes or small red ones, but those days are long gone. For the home gardener today, the choices are extensive and include red, purple, blue and yellow-fleshed varieties, as well as a wide range of sizes and shapes. Even many supermarkets offer a good selection. With the easy availability of potatoes, some might wonder if growing you own is really worth the trouble. The answer to that is found in one gardening catalog: "Warning: After eating some home grown potatoes, you may never be able to eat commercial potatoes again."
In the Garden
Sun: Full
Soil: Sandy
PH: 5.3 – 6
Water: keep moist
Fertilize: 5 – 6 weeks after sowing
Harvest: 2 – 4 months; harvest once the tops die off
Tip: New potatoes are freshly harvested young, or small, potatoes. They have paper-thin skins and lots of moisture inside, and they tend to be sweeter than older potatoes.
On the Plate
PAN ROASTED NEW POTATOES
With rosemary, freshly dug new potatoes need only some butter or olive oil, salt, pepper and, at most, a fresh herb to be at their best.
Combine 1 pound new potatoes, ¼ cup olive oil and 2 large sprigs fresh rosemary in a heavy skillet with a close-fitting lid. Cook, covered, on medium-low heat for 15 minutes, shaking pan occasionally to turn potatoes. Uncover and increase heat to medium. Cook, shaking pan occasionally, until potatoes are tender and nicely browned, about 15 – 25 minutes, depending on size of potatoes.
Transfer potatoes to a serving dish. Cut potatoes in half, moisten with the rosemary-scented cooking oil and season to taste with Coarse salt and freshly ground black pepper.
Makes 4 servings.
Prep Tip
Wash your potatoes in cold water before cooking to get rid of extra starch.
Health Tip
Potatoes are high in vitamin C, have more potassium than bananas, and some varieties contain elevated levels of antioxidants.