From Accordion to Zydeco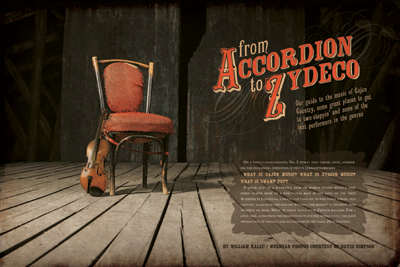 At its core, traditional Cajun music relies solely on the sounds of an accordion, fiddle and triangle. Dance hall Cajun music – the kind heard on soupy summer Saturday nights and festival weekends – provides the traditional instrumental trinity with reinforcements from drum, bass and guitar players.
The musical contribution of the Creoles of Southwest Louisiana mirrored Cajun music in many ways (the accordion dominated both genres and, really, still does to this day) until the 1950s when black post-war artists such as Clifton Chenier infused elements of jazz, R&B and gospel into the standard Creole sound. Chenier also incorporated the distinct audible flavor derived from the rub board into the music.
Although they are often confused and described interchangeably among laymen, there are subtle differences between Cajun and zydeco music. Traditional Cajun music is a bit more structured, slower and not quite as raucous. Zydeco affords bands plenty of wiggle room, plenty of chances to improve and plenty of spots to let out a soulful yell when the music hits them just right. Perhaps local music guru Herman Fuselier summed it up best when he explained: "Cajun music sounds like someone like Hank Williams Sr. is playing the accordion. Zydeco sounds like James Brown grabbed the accordion."
Swamp pop emerged around the same time Chenier altered the shape of zydeco music but was influenced more by the budding genre of rock 'n' roll – a sort of musical mutt, if you will. In the late 1950s and 1960s, swamp pop stormed the Billboard charts and attained a level of commercial success outside of Louisiana that its cousins Cajun and zydeco never could match.
So boiled down, that's it – a suitable yet unfulfilling answer that barely scratches the surface in explaining the deeper effect of these genres.
"What is the music of Louisiana? Oh, wow. That's the million-dollar question, I guess," says Fuselier, who among other things writes a column and hosts a radio program on music indigenous to Acadiana. "You could break it down in so many ways. I know, personally, the music touches me on so many levels. If you made 10 people really think about it, you'll get 10 different responses."
Is the music – the button box-laced beats that trigger some Pavlovian response in the hips and feet – a melodic window into our culture, an open house into who we are as a people? It could be, though critics might argue that's a tad simplistic. Maybe it's a facet of Acadiana, just one of the many complex layers of our social fabric.
"In the grand scheme of things, our area on the map is just a dot," says Paul Marx, owner of the Louisiana music radio station KBON in Eunice. "But from this dot comes this soulful, unique music that people just love. No one has left Colorado or Chicago and come down to our dot in Southwest Louisiana to hear rap or rock or country.
They come down here to hear our music."
Our music is more than a sound. It's a feeling. It's a sight. It's a sensation. It's a memory. It's tipping a swig of a cheap beer, letting the suds coat your throat just after wiping the cool glass bottle across your sweaty brow. It's two-stepping along the same abused dance floor your grandparents' boots helped wear smooth. And when done right – when sound becomes tangible and the night knows no end, calluses and bunions be damned – it's a seamless diatonic diorama of Acadiana's past, present and future.
"There's so much mystery around it," Marx says. "There's mystery in the sound, mystery in the guys on stage, mystery in the old dance halls, mystery in the language and lyrics. You hear it for the first time, and your immediate reaction is, 'What is that?' Call it a curiosity, I guess. We've had soldiers overseas telling us that their bunkmate from Oregon is now hooked on the music. And they don't know French, can't understand the lyrics. But they can relate to the pain expressed in playing, the joy expressed in playing – the unfiltered emotion of it all."
VENUES
Blue Moon Saloon & Guesthouse
From a distance, the quaint century-old guesthouse on Convent Street looks relatively unassuming, harmless even. An Acadian flag wafts in the subtle summer breeze. A circle sign with the establishment's cattle-skull logo hangs from the roof. For the weary traveler, it appears to be a cozy, peaceful place to crash for the night. And it is … around 4 a.m.
At Blue Moon, the porch is where the party's at – literally. While the eyes can't see much from Convent Street, the ears can hear the faint sounds of Cajun, zydeco and swamp pop. Follow the sound by walking around back of this European-style hostel, and you'll discover a scene that in less than a decade has become one of the premier local music venues, a place of instant authenticity.
The décor is kind of baffling, sort of Applebee's meets your dad's garage. There's a lot of randomness on the walls. Beer ads. Street signs. Bumper stickers. A hubcap.
The vibe is intimate, cozy and – on certain summer nights – sweltering (remember this venue is technically outside). The modest-size dance floor and foot-high stage hug each other, enabling brave or spirited patrons to reach out and touch their favorite acts. And for you wallflowers, don't worry: There are plenty of wooden benches where you can sit and watch the two-stepping.
215 E. Convent St., Lafayette, 337/234-2422, www.bluemoonpresents.com
Angelle's Whiskey River Landing
Nestled along the Henderson Levee, Whiskey River offers the best acts in Cajun and zydeco music, blaring out the jams against the awe-inspiring backdrop that is the natural beauty of the Atchafalaya Swamp.
Open on Sundays from 4 p.m. to 8 p.m., Whiskey River was named one of the Top 50 Bars in America by Men's Journal in 2002.
"Patrons drown themselves in icy beer while dancing to the most authentic Cajun and zydeco bands to ever pick up a diatonic accordion," the magazine wrote about Whiskey River.
There's ample room on the plywood dance floor (a surface that's been worn smooth from years of Sunday shows), but the real fun occurs later in the evening when patrons get on top of the bar surface. That's right – patrons are encouraged to dance on the bar.
1365 Henderson Levee Road, Henderson, 337/228-2277, www.whiskeyriverlanding.net
La Poussiere – Quaint. Homey. Artistic. Unique. Downtown Breaux Bridge is all of these things and more, a cornucopia of culture nestled in the cozy confines of a couple of city blocks. Many an afternoon has been lost (but not in a bad way) in its boutiques, eateries and antique shops. But when the sun punches the clock, take a quick drive down Grand Point Avenue, stopping once you reach this bland-looking building oozing history and character.
Let's start with the name, La Poussiere, French for "the dust." When the late Ovey and Mary Patin purchased the old grocery store in 1955 and transformed it into a dance hall (not to mention a cultural icon), they simply called the joint Patin's Bar. As Walter Mouton and the Scott Playboys pumped out the Saturday night soundtrack, locals stomped on a hardwood dance floor laid on top of a dirt base. The pounding kicked up enough dust that by the time the band called it an evening, a noticeable film covered the wooden planks, thus the name.
While that old-school dance floor is long-gone, La Poussiere retains much of its original identity. Only pure, traditional Cajun bands are invited to perform, meaning the sound heard today is essentially the same type of sound heard when the first beer was poured here on Oct. 1, 1955. Because of its role in the preservation of not just Cajun music but also Cajun heritage, La Poussiere has earned the nickname La Petite Cathédrale de Musique Cajien – The Little Cathedral of Cajun Music.
1301 Grand Point Ave., Breaux Bridge, 337/332-1721, www.lapoussiere.com
Slim's Y-Ki-Ki – Let's get one thing straight right off the bat: If you're looking for comfort, modern amenities and are opposed to breaking a sweat, best stay away from Slim's Y-Ki-Ki.
But if low ceilings; dim lights; a tight, fun crowd; a dance floor as smooth as ice that's unpolished, worn and beautifully dirty; and raw authenticity are more your speed, then this is the place to hear zydeco music.
Since 1947, artists have laid bare their souls via accordion on Slim's Spartan stages, viciously perspiring while the audience does the same. Several musicians have recorded live albums from this literal hot spot. Parking at Slim's, nestled off Highway 182, is a bit of a challenge but well-worth the inconvenience. The interior is minimalist. There's a stage against one wall, a bar against another, a dance floor in between and a sprinkling of chairs around the perimeter. The paint is patchy on the ceiling, and the lighting is sparse minus a few neon beer signs.
But, really, when you're in the mood to boogie the night into the morning to a soundtrack that refuses to let you stand still, interior frills aren't important.
8410 Highway 182, Opelousas, 337/942-6242, www.slimsykiki.com
Fred's Lounge – Live from Mamou, it's Saturday morning!
Wait, morning? No, that's not a typo.
Fred's Lounge – where Friday's hangover meets Saturday's buzz – stands humbly on Sixth Street as a living, vibrant and boisterous monument to Cajun and zydeco music. The musty walls are soaked with spilled drinks and the faded echoes of bands past. A handwritten sign crudely scribbled by the late proprietor, Fred Tate, asks patrons, "Please do not stand on the tables, chairs, cigarette machine, booths, or jukebox." A much more formal historical marker mounted near the red building's entrance credits Fred's as the setting for the "Cajun renaissance" of the 1950s – a cultural rebirth that spawned the modern-day Courir de Mardi Gras celebration.
Fred's welcomes locals and tourists alike from 8 a.m. to 1 p.m. on Saturdays only. It's closed the other six days. There's always a band, and a portion of the performance is always carried on a local radio station, disc-jockeyed entirely in French. Fred's doesn't really feature a dance floor but rather more of a dance path – a U-shaped area fit for a waltz or jitterbug.
"I swear you'd think it's 11 p.m. or midnight," Marx says. "That's how much they get that place rockin'. The dance floor is packed, the band is playing with so much emotion, so much passion. You forget sometimes that breakfast is being served all across town, right then."
Unfortunately, Fred's might have lost a little bit of its luster earlier this year when famous barmaid Sue Vasseur (aka Tante Sue de Mamou) retired. Tante Sue, the ex-wife of Fred Tate, rivaled the bands in terms of popularity.
Known for dancing with customers and swigging back shots of cinnamon schnapps, Tante Sue often got on the microphone to sing with the kings of Cajun and zydeco music.
420 Sixth St., Mamou, 337/468-5411
Liberty Theater – They say that, no matter what, the show must go on. Well, at Eunice's historic Liberty Theater, the show goes on and on and on. Standing majestically on the corner of Park Avenue and Second Street, the now-revamped Liberty Theater has attracted big-time talent for nearly a century. The roll call of performers who have graced this stage since its inception in 1924 include Fatty Arbuckle, Tex Ritter, Jimmy Clanton and Roy Rogers.
In the late 1980s, the theater was restored, reopening its doors every Saturday night for Rendez-vous des Cajuns – Acadiana's equivalent to Nashville's Grand Ole Opry. Every week, new musicians play on a much more traditional stage (think high school auditorium-ish) compared to Blue Moon or Fred's Lounge or places like that.
Below them, partners dance away the early evening while images of the festivities are broadcast on television. If you can't make it to Eunice on Saturday, grab your sweetie, move the coffee table and two-step along to the radio broadcast on KEUN or KRVS.
"I've hosted and emceed shows there, and it's just a neat place – almost a time machine or like stepping back in time," Fuselier says. "The funny thing is, is that the show is broadcast on TV and radio, but the feel is of a place and time where the weekend entertainment wasn't sitting in front of the TV and radio. It was coming here to dance."
200 Park Ave., Eunice, (337) 457-7389
PERFORMERS

Terrance Simien & The Zydeco Experience (Zydeco) – The modern face of zydeco music is perpetually smiling through its calling-card goatee, staring at you with warm, inviting eyes that have pierced through the smoky roux of dank bars and the blinding lights of stadiums and arenas.
It is the face of Terrance Simien.
Perhaps the best way to sum up Simien's amazing career is through numbers: more than 5,000 concerts in 40 countries, more than a dozen albums and one Grammy Award – the inaugural Cajun/Zydeco Grammy given in 2008.
Or maybe the best way to express the magnitude of Simien's career is to list the blockbuster names with whom he's shared a studio or stage: Stevie Wonder, Robert Palmer, Paul Simon and The Dave Matthews Band, to name a few.
No matter the barometer used, Simien stacks up among the greatest Louisiana musicians.
"Terrance is proud," Fuselier says, "proud of who he is, where he's from and what he does. He's really become a cultural advocate. He just wants to share it with the world – whether that's helping establish the Cajun/Zydeco Grammy category or teaching kids how to play the rub board."
BeauSoleil avec Michael Doucet (Cajun and zydeco) – To Garrison Keillor, host and founder of the long-standing public radio show A Prairie Home Companion, there is no debate: BeauSoleil avec Michael Doucet is "the best Cajun band in the world."
Although it's a bold declaration, after examining the group's list of accomplishments, it's hard to argue with Keillor's proclamation. Since 1975, BeauSoleil has brought the sounds of Cajun and zydeco music to curious audiences across the United States and portions of the world. Their original sound was strictly traditional Cajun, but through the years they've incorporated elements of zydeco, New Orleans jazz, blues and even bits of rock 'n' roll into their songs.
The band captured two Grammy awards (the first coming in 1998, years before the inception of a specific Cajun/Zydeco category) and released 27 albums. They provided the soundtrack for Glen Pitre's heralded film Belizaire the Cajun and even performed during the Super Bowl XXXI pregame show in New Orleans.
Unfortunately for local music-lovers, BeauSoleil's success is our loss. Unlike other bands on this list that regularly perform in Acadiana, BeauSoleil's travel schedule doesn't have them in Louisiana as often as we'd like.
The best bet to catch them is at the New Orleans Jazz & Heritage Festival where they are regulars nearly every year.
The Pine Leaf Boys (Cajun) – These five young men – all musical sons of Acadiana – have blown the dust off many Cajun music classics, resuscitating these lyrical links to the past through their energy, stage presence and instrumental skill.
On their albums, mixed in with their own material, are covers of lost Cajun classic songs that date back to the 1920s. Since their founding, The Pine Leaf Boys have daringly ventured to bring the sounds of Cajun music to unfamiliar audiences outside the Acadiana comfort zone. These unofficial ambassadors of Cajun music were invited to travel internationally on a U.S. State Department tour in 2009 and 2010, playing in such countries as Saudi Arabia, Denmark and Slovenia.
The four-time Grammy-nominated group also appeared in a 2010 episode of the HBO series Treme. The Pine Leaf Boys usually perform at Lafayette events such as the South Louisiana Black Pot Festival & Cookoff and Festivals Acadiens et Créoles, as well as occasional concerts at La Poussiere in Breaux Bridge. Vocalist and accordion player Wilson Savoy of Eunice will sometimes show up unannounced for jam sessions at Lafayette's Blue Moon Saloon.
Zachary Richard (Cajun and zydeco) – Yes, he's a musician, one of the most influential musicians in the field of Cajun and zydeco music.
But that's just a small part of Zachary Richard's contribution to the Cajun culture. Titles such as songwriter, environmentalist, author, poet, narrator and documentary producer appear on his expansive resume.
Richard's musical roots date back to his childhood days as a soprano with the boys' choir at Lafayette's Cathedral of St. John the Evangelist. His style is a unique fusion that incorporates elements of Cajun and zydeco.
Recording albums in both English and French, Richard enjoyed tremendous commercial success in Canada, having two albums go gold and one go double-platinum in that country. His cultural contributions have been recognized by both the French and Canadian governments.
Cedric Watson (Cajun and zydeco) – Easily forgotten when losing yourself in the complexities of his sound and the maturity of his presence is the fact that Cedric Watson isn't even 30 years old yet.
What's more remarkable is that this popular act on the Acadiana music circuit grew up in Texas, meaning the French he sings on stage had to be learned upon arriving in Louisiana after high school. In fact, many modern zydeco artists choose to sing in English. Watson's decision to perform in French validates his sincerity in preserving his adopted culture.
"He has such a personality, a charisma about him," Fuselier says. "People are just naturally drawn to him. You see the personality, see the talent … and then you see his influence in keeping our roots, watering the roots of our culture and music."
Roddie Romero and the Hub City All-Stars (Cajun and zydeco) – Whether squeezing the accordion, standing behind a slide guitar or belting out lyrics on the microphone, Roddie Romero constantly delivers one of the highest-energy performances you'll ever witness. In 1990, Romero released his first album, The New Kid In Town, and he has been a mainstay on local concert calendars ever since. Last summer, Romero and the Hub City All-Stars opened for Jimmy Buffett in a Gulf Shores, Ala., benefit concert to raise relief funds for victims of the Gulf oil disaster.
Steve Riley & The Mamou Playboys (Cajun) – The album cover imagery is haunting, mirroring the sounds of Steve Riley & The Mamou Playboys.
On the front of their 2011 release, Grand Isle, an oil-soaked bird stands against a pristine white background, struggling with the man-made fate it's been dealt. The title song of the album deals with nature's plight following the Gulf oil disaster as Riley and his band share their social conscience through music. Given the ties the ever-changing band has forged with the area in the past two decades, it's not surprising The Playboys decided to tackle such an issue.
Riley, who is from Mamou, remains one of the most feared and celebrated accordion players in Acadiana. Riley and fiddle player David Greely formed the band back in 1988. This past Mardi Gras, Greely gave his final performance, choosing to leave The Playboys because of severe hearing damage.
Horace Trahan (Cajun and zydeco) – We're not quite sure what a "butt thing" is, but whatever its definition, Horace Trahan transformed it into a local hit.
Already well-versed in playing the guitar and saxophone, Trahan took an interest in the accordion at age 15. Within six months of picking up the instrument, Trahan landed his first live accordion gig. That experience was valuable, but Trahan really cut his live-musical teeth three years later while touring with the legendary D.L. Menard across the United States. The duo recorded an album together shortly thereafter in 1996. In that same year, Trahan also released his debut solo album, Ossun Blues.
In 2001, Trahan's Reach Out and Touch a Hand album contained the signature song, "That Butt Thing." In the midst of a bit of a musical renaissance, Trahan still belts out that popular tune at every one of his public performances.
Chubby Carrier (Zydeco) – The 2011 Cajun/Zydeco Grammy winner for his album Zydeco Junkie is known for bringing a surplus of infectious energy to the stage every single evening and letting it trickle throughout the band and down to those shaking their hips and feet.
This musical son of Church Point is a third-generation zydeco performer, following a funky path blazed by his grandfather, Warren, and father, Roy. Carrier's cousins, Bebe and Calvin Carrier, are also accomplished musicians.
Prior to nabbing a Grammy, Carrier played outside of Louisiana more than half the year, delighting crowds in places as distant as Africa and Europe."This is a guy we've really welcomed home," Fuselier says. "Prior to him winning the Grammy, he probably played hundreds of dates on the road and maybe had one date at home. But now, the home gigs are starting to pile up, and that's a good thing – because he's always been well-respected, been a true ambassador of Southwest Louisiana and never forgot where he came from. Like he likes to say, he spreads 'the zydeco gospel.'"
Van and Grace Broussard (Swamp pop) – Even at the ripe age of 74, Van Broussard's home away from home remains the stage.
Although his name doesn't resonate with locals like others on this list, in the world of swamp pop, Broussard is a giant. Born in Prairieville, Van and his sister, Grace, often sang together at the now-defunct Cal's Club – a mecca in the genre of swamp pop. Grace went on to form half of the duo Dale & Grace, who in 1963 had the first swamp pop chart-topper with their hit "I'm Leaving It Up To You." Van's success occurred mostly on the local level, composing regional hits such as "Lord, I Need Somebody Bad" and "Feed the Flame."
At the 2010 Swamp Pop Music Festival in Gonzales, brother and sister teamed up to sing once again, performing alongside Van's new band, The Bayou Boogie Band.
Geno Delafose (Zydeco and swamp pop) – The son of the late, great accordion player John Delafose, Geno Delafose continues to make his own name while honoring his father's musical legacy.
Delafose started early, joining his dad's band, The Eunice Playboys, at age 8. While young, he was relegated to playing the washboard before graduating to the accordion as a teenager. Delafose is known for his trademark cowboy hat and his fiercely loyal fans – they follow his sound anywhere and everywhere. To show his appreciation during the mid-1990s, he held fan parties at his Double D Ranch in the minuscule rural town of Duralde, La.
In 2007, on his album Le Creole Cowboy, Geno took a brief musical detour from his (and his father's) traditional zydeco chords by dabbling in covers from swamp pop legend Johnnie Allan.
Other places to get your listen on:
Café Des Amis
140 E. Bridge St., Breaux Bridge
337/332-5273
www.cafedesamis.com
Cowboy's Nightclub
207 N. Ambassador Caffery Parkway, Scott
337/232-3232
www.cowboyslafayette.com

Grant Street Dancehall
113 W. Grant St., Lafayette
337/237-8513
www.grantstdancehall.com
Jolly Inn
1507 Barrow St., Houma
985/872-6114
Mulate's
325 W. Mills Ave., Breaux Bridge
337/332-4648
www.mulates.com/breauxbridge.html

Pat's Atchafalaya Club
1008 Henderson Levee Road,
Henderson
337/228-7512
www.patsfishermanswharf.com
Prejean's
3480 N.E. Evangeline Thruway,
Lafayette
337/896-3247
www.prejeans.com

Randol's Restaurant
et Salle de Danse
2320 Kaliste Saloom Road, Lafayette
337/981-7080
www.randols.com