friday night lights in acadiana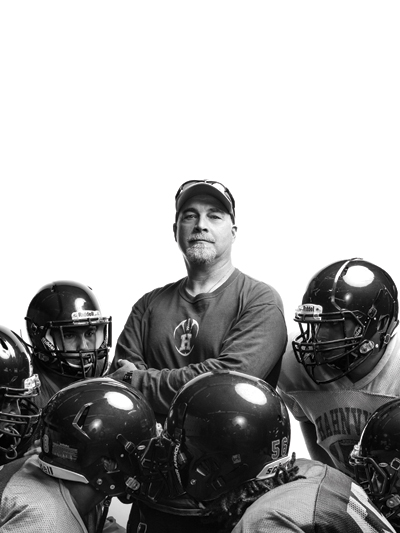 Promise, you'll hear Nick Saltaformaggio before you see him.
Blessed (or burdened, depending on if your glass is half-full or half-empty) with a hardened, jagged voice best suited for managing a noisy construction site, the purveyor of this prep football palace wears a cap, not a crown; holds a stopwatch, not a scepter; and rules between a couple of bleachers, not over an entire kingdom.
Always busy running a team that is as much of a brand as it is a program in local prep circles, the lifelong coach puts the infant season on pause for just a moment. He speaks of the past before the present, of the journey that took him to this current destination, of how he traveled hundreds of miles to the place he always wanted to be, which turns out was right down the road.
"I'm a little calmer than I used to be," says Saltaformaggio, in his second season coaching the Hahnville Tigers. "But I'm still the same guy I always was – passionate, intense, into the moment. I jog, and when I jog I say my prayers just in case I go down, at least I'll have a shot of getting into purgatory."
Until then, he's content patrolling this 100-yard slice of heaven every Friday night.
High school football is important no matter where you go in Acadiana. In some places, it's a civic tradition. In others, it's a community reunion. Travel a little further, and it borders on obsession. And then, there's Hahnville.
Nestled on the eastern border of Cajun country, Hahnville's expansive school grounds resemble a sprawling college campus. Its athletic facilities – including a sparkling new 3,500-square-foot weight-training center – draw envy from college football coaches who stop by to recruit Saltaformaggio's players. And Friday nights – game nights – are part festival, part football.
No other high school in Louisiana has more players currently in the NFL than Hahnville. Its six state championships (the last coming in 2003) are tied for the most won by any high school within the unofficial territory of Acadiana.
"I've had the opportunity in the past to come in here and coach teams against Hahnville," Saltaformaggio says. "Come to think about it, I don't know if 'opportunity' is the right word, because it's not the easiest place to play. But you look around, and you just think, 'Wow, look at this environment. Look at this atmosphere.' It's like you're lucky and unlucky at the same time – lucky to soak up the moment and unlucky to be on the visitors' sideline.
"Every Friday night, it's 8,000; 9,000; 10,000 people in the stands," he continues. "Everything you want is right here. You can't find that anywhere else. So for a kid who loves football, it's an offer you can't refuse. It's an unmatched scenario."
The circumstances that brought Saltaformaggio to Hahnville were just as unique. A defensive coordinator for years at Chalmette in St. Bernard Parish, Saltaformaggio took over for departed Owls head coach Eric Collins in 2004. It was his first head coaching position, one he intended to stay at for a very long time.
Then, Katrina hit – wiping out much more than the 2005 football season.
Searching for employment as a coach, Saltaformaggio relocated to Georgia to direct two different programs while friends and neighbors back home labored through the arduous rebuilding process. He recalls uncomfortably watching the 2006 Saints-Falcons Superdome re-opener on TV while sitting with his wife in Athens, Georgia.
"There was a feeling of guilt, a feeling that I abandoned the community," Saltaformaggio says. "Unfortunately, I learned a hard lesson: Don't let finances dictate your life. I was humbled by it."
East Jefferson High School extended Saltaformaggio an invitation back to Louisiana in 2008. He pounced immediately, building the Warriors into one of the top programs in south Louisiana. In 2013, Saltaformaggio's club finished 15-0 and captured East Jefferson's first state championship by defeating Karr 38-28 in the Superdome. The title – an elusive white whale for both the school and the coach – served as not just validation for Saltaformaggio, but also motivation.
"I remember being on the field and everyone is happy and my wife runs up to me and yells, 'We did it!'" Saltaformaggio says. "And I told her, 'Yeah, I screwed up.' She looked at me weird, and I explained, 'I screwed up because I have to have this feeling again and again. It's never going to be enough.'
"And that's why you come to Hahnville."
But with built-in privileges – a bevy of talented players, an engrained football culture, rabid community support and a scholastic infrastructure suitable for winning consistently – comes pressure, as well. The man who wears the purple hat with the arched "H" – currently Saltaformaggio – is expected to produce. Some cower to those lofty demands. Saltaformaggio embraces them.
They're why he came back home.
"This isn't just about a football program," Saltaformaggio says. "You don't realize it until you get here. St. Charles Public School System promotes excellence, promotes involvement, and promotes an atmosphere of greatness. As a football coach, it's everything you dream about."