Fresh Food to Eat Right Now
Recipes for when hearty, cold-weather fare finally gives way to lighter, early spring dishes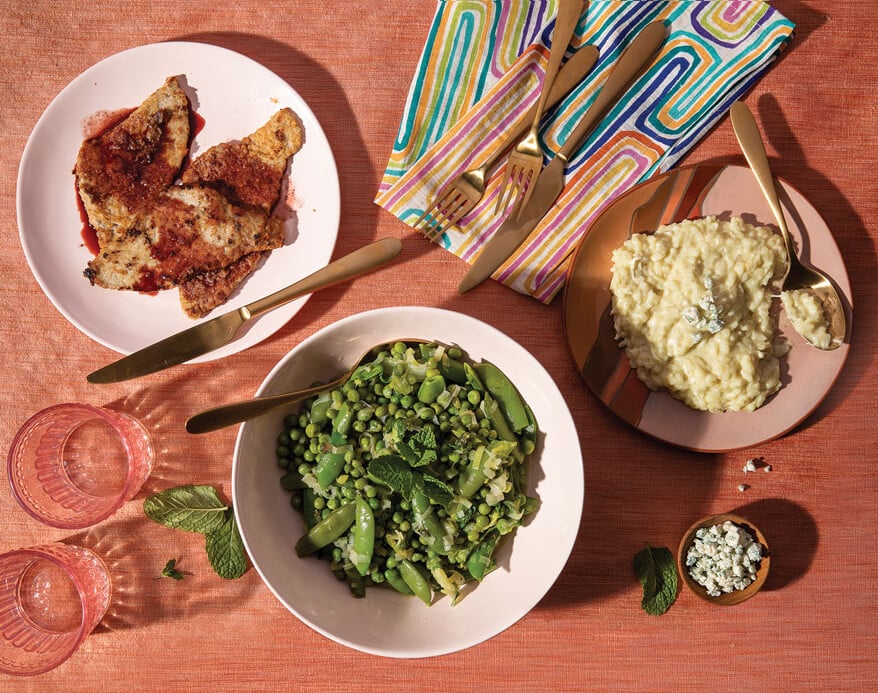 Come February, I make a yard tour to see any sign of new growth.
I poke and dig around my fern bed looking for tender tendrils in the damp earth. Another sign that spring may just be around the corner is my neighbor getting his vegetable garden plot ready for spring vegetables. I also check out the local farmers' markets to see what they might have to offer.
Ah, some nice sweet, bright green peas, or pencil-thin asparagus will be a nice addition to my dinner table. I admit that I'm getting a bit tired of cold-weather soups, gumbos and stews.
on the side
Spring Peas
Spring peas hardly need any adornment, but simple ingredients, like mint and shredded lettuce, can enhance their flavor.
2 tablespoons butter
½ cup coarsely chopped
fresh leeks
(white part only)
1½ cups shelled
English peas
½ cup chicken stock
¾ pound sugar snap peas,
trimmed
1 tablespoon chopped
fresh mint
½ head Bibb lettuce, rinsed
and shredded
salt and freshly ground
black pepper
1. Melt butter in a saucepan over medium heat. Add leeks and cook, stirring, until tender, about two minutes. Add English peas and stock. Cover and simmer gently until the peas are just tender, three to five minutes.
2. Add sugar snaps and mint. Cover and cook until the snaps are crisp-tender, about three minutes. Add lettuce and cook until it just wilts. Season with salt and pepper and serve warm. Makes about 8 servings
main dish
Veal Marsala
¾ cup all-purpose flour
½ teaspoon salt
⅛ teaspoon cayenne
⅛ teaspoon freshly grated
black pepper
1¼ pounds thin veal cutlets
½ cup butter
1¼ cups Marsala wine
1. Combine flour, salt, cayenne and black pepper in a shallow dish. Mix well. Dredge veal in flour mixture, tapping off any excess. Heat butter or margarine in a large nonstick skillet over medium-high heat. Pan-fry veal, two or three at a time, for about two minutes on each side, or until golden brown. Transfer to a serving platter and keep warm.
2. Reduce heat to medium and add wine to skillet. Stir, scraping the bottom of the skillet to loosen any brown particles. Cook until the sauce is bubbly. Pour over the veal and serve immediately. Makes 4 to 6 servings
on the side
Risotto With Four Cheeses
To check the doneness of the Arborio rice, I usually use the "pinch" test. Take a grain out of the pan and pinch it with your fingernail. If it's rough and chunky, with a large white center, it's undercooked.
1 quart chicken stock
4 tablespoons butter
1 tablespoon minced onions
6 ounces Arborio rice
2 ounces dry white wine
1½ ounces grated Parmesan
cheese
½ ounce crumbled Gorgonzola
½ ounce grated fontina
½ ounce grated mozzarella
cheese
1. Bring stock to a simmer in a medium-size saucepan over medium-low heat.
2. In another saucepan, heat 3 tablespoons of butter over medium heat. Add onions and cook, stirring, until soft, 3 to 4 minutes.
3. Add rice to onions and stir to coat the grains evenly. Do NOT brown. Add the wine and stir until it is completely absorbed.
4. Add the simmering stock, about 4 ounces at a time, stirring frequently. Wait until stock is absorbed before adding the next 4 ounces. Repeat until all the stock is used.
5. After 18 to 20 minutes, all the stock should be incorporated and the rice tender. Remove from heat and add remaining butter and grated cheeses. Stir until all the cheeses are completely melted. Serve immediately. Makes about 4 servings
Garlic Asparagus
Makes about 6 servings
4 tablespoons butter
2 tablespoons olive oil
3 garlic cloves,minced
1/8 teaspoon salt
1/8 teaspoon freshly grated black pepper
1 pound pencil thin asparagus, trimmed
Heat the butter and olive oil in a large skillet over medium heat. Add the garlic, salt and black pepper and cook for one minute. Add the asparagus and cook for about three minutes, shaking the pan, or until the asparagus are slightly tender. Serve immediately.
TIP: I like serving this dish with angel hair pasta tossed with olive oil and parmesan cheese, but you can serve it with buttered noodles or risotto.
Raspberry and Blueberry Pound Cake
Makes 8 to 10 servings
5 eggs
2/3 cups sugar
1/2 sticks unsalted butter, cut into tablespoon pieces, at room temperature
2 tablespoons Kirsch
2 cups plus 8 tablespoons cake flour
1 teaspoon baking powder
1/2 teaspoon salt
1 cup fresh strawberries, rinsed and picked over
1 cup fresh blueberries, rinsed and picked over
Vanilla ice cream (optional)
Generously butter a 9-cup Bundt pan. Dust lightly with flour. In a food processor, blend the eggs and sugar until smooth and thick. Add the butter pieces and Kirsh and process until fluffy. Add two cups plus six tablespoons of the flour, the baking powder and salt and process. In a large bowl, toss the remaining two tablespoons flour with the strawberries and blueberries. Fold the batter into the berry mixture using a rubber spatula. Transfer the mixture to the Bundt pan, spreading evenly.
Place the panin the center of a cold oven. Turn the heat to 300 degrees and bake until a tester inserted in the center of the cake comes out clean, about one hour and 25 minutes.