For The Grill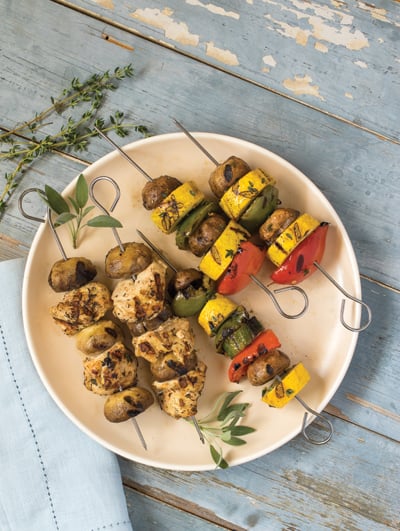 The lifestyle and foodways of Louisiana is sometimes hard on the waistline. While most of the United States takes a breather after the Christmas holidays, Louisianians plunge right into the Carnival season that begins on Twelfth Night (Jan. 6).
After the busy holiday season that extends from Thanksgiving to New Year's, during which there is much feasting, it would seem that everyone would yearn for a quiet time to recuperate. Not so in Louisiana.
We roll right into the Carnival season when, on Jan. 6, or Twelfth Night, the King's Cake or Gateau du Roi is customarily served. It was first served to celebrate the visit of the Christ child by the three Magi but now it officially opens the Carnival season – a fest of drinking, eating and merrymaking.
The word Carnival is from the Latin carne (meat) and vale (farewell). Mardi Gras is French for Fat Tuesday. Knowing that the next day after Shrove Tuesday is Ash Wednesday, which opens the Lenten season, a time of fasting, everyone is prepared to stuff themselves with all the good things our state has to offer. What is one to do when pots of gumbo, jambalaya or red beans are simmering on the stove and platters of Popeyes fried chicken and fried oyster poor boys are de rigeur at parade-watching parties?
My philosophy is the same as Julia Child's – moderation in everything. However, that can be a bit daunting at this time of year. Thankfully, Mardi Gras was early (Feb. 9) this year, so the rollicking and feasting can be done in short order.
Since I'm one of those who lives to eat, it can be difficult to change my dining habits, but with a little thought and planning, it can be done. For example, our sub-tropical climate allows us to access the outdoor grill pretty much year-round, and now that spring is almost here, we can plan meals that can be cooked with ease on the grill. Grilling is probably one of the healthiest methods of food preparation since most of the fat content is burned off over the hot coals, and fresh herbs and spices are all that is needed to bring out the true taste and flavor of whatever you're preparing. Preparations can be simple and quick. Fresh vegetables from your garden, roadside stands and farmers' markets can be grilled on skewers or in wire baskets; the same goes for shrimp or fish. Steaks, burgers and kabobs take little time on a hot grill.
---
Tip
• If you are using wooden skewers, soak them in warm water for at least 20 minutes to prevent charring and splintering (or catching on fire). You can also soak them in wine or juice for an added depth of flavor. If you notice the ends of the skewers igniting, wrap them in kitchen foil.
• Brush the kebabs (and/or the grill) with olive oil or grapeseed oil to prevent them from sticking. Grapeseed oil is preferable for high-temperature cooking. You could also use infused oil if you want to get fancy.
• Healthy salads are quite easy. Salad greens (there are so many available these days), tossed with chunks of apples, pears or berries dressed with drizzle of vinaigrette dressing (homemade, not store-bought) and a smattering of crumbled blue cheese or grated Parmesan cheese are very satisfying.
During the Lenten season, I devote one day a week to vegetarian meals. A friend, Paul Williams, shared this recipe for quinoa salad. This is where you can be creative. Add whatever vegetables appeal to you. Sometimes I substitute celery for the cucumber, and add raisins or cranberries rather than the dates. Feel free to add fresh herbs, like mint or thyme to the mix.
---
Squash and Pepper Kabobs
Ingredients
1 ½ pounds yellow squash (or zucchini)
1 medium red bell pepper
1 medium green bell pepper
⅓ cup olive oil
2 tablespoons red wine vinegar
1 clove garlic, minced
2 teaspoon chopped fresh thyme or 1/2 teaspoon dried thyme
½ teaspoon salt
¼ teaspoon freshly ground black pepper
10 to 12 large button mushrooms, cleaned and stemmed
Cut squash (or zucchini) crosswise into one-inch slices. Half the green and red bell peppers (remove the seeds and stems). Cut peppers into one inch squares. In a large bowl, whisk together oil, vinegar, garlic, thyme, salt and pepper. Add vegetables and toss to coat evenly. Let stand for about 30 minutes.
Prepare the grill. Remove the vegetables from the marinade; reserve marinade. Thread pepper, squash pieces and mushrooms alternately onto skewers. Arrange the skewers on rack. Grill, turning occasionally, and brushing with reserved marinade, until lightly browned, 8 to 10 minutes.
Makes 4 servings
---
Chicken and Mushroom Kabobs
Ingredients
1 ¼ teaspoons salt
1 teaspoon freshly ground black pepper
½ teaspoon dried thyme
½ teaspoon cayenne
1 teaspoon minced garlic
4 chicken breasts halves, skinned and deboned, each about 5 ounces
3 tablespoons olive oil
12 large white button mushrooms wiped clean and stemmed
12 to 16 fresh sage leaves (optional)
Combine 1 teaspoon of salt, pepper, thyme, cayenne and garlic in a bowl and stir to blend. Set aside.
Cut the chicken breasts into strips about 3 inches long and 1 inch wide. Place in a large bowl. Add 1 tablespoon of olive oil, the spice/herb mixture and toss to coat evenly.
Toss mushrooms with sage leaves, remaining 2 tablespoons olive oil and ¼ teaspoon salt.
Prepare the grill.
Thread the chicken strips onto skewers alternately with the mushrooms and sage leaves. Arrange the skewers on a rack and grill, turning often, until the chicken and mushrooms are lightly browned and cooked through, 8 to 10 minutes.
Makes 4 servings
---
Sesame-Ginger Chicken
Ingredients
1 tablespoon sesame seeds, toasted
2 teaspoons grated ginger
2 tablespoons honey
2 tablespoons soy sauce
4 skinned and boned chicken breasts (each about 5 ounces)
Vegetable cooking spray
Thin green onion strips
Combine sesame seeds, ginger, honey and soy in a small bowl and stir well. Place chicken breasts between two sheets of heavy-duty plastic wrap and flatten to about ¼-inch thickness using a meat mallet. Coat the grill with the cooking spray. Place chicken over medium-hot coals on the grill. Baste with soy sauce mixture and cook about five minutes on each side and continue basting with sauce.
Serve garnished with green onion strips. Serve over a rice pilaf or with grilled vegetables
Makes 4 servings
---
Quinoa Salad
Ingredients
1 cup organic quinoa
1 ¾ cups vegetable stock
8 small red radishes, well-cleaned and tops removed, small diced
⅓ seedless English cucumber, about 4 oz, unpeeled, small diced
1 large shallot, minced
½ cup chopped dill fronds
½ lemon, zested and juiced, about 1 ½ tablespoons
3 tablespoons extra-virgin olive oil
½ tablespoon balsamic vinegar
½ cup sliced raw almonds
½ cup pitted dates, roughly chopped
½ cup grated Parmesan cheese
Sea salt and freshly ground black pepper
1 ripe avocado, to serve
Rinse quinoa in a fine mesh strainer, rubbing vigorously. Drain. Heat a 2-quart saucepan over medium-high heat and drizzle with olive oil.
When the oil is hot, add the quinoa and cook, stirring, for 1 minute. Pour in stock, bring to a boil, cover and turn heat to low. Cook for 15 minutes. Turn off heat and let sit, covered, for 5 minutes.
Line a large baking sheet with parchment and spread cooked quinoa over it in an even layer. Let cool.
Combine radishes, cucumber, shallots and dill, and toss in a bowl with cooled quinoa. Zest the lemon right into the bowl and fold in. Juice the lemon half and whisk together with the olive oil and balsamic vinegar until emulsified and thick. Toss with the quinoa.
Fold in almonds, chopped dates, and Parmesan. Season to taste with salt and pepper. CHILL FOR AT LEAST 15 MINUTES BEFORE SERVING. When ready to serve, top with chopped avocado.
Makes 4 to 6 servings
---