For Quick Energy
News Brief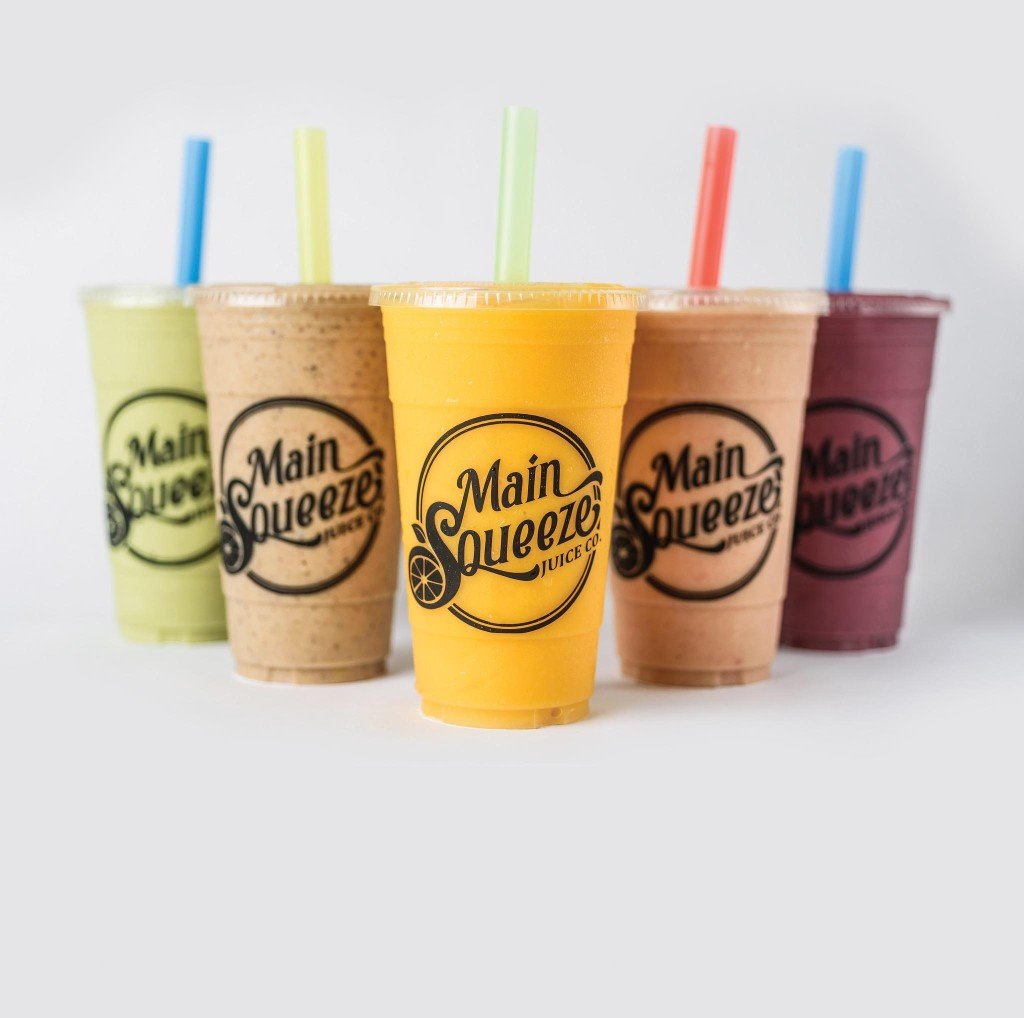 Lafayette Main Squeeze Juice Co. is opening its first Lafayette location as it continues to expand across Louisiana. Local couple, owners Carly and Derek Peterson, are bringing the New Orleans-based company's nutritionist-designed offerings that include cold-pressed juices and smoothies, juice cleanse programs and wellness shots at the end of the year. Customers can place orders with a mobile app (Apple App Store and Google Play Store). Cool perk: Geofencing technology lets the store know when you arrive curbside or in-store for your order. Franchise opportunities: mainsqueezejuiceco.com/franchise.
A Fighter's Rare Bourbon
Lafayette The top-ranked UFC fighter and Lafayette native, Dustin Poirier, has launched a new craft bourbon, Rare Stash. His branding concept celebrates all those who aspire to the "live rare, be rare" lifestyle that is "unique to each person." Rare Stash bourbon's intense initial taste is balanced by notes of oak, caramel, vanilla, hazelnut and butterscotch. Now available at select retailers throughout Louisiana (therarestash.com).
Lafayette
Saving Acadiana's Animals
Bark in the Dark, one of Acadiana's largest and most impactful fundraising events for animals, is April 7 in the Cajundome's Festival Ballroom featuring an evening of entertainment, delectable cuisine by Chef Gilbert Decourt and opportunities to bid on exclusive auction items. Benefitting Acadiana Animal Aid, the region's leader in animal rescue, sheltering and transport (development@acadianaanimalaid.org; cajundome.com/events).
Ahoy Jean Lafitte Lookalikes
Houma The Keep Terrebonne Beautiful Pirates and Boots Festival is holding a celebration in conjunction with Keep Louisiana Beautiful Love the Boot Week April 23 at Houma Downtown Marina. Grab your best boots, cloak, eye patch, hook and earrings for the Jean Lafitte Lookalike contest and treasure hunt. Enjoy vendor booths, music, food and kids' activities at the festive family fundraiser (houmatravel.com/events/keep-terrebonne-beautiful-pirates-boots-festival).
Significant Global Gains
Cameron, Calcasieu
For the first time ever, U.S. liquified natural gas (LNG) shipments eclipsed Russian natural gas pipeline deliveries in January. Thanks to a jump in exports from Cameron Parish's Sabine Pass (where a new production unit recently produced its first cargo) and Freeport, the U.S. became the world's top LNG exporter for the first time, outpacing Qatar, according to Bloomberg. The U.S. is expected to have the world's largest export capacity by the end of 2022 once Venture Global LNG's Calcasieu Pass terminal comes online. Also, Tellurian Inc.'s new 27.6-mtpa Driftwood LNG export facility (to be located along the Calcasieu Ship Channel) just secured contracts for sales of LNG with Shell and Vitol. Construction starts in April.
Broadband Underway
Ville Platte, Church Point, Eunice, Mamou, Basile
The Lafayette municipal agency LUS Fiber will expand into Ville Platte and other underserved Acadiana areas, thanks to a $21 million federal grant that will result in over 1 million feet of fiber-optic cable infrastructure being installed in the region. Targeted for areas saddled with poor broadband access including Ville Platte, rated as having the fifth slowest average internet rate in the U.S.
New Production Studio
Sunset
Locally-owned Astros Studios, a new full-scale, state-of-the-art audio/video production studio and event space, recently opened in Sunset. The complex features a 5,300 square-foot video studio with Blackmagic 4.6K video equipment facing an 18-foot green screen, a spacious recording studio with a recording stage and professional sound engineering room equipped with in-house engineers providing editing, mixing, mastering and other perks. For all levels of production, from albums and music videos to TV, movies and commercials (astrosstudios.com).
For Sounds of Ukraine
Lafayette
Fans of Festival International de Louisiane (April 27-May 1) interested in the brave people of Ukraine should check out DahhaBrakha, a folk-punk, "ethnic chaos" quartet from Kyiv, Ukraine. Their powerful vocal range and diverse instrumentation creates a bright, trans-national sound that inspires. Also of note: The Grammy-nominated Wailers (Jamaican reggae royalty) closing out the fest, and the high-energy Cuban sensation Cimafunk. Rolling Stone featured his "El Alimento" album, produced by Grammy Award-winning Jack Splash (Alicia Keys, Kendrick Lamar, John Legend) in its list of "50 best albums of 2021" (festivalinternational.org).
Party on a Bike
Breaux Bridge, Scott, Arnaudville, Lafayette, Cankton, Carencro, Sunset, Grand Coteau, New Iberia, Broussard, St. Martinville
Work on your summer swimsuit physique during Cycle Zydeco, a four-day touring and partying bike ride (April 20-24) that attracts an international array of cyclists traveling to towns along the finest flat roads in Acadiana with various distance options and diverse events including the Scott Boudin Festival (April 22-24), "Dans la Rue," a street party in Breaux Bridge with Cajun dancing lessons, live music and iconic restaruants and a post-ride party at Lafayette's Blackham Coliseum (cyclezydeco.org).
Zachary Richard Up Close
Arnaudville
Check out AcA's Songwriters Side-by-Side Series April 23 for an intimate evening of food, art and an outdoor concert by the legendary Zachary Richard and Cadie Rees, set against a backdrop of Maison Stephanie, where independent chef Bonnie Breaux (now working on a cookbook) contributed her culinary skills after retiring from Café Sydnie Mae in Breaux Bridge. Tickets: acadianacenterforthearts.org.