Farewell to Summer
I'll miss the languid days spent lolling in my hammock in the shade of the giant live oak trees on my property on Bayou Teche. I'll miss a quick dip in my sister's swimming pool followed by a trip, with several great nieces and nephews in tow, to get snowballs. No more late afternoon boat rides to observe the egrets and blue herons stalking along the bayou banks for their next meal. The summer vegetable gardens are finished, and my herb bed is drying up with only a few basil plants still standing, but it's not to late for a late-summer fish fry in the backyard, on a screened porch or by the pool.
My go-to fish for a fish fry is catfish, preferably wild-caught in the Atchafalaya Basin. Of course, redfish or speckled trout from Vermilion Bay are quite acceptable. My sides usually include potato salad and coleslaw. Papa always said that lemon pie is the ideal dessert after a seafood meal, and I agree.
Like so many of our traditional dishes in south Louisiana, there are several ways to batter the fish, but my husband Rock's recipe is my favorite.
Rock's Fried Catfish
Makes 6-8 Servings
3 pounds catfish fillets, cut into 1-by-3-inch strips
1 tablespoon salt
½ teaspoon cayenne
1⁄3 cup yellow mustard
1⁄3 cup whole milk
1 teaspoon Tabasco or other hot sauce
1 egg, beaten
1 box (24 ounces) Zatarain's Wonderful Fish-Fri®
Vegetable oil (about 4 cups) for deep-frying
1 medium-size yellow onion, peeled and thinly
sliced (separate into rings)
Lemon wedges
Rinse the catfish in cool water and pat dry. Put catfish in a large bowl. Season with salt and cayenne. Add the mustard, milk, hot sauce, and the beaten egg. With your hands, toss catfish in the mixture to coat evenly. Cover and refrigerate for 30 minutes.
Heat the vegetable oil to 350 degrees in a large, deep heavy pot or electric fryer. Put the Fish-Fri in a large plastic storage bag. Add catfish, several pieces at a time, and toss to coat evenly. Fry the fish until golden, turning with a metal spoon to cook evenly, 3 to 5 minutes. Drain on paper towels.
Scatter the onion rings on the fish as it comes out of the fryer and cover lightly with paper towels to keep warm. Serve with tartar sauce.
Buttermilk Slaw
Makes 4-6 Servings
¼ cup plus 1 tablespoon sour cream
¼ cup buttermilk
1 tablespoon cider vinegar
1 teaspoon Worcestershire sauce
¼ teaspoon hot sauce
Pinch or two sugar
¼ teaspoon celery salt
Salt and freshly ground black pepper to taste
1 small head cabbage, finely chopped or grated
1⁄3 cup finely chopped red onions
¼ cup chopped fresh parsley leaves
1 tablespoon chopped green onions
(green part only)
In a small bowl, whisk together sour cream, buttermilk, vinegar, Worcestershire sauce, hot sauce, sugar, celery salt, salt and pepper.
In a large salad bowl, toss cabbage, onions, parsley and green onions. Add the dressing mixture and toss to coat evenly. Cover and refrigerate for about one hour before serving.

---

Let's talk about potato salad. I prefer potatoes cut into large dice and tossed with homemade mayonnaise. I don't care for what I call mashed potato salad. I am also a purist since I usually don't add sweet pickle relish, onions or celery, but hey, it's a personal thing, so you can add whatever you like to the salad. Oh, and I never chill my potato salad. I like it served at room temperature dressed at the last minute with mayonnaise.
My Potato Salad
Makes about 10 servings
4 pounds red potatoes, scrubbed
8 hard-boiled eggs
1/2 teaspoon salt
1/4 teaspoon freshly ground black pepper
Optional:
1/4 cup minced celery
1/4 cup finely chopped green onions
2 tablespoons chopped flat-leaf parsley
Boil potatoes in lightly salted water until tender. Remove from heat and drain. Cool.
Put the eggs in a saucepan and cover with water. Bring to a boil, then turn off the heat, cover the saucepan and let sit for 15 minutes. Drain, cool, peel and chop.
Put the chopped potatoes and eggs in a large serving bowl. Mama put them in layers, i.e., a layer of potatoes, a layer of eggs, a bit of seasoning, then continued the layering until all was used. Then add mayonnaise and whatever condiments you wish and toss gently (so as not to break up the potatoes) to mix.

---
Tartar Sauce
Makes about 1 cup
1 cup mayonnaise (preferably homemade)
1 large pod garlic, mashed
1 large sweet pickle, minced
5 drops of Tabasco sauce
3 good shots of Worcestershire sauce
1 teaspoon grated onion
Mix all the ingredients together and chill for about one hour before serving.
Or you may prefer this classic remoulade sauce:
Remoulade Sauce
Makes about 1 cup
1 cup mayonnaise
2 tablespoons Creole mustard
1 tablespoon yellow mustard
3 tablespoons ketchup
¼ cup finely chopped green onions
2 tablespoons finely chopped fresh parsley leaves
2 tablespoons finely chopped celery
1 teaspoon minced garlic
2 teaspoons prepared horseradish
½ teaspoon paprika
Salt and freshly ground black pepper to taste
Combine all the ingredients together in a bowl and whisk to blend. Season with salt and pepper. Chill until ready to serve.

Quick Mayonnaise
Makes about 1 1/4 cup
1 large egg
2 tablespoons fresh lemon juice
1 cup vegetable oil
Salt and freshly ground black pepper
Pinch of sugar
Hot sauce
Blend the egg and lemon juice in a food processor or electric blender for 15 seconds. With the processor or blender running, slowly pour in the oil through the feed tube. The mixture will thicken. Add the salt, pepper and hot sauce and pulse to blend. Store in an airtight container in the refrigerator for at least 1 hour before using.
Note: Since the mayonnaise is made with a raw egg, it's best to use within 24 hours.

---

Lemon Meringue Pie
Makes 6-8 servings
1 cup plus 6 tablespoons sugar
¼ cup cornstarch
¼ teaspoon salt
1 ½ cups boiling water
2 teaspoons grated lemon rind
1⁄3 cup fresh lemon juice
3 large eggs, separated
2 tablespoons butter
1 8 or 9-inch pie shell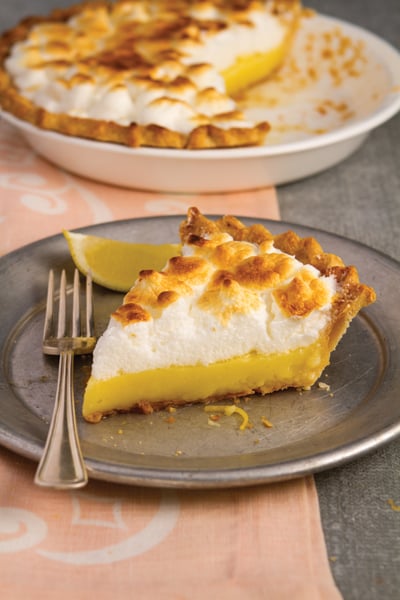 Preheat the oven to 325 degrees. In a medium-size, heavy saucepan, combine 1 cup of sugar, cornstarch, and salt and mix till well blended. Gradually add the boiling water, stirring constantly and cook over medium heat until the mixture thickens, stirring. Add the lemon rind and juice, and blend.
In a small bowl, beat egg yolks till foamy, add a small amount of the hot lemon mixture to them, stirring constantly, and then pour the egg mixture into the lemon mixture in the saucepan, stirring. Add butter and continue cooking, stirring, until the mixture is very thick. Pour into the baked pie shell.
In a medium-size mixing bowl, beat the egg whites with an electric mixer until thickened. Gradually add 6 tablespoons sugar and beat until stiff peaks form. With a rubber spatula, cover the pie with the meringue, being careful to seal the edges. With a spoon, make a few peaks in the meringue. Bake just until the top has browned slightly, about 10 minutes. Cool before serving.