Falling for Port Aransas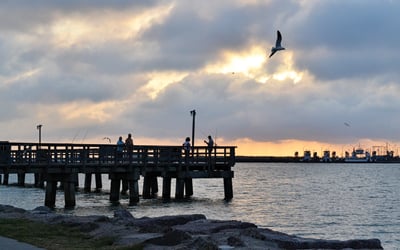 Are you sad to see summer go? While many travelers pack up the bathing suits and beach balls with the start of autumn, in Port Aransas, Texas, the fun is just beginning.
Known as a year-around destination for summer vacationers, spring breakers and winter Texans, this village of under 5,000 residents on Mustang Island is also a favorite getaway for fall travelers. Deemed the best time of year to visit by many "Port A" regulars and residents, autumn brings plenty of beach sunshine enjoyed with cooler temperatures and lower prices.
Although you can reach Port Aransas via a drive along Mustang Island from Corpus Christi, the most popular way to arrive is with a short (and free) ferry ride from Aransas Pass. Hop out of your car on these open-air ferries operated by the Texas Department of Transportation for a chance to sight some of the numerous dolphins that frequent the channel.
From the ferry landing, it's just a short drive to the miles and miles of beach that line Port Aransas and stretch beyond the village to outlying condominium and resort complexes, to Mustang Island State Park, and finally to nearby Padre Island. In Port Aransas, you can drive on the sand between the dunes and the post markers; for a $12 annual parking pass, you can park along the beach as well. And be prepared to share the road with plenty of golf carts; they're legal to drive in the city except on Highway 361 beyond Avenue G and are for rent just about everywhere.
Those miles of sand are the chief attraction in Port Aransas, luring everyone from sandcastle builders to surfers, anglers to kite flyers. Port Aransas is also a big destination with dog lovers; four-legged beachgoers are welcome on leash. You can even camp for free on the beach for three nights.

---
---
Walking or driving along the beach, you'll spot the Horace Caldwell Pier that stretches for 1230 feet into the Gulf. Since the 1950s, this pier has been the home base for many Port A fish stories (the record is a 13-foot, 7-inch tiger shark). Anglers try their luck for everything from pompano to black drum – while others pay the $2 pier fee just to enjoy a stroll.
But it was the tarpon that first focused the eyes of the world on Port Aransas back in the 1930s, when Franklin D. Roosevelt arrived here on a presidential yacht to fish with a local guide. Today a tarpon scale signed by FDR hangs in the Tarpon Inn, a historic hotel that is home to Roosevelt's at the Tarpon Inn, one of the town's most elegant eateries.
Serious anglers also take advantage of deep-sea excursions that depart from near the ferry landing. Dolphin watching tours, sunset cruises, and even a cruise aboard the 70-foot Red Dragon Pirate Ship also depart from this area. For dolphin watching from onshore, head to nearby Roberts Point Park for a chance to see the dolphins that frequently "escort" the ships as they maneuver the channel.
Dolphins aren't the only wildlife to claim your attention. Port Aransas is also a birding hotspot and home to the Leonabelle Turnbull Birding Center. Landscaped with plants to attract migrating hummingbirds that come through every fall and spring, the center's wide boardwalk features a telescope to spot pelicans, egrets and spoonbills – or even resident alligators.
Whether you're looking for one more fun in the sun getaway before winter, a fishing excursion for the whole family, or some world-class birding, don't put away the beach gear just yet. Port Aransas is saving the best time of year just for you.
For More Information: Port Aransas Chamber of Commerce and Tourist Board; (800) 45-COAST; portaransas.org.