En Français, s'il vous plaît: Spanish Moss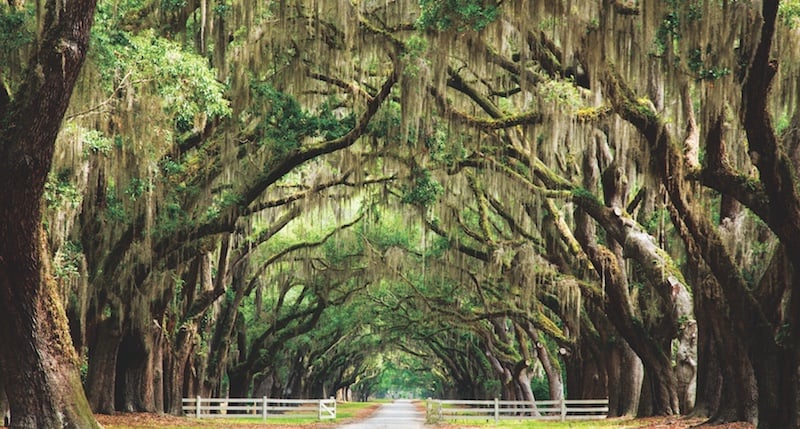 It is difficult to imagine a Southern Gothic novel without a single reference to a solitary oak tree covered with Spanish moss. This image has become almost a banality, but one that represents an essential truth. As much as the magnolia or the cotton boll, Spanish moss is one of the most emblematic plants of the Old South, especially in our bayous.
It is also called Spanish beard, apparently in tribute to the long beards of the Conquistadores, but it is neither a moss nor a beard. It is a member of the pineapple and bromeliad family. Contrary to what one might believe, it is not a parasite, but an epiphyte, which means that it grows on other plants without disturbing them, as do orchids. It contributes to biodiversity, home to many species of animal life, including a spider that lives only in this plant. It grows pretty little flowers that can easily be missed and takes its food and water from the air. This is why it is found in humid areas without too much air pollution. The harmful effect of car fumes was greater before the ban on lead in gasoline. Since then, Spanish moss has been doing better in urban areas. After being considered a source of malaria, people drape moss in their trees in hopes of seeing it flourish again.
Spanish moss is not just a pretty ornament or a sign of a health environment. While not as important as cotton or sugar cane, it used to be an important industry. At its peak in 1936, 10,000 tons of moss with a commercial value of $2.5 million were harvested across the South. Many families survived the Great Depression with the moss they picked. To market it, it is first necessary to soak the moss in water for two or three weeks; the gray exterior dies and then falls off, revealing inside a black and robust filament of great utility. It is ideal for ropes, padding of seats and mattresses, and especially for mixing in burr, this essential house building material before air conditioning. The fibers prevented the crumbling of clay mud that was put into the walls, creating perfect insulation for our humid climate. The large quantities that Henry Ford bought ended up in the seats of his Model T. It seems that he was less interested in the moss than in the cypress wood boxes in which it arrived. He used the boards to make the panels and dashboards of his vehicles. He bought this precious wood at the price of an agricultural product that requires no fertilizer, no watering.
When the owners of the last moss gin closed its doors in Labadieville several years ago, a chapter in our history has closed. We still have beautiful oaks brimming with Spanish moss that attest to the health of our environment.
---