Ebb & Flow Festival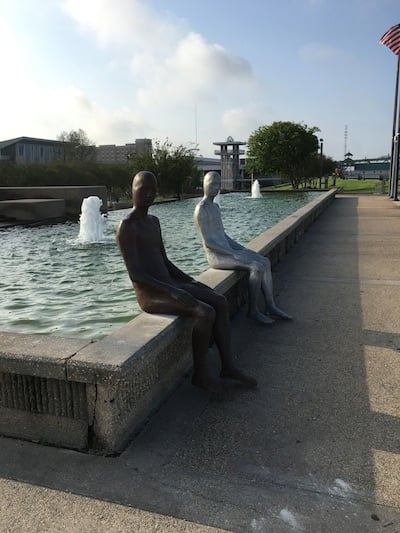 The banks of the Mississippi River have been witness to the many changes the city of Baton Rouge has undergone over the past few decades. It seems only fitting that the newest arts festival in the capital city be named after its watery elder.
The Ebb & Flow Festival will officially serve as the replacement for Fest for All, a festival that helped revitalize Downtown Baton Rouge and provide free access to local artistry for the past 40 plus years.
The festival is being hosted by the Arts Council of Greater Baton Rouge on the banks of the Mississippi River.
Arts Council CEO, Renee Chatelain, says, "The reason we called it Ebb & Flow is because historically, things have tended to flow through our city and back out, ebbing into other areas of Louisiana. We said since it's the capital city we need those things to flow back in so we can celebrate them all in one place."
In addition to a colorful music line up, there will be exhibits on printmaking, puppetry, slam poetry, the future of the festival, water ecology, yarn bombing, a site-specific theatre work on the dock and a human library.
One of the major exhibits of the festival will be a sculpture garden consisting of 22 pairs of sculptures made by Icelandic artist Steinunn Thorarinsdottir.
The sculptures will remain on display for a year, and are designed to be interactive and start conversations surrounding public art.
Chatelain says, "We want to have a conversation about public art in our city and the way to really do that is to introduce art on a temporary basis and then move to more permanent structures. We took on getting the artist here and the Downtown Development District helped with placements, so it's been a collective experience."
According to Chatelain the idea for the festival was birthed out of conversations with locals about how Baton Rouge has yet to form its own cultural identity.
By centering the festival around the theme of the Mighty Mississippi, Chatelain hopes it will help solidify Baton Rouge as not just a place for ideas to flow in and out of, but a place where arts and culture can thrive and stand on their own.
In looking to the future of the festival, Chatelain hopes to connect the river's past with the creative future of Baton Rouge.
Chatelain says, "We plan to grow the festival in the next three to five years to include offerings onto barges that will serve as exhibition spaces, and expanding the footprint to include the completed Water Campus as a focal point. Also included will be an internationally-juried design festival, with the winners exhibiting on the barges."
For those wondering if the new festival format will wipe away all traces of Fest for All in the name of progress, Chatelain says there is no need to worry.
"Historically we have hosted Fest for All, which did some great things, but we wanted to bring those ideas to 2017 and beyond by looking forward," says Chatelain. "We took the best elements of that event and put them into this new festival, so people would have some familiarity with it, but the idea is that we want to identify the city artistically and culturally. We want to let people know this is a really great place to live.'
Other festival activities will include a kids' corner on the U.S.S. Kidd, dance and film showings, a Maker's Row full of workshops and interactive demonstrations and a Folk Life and Heritage Tent.
Festival events will take place between the Louisiana Art and Science Museum and the USS Kidd, with stages inside the Old State Capitol and Repentance Park.
For more information about the Ebb & Flow Festival or a for a schedule of events, visit ebbandflowbr.org.
---
Upcoming Events
Acadiana Bird Fair, April 1 and 2, Lafayette
This annual event hosted by Acadiana Bird Club, Inc., will be held April 1-2 in the Lafayette Event Center.
Birds and all things bird-related will be sold and a raffle will be held.
Proceeds from the event will go towards local charities and avian research.
Acadiana Po-Boy Festival, April 1, 11 a.m. to 6 p.m., Lafayette
The Acadiana Poboy Festival celebrates the humble poboy and promotes the culture and hospitality of Acadiana in downtown's Parc San Souci.
In addition to a poboy eating contest there will be live entertainment by Zydeco Radio, Ray Boudreaux, Soul Express Brass Band, Louisiana Soul Revue, and the 337 Band.
For more information, visit www.acadianapoboyfestival.com.
Project Front Yard Festival of Service: River Day, April 2, 8 a.m. to 8 p.m., Lafayette
Project Front Yard is encouraging everyone to get out on River Day to facilitate the enjoyment of the Bayou Vermilion.
Acadiana residents are encouraged to visit parks near the river like, Beaver Park, Heymann Park and Southside Park
Residents can access maps of the Paddle Trail at http://apps.lafayettela.gov/paddletrail/.
Sip and See Fashion Show, April 2, 2 p.m. to 3:30 p.m., Youngsville
All About You Boutique and Gifts of Youngsville is hosting a fashion show of their new adult and tween Spring and Summer arrivals.
Customers can enjoy wine and cheese while they watch the fashion show and enjoy sales on clothing, shoes and jewelry.