Détails: Food + Drinks / Pull Up to the Station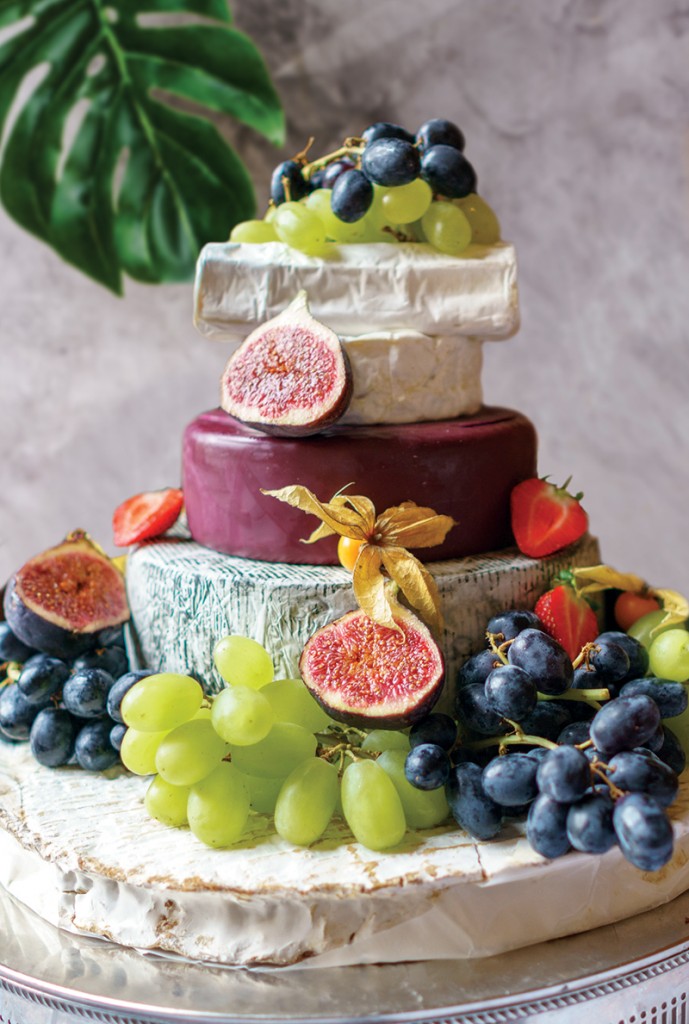 "Experience. That's the trend word. That's the trend feeling," explains Angie O'Bryan, the catering sales manager for Bon Temps Grill. "People are getting away from sort of generic traditional things, like passed trays of finger sandwiches -— they want their guests to have something unique."
Cajun and Creole traditions unsurprisingly form a large part of the menus that Acadiana brides and grooms choose — roast suckling pig (cochon de lait) carving stations, jambalaya, and hot boudin all feature regularly on Acadiana wedding tables.
Dinner-as-decor is another trend that O'Bryan sees. Long gone are the days of a row of silver chafing dishes. Instead, Pinterest-perfect spreads feature tables of different heights, creatively scrunched fabric and unconventional servingware. "It's all about really making those tables gorgeous," says O'Bryan. "Even that alone provides an element of experience for the guests, who get to serve themselves from these beautiful displays.
"You know, it's a real advantage that we have this tradition of the wedding buffet in the South. Up North and around the country, it's common to have a plated sit-down dinner, which is beautiful but it means that you're not moving around. The buffet allows for a more interesting range of food and it lets people get up and around and circulate and see each other and talk to each other. So when it comes to experiences, this one is built in."
A particularly fun way in which couples make use of this circulation is in offering creative build-your-own stations. French fries, nachos, and sliders are not uncommon, but O'Bryan's current favorite (and one which everyone seems to love) is a mac-and-cheese station. The macaroni and cheese is served in clear plastic martini cups to give it a bit of an upscale look, and then guests get a huge variety of toppings and add-ins which they can heap up: crawfish, lobster, bacon, green onions, extra cheese, pickled jalapenos — it takes comfort food to the next level in a unique and interactive way, and guests just adore it.
Cakes have long been an area in which Gulf Coast brides have been consistent traditionalists. The bride's cake has been white, almond-flavored, and elegant for generations and all serious creativity has been focused on the groom's cake. As online sources abound, though, and a web-savvy younger generation begins to marry, O'Bryan is seeing a burst of creativity and tradition-busting on the cake front.
"Recently, I catered a wedding where the bride's cake was full wheels of gourmet cheese, all stacked in tiers and decorated. The groom's cake was still a traditional sweet cake, so people who wanted something sweet were taken care of, but isn't that fun?" O'Bryan says that she is also seeing alternatives for sweet cakes, whether it's a dessert station with a single small cake for ceremonial slicing and then a variety of other things, or even cake pops, cupcakes, tartlets or cream puffs presented in tiers.
Even for brides who do want a more traditional tiered cake, O'Bryan is still seeing some movement away from the traditional fondant-and-piping. "Naked cakes are becoming a big thing," says O'Bryan, who suggests that brides who don't like thick frosting be creative with their alternatives, many of which are really beautiful: fresh fruit, edible flowers, whipped cream, dripped ganache — they all have a unique look (and taste!) and any good baker will happily work with you to explore fondant alternatives, if you're looking for a classic aesthetic but a modern taste profile.
Above all, don't be afraid to dream big. Far from being annoyed by couples' desire to replicate complex things that they found on the web, O'Bryan and her staff think it's great fun. "Even if we can't do it exactly, we can usually figure out what it is about the menu item or presentation that attracts them and create something unique for them."
DRINKS
The beverage service is serious business at Acadiana weddings. Marcello's Wine Market and Cafe's Trent Roy, who does full-service beverage catering at 400-500 regional weddings each year, knows very well how seriously local couples take this part of their wedding planning, and says that he's seeing a trend toward elegance.
"The amount of couples going with real glassware — which costs at least $2 per guest more — has just about doubled in the past few years," says Roy, though he chuckles at the suggestion that perhaps couples are just trying to be a bit more eco-friendly. "In this case, no. It's all about that aesthetic of real glass."
Champagne and other bubbles, once reserved for toasts only, are fast becoming a regular full-reception feature. "A nice thing that some couples are doing is having a little champagne table right as people enter the reception, maybe with a few different options for sparkling wine. Prosecco is very hot right now, that's always on there. And some people will keep this table open for the whole night, while others move the champagne service to the bar, but yeah, in the past year, this has become a big thing."
Signature cocktails remain popular and bar managers are happy to work with couples to come up with something specific to them. "Usually, it's just a slight twist on a classic but with a cute name that references something the brides or grooms love," explains Roy, suggesting the honeymoon destination or names of the couples' pets as inspiration, though some cocktail-conscious couples also offer mini-bars specializing in their favorite drinks.
On the wine and beer front, there are no dramatic changes, says Roy, though he is seeing a surprising return to White Zinfandel among the preferred options. "People started drinking dry and semi-dry rosés and it became acceptable to be seen with a glass of pink wine again." Craft beer is a preference for discerning couples everywhere, though the cost scares some of them off ("It's a significant upcharge," Roy emphasizes). But those who do splurge on craft beer almost universally prefer a local option, be it Parish, Bayou Teche, or one of the other breweries in the state. "Putting that local spin on things will always be in style around here." ❖
---