De La Cuisine: School-Day Starters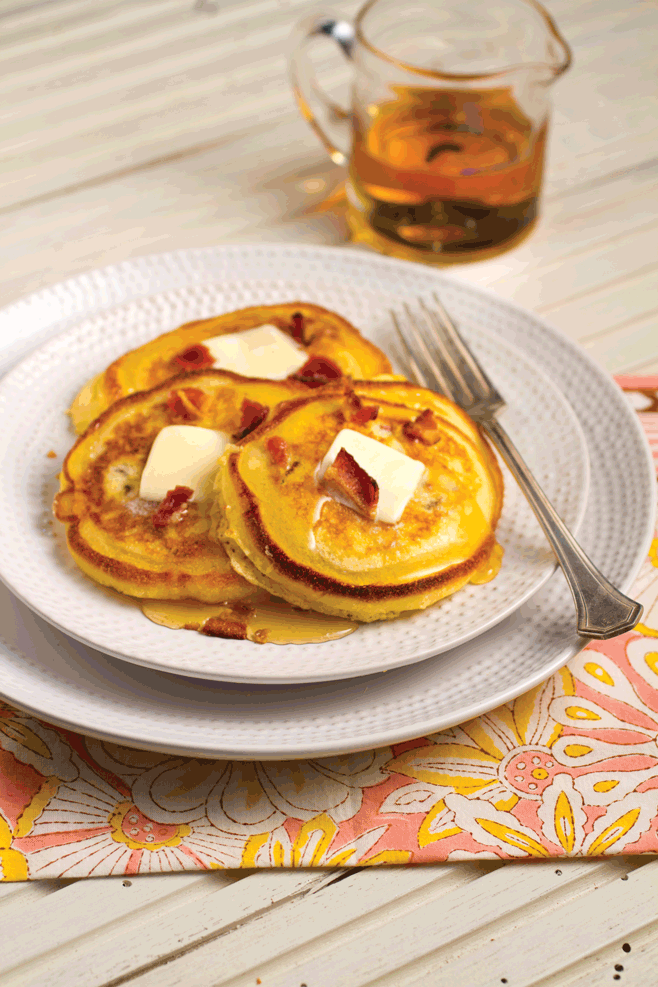 August and September are my two love/hate months. I hate saying goodbye to summer. I haven't had enough snowballs, nor have I had enough of beach vacations and lolling around in my hammock under the old oak tree, reading trashy novels. Like a child, I am not looking forward to school starting up while it's still too hot to move. Then again, the thought of cooler weather does sound appealing when my clothes are sticking to my body. I think of my mother when autumn, her favorite season, approached. She claimed that when the cooler weather moved in she liked nothing better than rising early and preparing what she called "big boy breakfasts" in her large, cozy kitchen. She firmly believed that everyone should begin the day with hearty food.
Growing up on a farm, she always had yard eggs, homemade butter, ham and bacon, and lots of biscuits and cornbread. There were jars of fig preserves, berry jams and muscadine jelly they put up each summer. These days it's rare to find a household in which families sit down to a hot breakfast. Everyone is rushing out to school or work, and the choices for the first meal of day is usually a bowl of cereal or something from the drive-through at fast-food outlets.
I hope you will indulge me as I share with you some of my favorite breakfast foods. If nothing else, perhaps you can get your family to enjoy a leisurely breakfast on weekends. Whenever I can manage it, I invite our neighbors to join my husband and me for a laid-back morning meal. Sometimes, our guests are youngsters in the family. Breakfast can be good and fun!
Cornmeal & Bacon Pancakes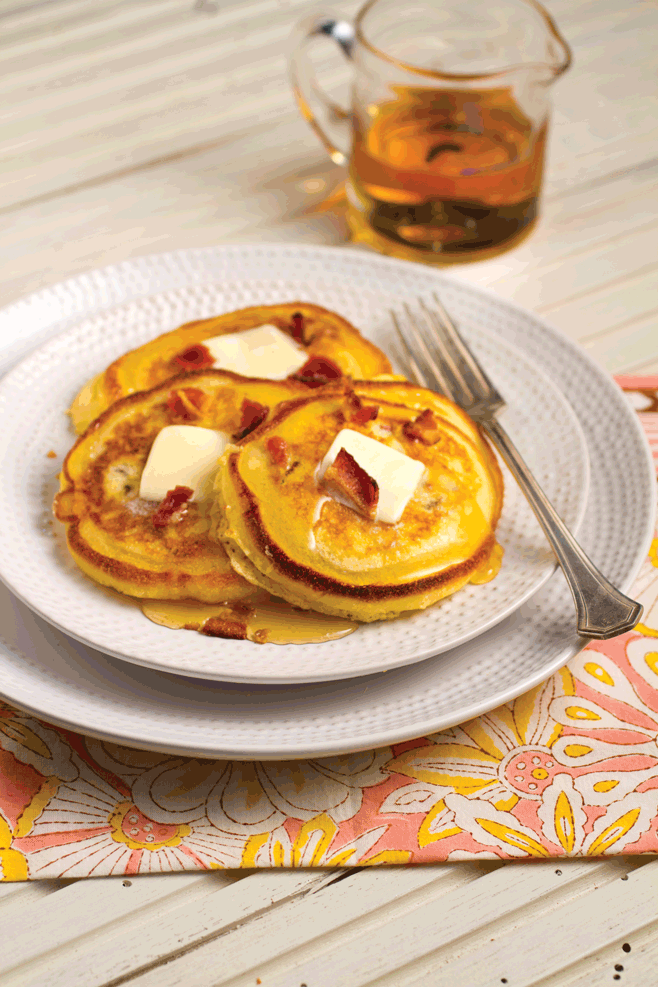 2 strips bacon
1/3 cup yellow cornmeal
1 cup all-purpose flour
1 teaspoon salt
Pinch of cayenne
2 teaspoons baking powder
1 egg
1 1/4 cups milk (about)
1 tablespoon bacon fat

Fry the bacon crisp, drain (reserving 1 tablespoon of the fat) and crumble. Mix together the dry ingredients in a bowl. In a small mixing bowl, combine the egg, milk and bacon fat. Stir this mixture slowly into the dry ingredients, mixing well. The batter should be fairly thin. Add more milk if necessary. Mix in the bacon. Cook the pancakes in a lightly oiled non-stick skillet or griddle. Serve with cane syrup. Makes 4 servings.

---
Cheese Biscuits
2 cups all-purpose flour
3 teaspoons baking powder
1 teaspoon salt
6 tablespoons shortening
1/2 cup grated sharp cheddar cheese
2/3 cup milk
Preheat the oven to 450 degrees. Combine the flour, baking powder and salt in a mixing bowl and mix well. Cut in the shortening with a pastry blender until the mixture resembles coarse meal. Mix in the cheese. Stir in almost all the milk. If the dough does not seem pliable, add enough milk to make a soft, puffy dough that is easy to roll out. (Too much milk makes dough sticky; not enough makes the biscuits dry.)
Turn the dough out onto a lightly floured work surface. Knead lightly. Roll the dough or pat it out to about 1/4-inch thickness. Cut out the biscuits with a biscuit cutter. Place them close together in an ungreased cake pan if you like softer biscuits; or place them on an ungreased baking sheet about an inch apart for crusty biscuits.
Bake until golden brown, 10 to 12 minutes. Makes about 20 biscuits.
---
Banana Fritters

2 medium bananas, peeled and coarsely chopped
1 cup all-purpose flour
1 egg
1/4 teaspoon salt
2 teaspoons baking powder
1/2 cup milk (about)
3 cups vegetable oil
Confectioner's sugar
Ground cinnamon
Combine the bananas, flour, egg, salt, and baking powder in a mixing bowl. Add enough milk to make a batter the consistency of a thick pancake batter. Heat the oil in a deep, heavy pot or deep fryer to 360 degrees. Drop the batter by spoonfuls into the hot oil and fry until the fritters pop up in the oil and are golden-brown. Drain on paper towels and sprinkle with confectioners' sugar and cinnamon. Makes about 20 fritters.
---
Spanish Eggs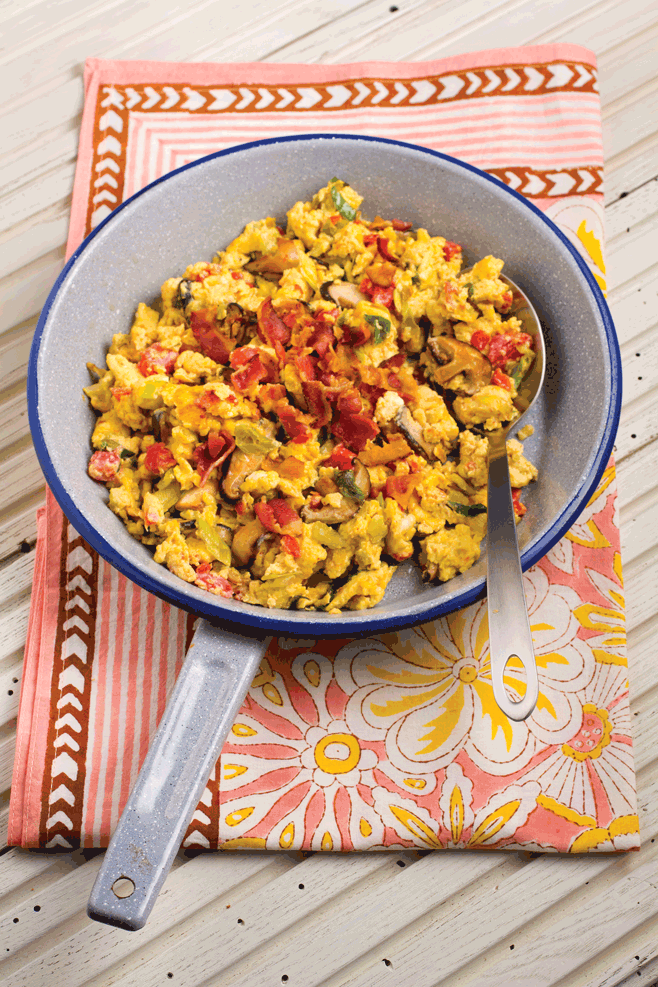 1 dozen eggs, beaten
1 (4-ounce) can chopped green chiles, drained
1 (4-ounce) jar chopped pimiento, drained
1 bunch green onions, finely chopped
1 large tomato, peeled and chopped
1/2 cup sliced fresh mushrooms
1/4 cup butter
Salt and cayenne to taste
1/2 pound bacon, fried crisp and crumbled
Combine the eggs, chiles and pimiento in a mixing bowl and set aside. Sauté the onions, tomatoes and mushrooms in the butter in a skillet until soft. Add the egg mixture and cook over medium heat, stirring often, until the eggs are firm but still moist. Season with salt and cayenne. To serve, top with crumbled bacon. Makes 6 servings.
---
Overnight Coffee Cake
2 cups all-purpose flour
1 cup sugar
1 cup firmly packed brown sugar
1 teaspoon baking soda
1 teaspoon baking powder
2 teaspoons ground cinnamon
1/2 teaspoon salt
1 cup buttermilk
10 tablespoons butter, melted
2 large eggs
1/2 cup chopped pecans
Combine the flour, sugar, one-half cup of the brown sugar, the baking soda, baking powder, salt and one teaspoon of the cinnamon in a large mixing bowl and mix well. Add the buttermilk, butter, and eggs and beat at low speed with an electric mixer until moistened. Beat at medium speed for three minutes. Spoon the batter into a greased and floured 13x9x2-inch pan. Combine the remaining one-half cup of brown sugar, the pecans and the remaining one teaspoon of cinnamon and sprinkle over the batter. Cover and refrigerate for eight to 12 hours. Uncover and bake at 350 degrees for 30 to 35 minutes. Serve warm. Makes about 12 servings.
---
Cheddar Cheese Cornbread
1 cup buttermilk
1/3 cup corn oil
3 eggs
1 1/2 cups white cornmeal
1 1/2 teaspoons baking powder
1 teaspoon salt
1/4 teaspoon baking soda
1 (12-ounce) can whole kernel corn, drained
3 tablespoons half-and-half
1 small onion, chopped
1 small red bell pepper, chopped
1 teaspoon sugar
1 cup shredded cheddar cheese
Preheat the oven to 375 degrees. Butter a 9-inch square baking pan. Mix together the first three ingredients in a large bowl. Combine the cornmeal, baking powder, salt, and baking soda and add to the buttermilk mixture. Stir together the corn and half-and-half and add to the batter. Mix in the onion, bell pepper and sugar. Pour half of the batter into the baking pan. Top with the cheese. Pour in the remaining batter. Bake until browned and springy to the touch, about 40 minutes. Makes 6 to 8 servings.