De la cuisine: Mardi Gras Munching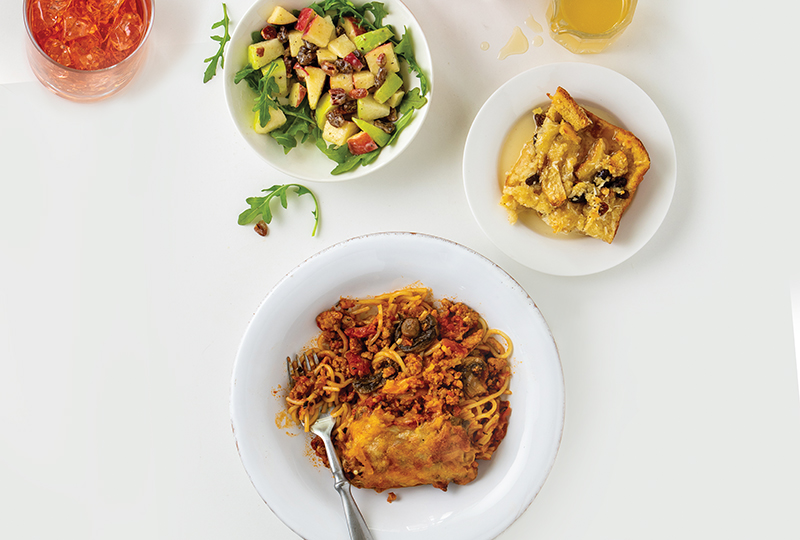 Mardi Gras is late this year — March 5. The latest it can be is March 9 and the earliest it can be is Feb. 3. Every year, no matter on what date is falls, it's either "early or late." I have never heard anyone say, "Mardi Gras is right on time."
I was born on Feb. 26 (I'm not saying what year) and so far Mardi Gras has been on my birthday in 1952, 1963 and 1974. Chances are I might not be around in 2036 when it again falls on my date of birth, but in the meantime, I'm happy to celebrate anytime during the Carnival season.
For my before- and after-parade parties in the past, my menus have included grillades and grits, tomato-based jambalaya, gumbo of all kinds, red beans and rice and crawfish pies, but this year I'm opting to serve my very favorite dish — Mama's spaghetti supreme. It was my mother's go-to recipe for informal buffets and was (and still is) a family favorite. The casserole(s) can be made ahead of time and stashed in the freezer.
Her version of Waldorf salad was an ideal accompaniment. She eschewed the grapes and walnuts and substituted raisins and toasted pecans to toss together with apples, celery and mayonnaise. The sweet and tart flavors complement the acidity of the tomato-based casserole. Dessert was simple — bread pudding, and while Mama's pudding is delicious, I'm opting for a Tennessee bread pudding this year.
Ah, one must not forget beverages. Upon arrival, I like to offer a round of Planter's Punch, then invite guests to help themselves to wine and beer, and anything else they want from a fully-stocked bar tended by one of my nephews.
---
THE MAIN COURSE
Rhena's Spaghetti Supreme
This is a very versatile recipe. Sometimes I use 2 pounds of sweet Italian sausage (removed from the casing and crumbled) or combine 1 pound of lean ground beef with 1 pound of the Italian sausage. It's a great dish to serve on a buffet.
2 pounds lean ground beef
2 tablespoons olive oil
2 cups chopped yellow onions
1 cup chopped green bell peppers
1 cup chopped celery
2 teaspoons minced garlic
2 (14.5-ounce) cans tomato diced tomatoes
1 (6-ounce) can tomato paste
2 cups beef broth
¼ cup dry red wine *optional
2 bay leaves
salt, cayenne pepper, dried oregano and dried basil to taste (don't be stingy)
½ pound fresh white mushrooms, stems removed and wiped clean, sliced
1 (10-ounce) package thin spaghetti
1 pound grated cheddar cheese (or a combination of cheeses such as cheddar, Monterrey Jack and mozzarella
1 cup grated Parmesan cheese
Preheat the oven to 350 F.
Brown beef in the olive oil in a large, heavy pot over medium heat. Add onions, bell peppers, and celery and cook, stirring until they are tender, 5 to 8 minutes. Add the garlic and cook, stirring, for 1 to 2 minutes.
Add the tomatoes, tomato paste, broth and wine if using, and the bay leaves. Season with salt, cayenne, oregano and basil. Cook, partially covered, over medium heat, stirring occasionally, for 1 hour. Add the mushrooms and beef broth or water if the sauce becomes too thick. Cook 15 minutes longer.
Prepare the pasta, drain and keep warm.
In a baking dish, first make a layer of the sauce, then a layer of the pasta, and then the cheddar cheese and some Parmesan cheese. Continue making layers until all is used.
Bake 30 minutes or until cheese is melted and lightly browned.
---
THE DESSERT
Tennessee Bread Pudding with Bourbon Sauce
The whiskey sauce is unlike the ones I'm used to making. It's thickened by the use of corn syrup.
BREAD PUDDING
Preheat the oven to 350 F. Combine 2 cups hot water and 1½ cups sugar in a large bowl and stir until the sugar dissolves. Add 1 (12-ounce) can evaporated milk and 4 large eggs, stirring with a wire whisk until blended.
Add 1 cup flaked coconut, ½ cup crushed pineapples (drained), ½ cup raisins, ⅓ cup butter (melted), 1 teaspoon vanilla extract, ½ teaspoon ground nutmeg and ¼ teaspoon ground cinnamon.
Add 9 slices white bread with crust (cut into ½-inch cubes) and let stand for about 30 minutes, stirring occasionally. Pour into a lightly greased 13x9x2-inch pan and bake until a knife inserted in the center comes out clean, about 45 minutes. Cool slightly before serving.
BOURBON SAUCE
Bring 1 cup light corn syrup to a boil in a saucepan. Remove from heat and cool slightly. With a wire whisk, stir in ¼ cup butter, ¼ cup bourbon and ½ teaspoon vanilla extract. Serve warm.
---
THE SIDE
Mama's Waldorf Salad
❶ Toss 1 Granny Smith apple (cored and chopped, skin on), 2 Winesap apples (cored and chopped, skin on), 1 cup seedless golden raisins, ½ cup roasted and chopped pecans and 2 tablespoons lemon juice together in a bowl, season with salt and pepper, and add mayonnaise (just enough to lightly coat all ingredients).
❷ Chill for an hour before serving.
❸ Arrange equal amounts of the salad on a bed of shredded lettuce or arugula leaves.
Makes 4 servings
---
Planter's Punch
In a large container, combine 1 fifth dark rum, 1, 6-ounce can frozen orange juice concentrate, 1, 6-ounce can frozen pink lemonade concentrate, 3 tablespoons fresh lemon juice, 3 tablespoons grenadine and 4 cups water and stir to dissolve the concentrates. Refrigerate until ready to serve. Makes about 16 servings
---