De la cuisine: Conversation and Canapés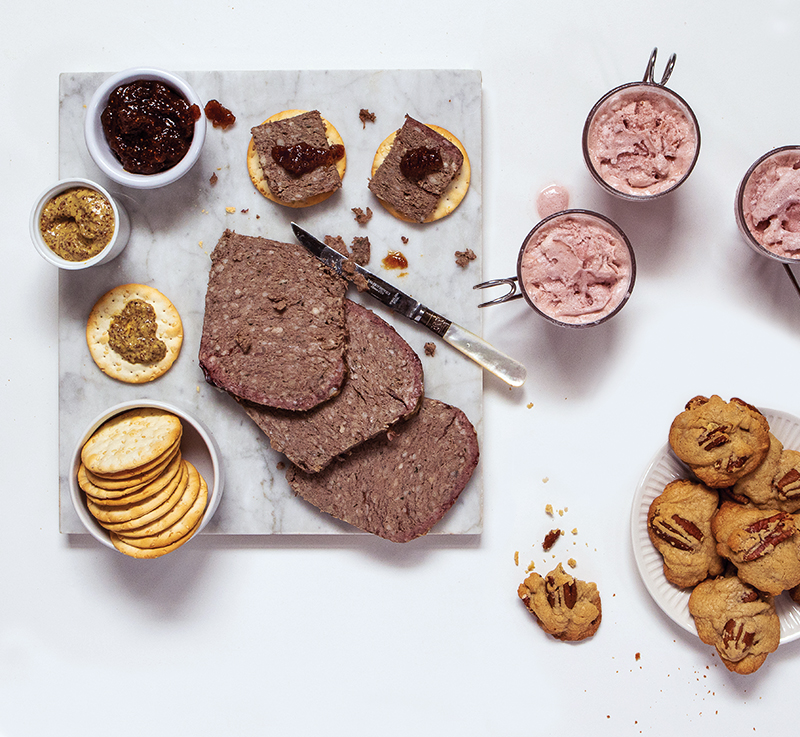 For years, I've bounced through the holidays attending every party, initiating impromptu gatherings and hosting several family celebrations. The day after New Year's, I'm ready to take to my bed but hey, it's Louisiana and Carnival season begins a few days later on Twelfth Night. No rest for the weary.
Giving some thought to the holiday season, I proclaimed I'm going to take it easy. My husband is ecstatic. He admitted that he and his tuxedo are worn out. He doesn't have to be the constant designated driver and he's looking forward to not having to balance a plate of food and his non-alcoholic drink while trying to have a conversation while taking a bite of a canapé. It's not that we've gotten old; we are at a point in our lives we want a little less excitement. That doesn't mean we don't want to celebrate the holidays with friends and family; we're just going to go at it at a leisurely pace.
---
TIP
In addition to a full bar along with a wine and champagne station, I like this Cardinal punch, the recipe of which comes from the original "The Picayune's Creole Cook Book," first published (as near as can be determined) in 1906.
---
DRINKS
Cardinal Punch
❶ Bake 4 Louisiana oranges on a sheet pan in a 300 F oven until tender. Don't let the juice exude from the oranges.
❷ Bring 1 pint water, 2 tablespoons whole cloves and 4 cups white sugar to a boil in a medium stainless steel sauce pot.
❸ Add roasted oranges, 1 pint Red Bordeaux and 1 pint Tawny Port to cooling syrup and let steep until room temperature. When it has grown cold, remove the oranges and cut up and squeeze to remove all juice. Pass juice through a sieve and return to steeped wine mixture.
❹ Whip 10 egg whites until they are a stiff froth. Add egg whites and 3 tablespoons raspberry juice to wine mixture and put in ice cream maker until the consistency of sherbet. Freeze until service.
❺ Scoop into punch cups and let soften to a thick punch consistency prior to serving.
Makes 12 servings
---
CANAPÉS
James Beard's Pâté De Campagne, Provençale
A country pâté, this one from James Beard, is a favorite of mine. It takes a little time to put it together but the finished product can be arranged on a wooden meat serving board or a decorative platter on a buffet along with a bowl of Creole mustard, your favorite preserves (I always have some fig preserves I put up last summer), and toasted French bread.
2 pounds lean pork, coarsely chopped
2 pounds veal, finely chopped
1 pound ground pork liver
1 pound fresh pork fat (or fat bacon), diced
6 garlic cloves, minced
3 eggs
¼ teaspoon white pepper
⅛ teaspoon cayenne
⅛ teaspoon allspice
⅓ cup Cognac
1 tablespoon dried basil leaves
1 tablespoon salt
1 teaspoon freshly ground black pepper
Bacon or salt pork, to line the terrine
Preheat the oven to 325 F.  In a large bowl, combine pork, veal, liver, pork fat or bacon, garlic, eggs, white pepper, cayenne, allspice, Cognac, basil, salt, and black pepper in and mix well. (If you wish to test for seasoning, fry a small piece in a little butter or oil until it's cooked through. Taste and adjust seasonings if necessary.)
Line a 2½-quart terrine or baking dish with the bacon or salt pork, reserving two or three strips. Spoon pâté mixture into the baking dish, then place the reserved bacon strips over the top.
Cover tightly with a sheet of aluminum foil and bake for one hour. Remove foil and continue baking for one and half hours, or until pâté slightly shrinks away from the sides of the baking dish.
Remove from oven and carefully drain off any excess fat. Cool. Cover tightly with aluminum foil and place a weight (I usually use a brick wrapped with heavy-duty foil) on top.  Refrigerate for at least eight hours. To serve, cut pâté into ½-inch slices or small bite-size chunks.   
---
DESSERTS
Praline Cookies
Preheat the oven to 350 F. Combine 1 egg, beaten, ¼ cup plus 2 tablespoons butter, melted, 1¼ cups firmly packed light brown sugar and 1 teaspoon vanilla extract, stirring well. Add 1⅓ cups all-purpose flour and ¼ teaspoon salt, and stir to mix well. Add 1½ cup pecan halves. Drop by tablespoonsful onto ungreased cookie sheets. Bake for 10 minutes. Cool. Store in airtight containers.  Makes about 3 dozen 
---