De la cuisine: Casual Repast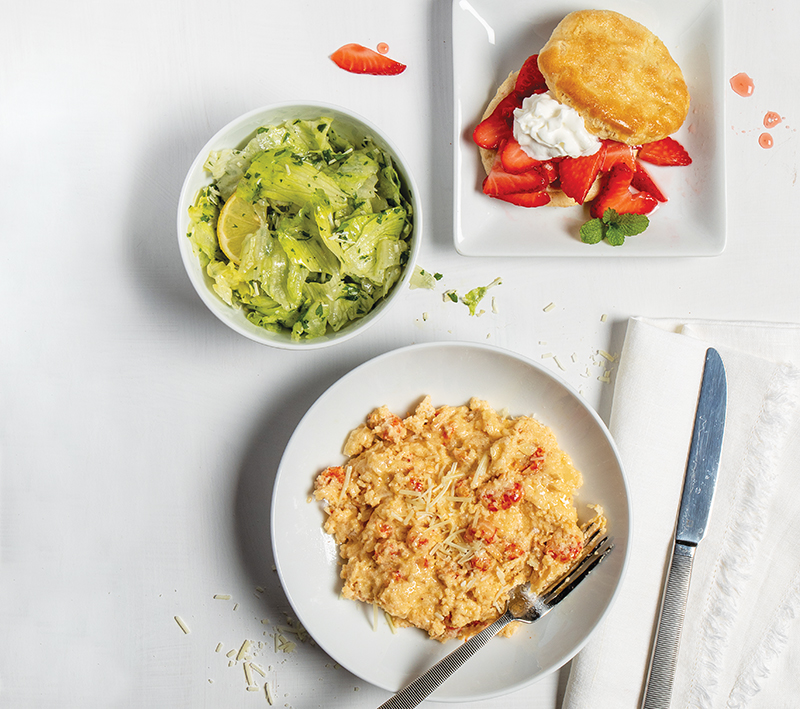 Can it be that the days are getting just a bit longer, perhaps imperceptibly so, but longer just the same? As spring approaches I watch for telltale signs like the pale green leaves sprouting on the towering pecan trees in my backyard or on the graceful bald cypresses on the water's edge. Even the air seems lighter, softer. Azaleas and delicate white flowers of bridal wreath brings riotous color at every turn.
Too, it's the season for crawfish, the popular freshwater crustaceans that are the harbinger for al fresco dining. Crawfish farmers harvest the mudbugs from the acres and acres of ponds along the I-10 corridor. Fishermen in the Atchafalaya Basin scoop up sacks of the sweet delicacies to bring to market.
Up to the east and north of Lake Pontchartrain, in the parishes of Livingston and Tangipahoa, the indication of spring is the appearance of scrumptious, plump strawberries, ripe and ready for the picking. Since the 1930s, this area has been a stronghold for Louisiana's berry crop.
A menu to serve for a casual repast on a tree-shaded patio is easy to plan from what is in season.
---
STARTER
Sensation Salad
Combine 1 tablespoon fresh lemon juice and 3 tablespoons apple cider vinegar in a small bowl. Whisk to blend. Gradually add ⅓ cup olive oil (you can add more to taste), whisking constantly to blend. Add 4 crushed garlic cloves and season with salt and freshly ground black pepper to taste. In a large salad bowl, add 1 medium size head iceberg lettuce (cleaned, cored, and torn into bite-size pieces), 1 bunch flat-leaf parsley, finely chopped (about 1 cup) and ½ cup freshly grated Romano cheese. Add dressing, at little at time and only enough to coat the lettuce evenly. Cover and refrigerate for 15 minutes before serving. Any leftover dressing can be stored in an airtight container in the refrigerator for up to two weeks.
Makes about 6 servings
---
MAIN COURSE
Smothered Grits with Crawfish
I have tried many versions of the Low-Country dish of shrimp and grits, but this recipe, inspired by Emeril Lagasse (with whom I worked for a number of years) using crawfish rather than shrimp is a winner in my book.   
1 pound peeled crawfish tails

1 teaspoon salt

½ teaspoon cayenne

2 tablespoons olive oil

1 cup chopped yellow onions

1 tablespoon plus 1 teaspoon chopped garlic

2 cups chicken stock

3 cups half-and-half

1½ cups quick-cooking white grits

½ cup freshly grated Parmigiano-Reggiano cheese
Toss crawfish tails with salt and cayenne in a medium mixing bowl.
Heat olive oil in a 3-quart saucepan over medium heat. Add onions and cook, stirring, until slightly soft, about 2 minutes. Add crawfish and garlic. Cook, stirring, for 2 minutes. Add the stock and half-and-half and bring the mixture to a boil.
Reduce heat to medium-low and simmer for 2 minutes.
Add the grits and stir constantly until they are tender and creamy, about 10 minutes. Add cheese and stir until mixed and melted. Serve warm.
---
FOR DESSERT
Strawberry Shortcake
❶ Place 4 cups of hulled and sliced strawberries in a large bowl and sprinkle with 1 tablespoon sugar, or more to taste. Cover and refrigerate. Whip 1 pint whipping cream and add ½ teaspoon pure vanilla extract. Cover and chill.
❷ Preheat oven to 450 F. In a large bowl, mix 2 cups bleached all-purpose flour, 2½ teaspoons baking powder and 1 teaspoon salt. Using a pastry blender or two knives, cut in 6 tablespoons chilled butter until the mixture resembles coarse meal. Add ¾ cup milk. Mix well and quickly. Turn the dough out onto a floured board and knead briefly.
❸ Roll out dough to ½-inch thick. Cut into 3-inch rounds and place on ungreased cookie sheet. Brush tops with a little milk and sprinkle, if you like, with a little sugar. Bake for 12 to 15 minutes.
❹ Let biscuits cool for a minute or so, then split open and spread each half lightly with butter. Place berries and whipped cream on bottom half and cover with top half. Add more whipped cream and berries. Garnish with whole berries and fresh mint springs.
Makes 6 to 8 servings
---