Creative Acadiana Kicks Off Fall Workshop Series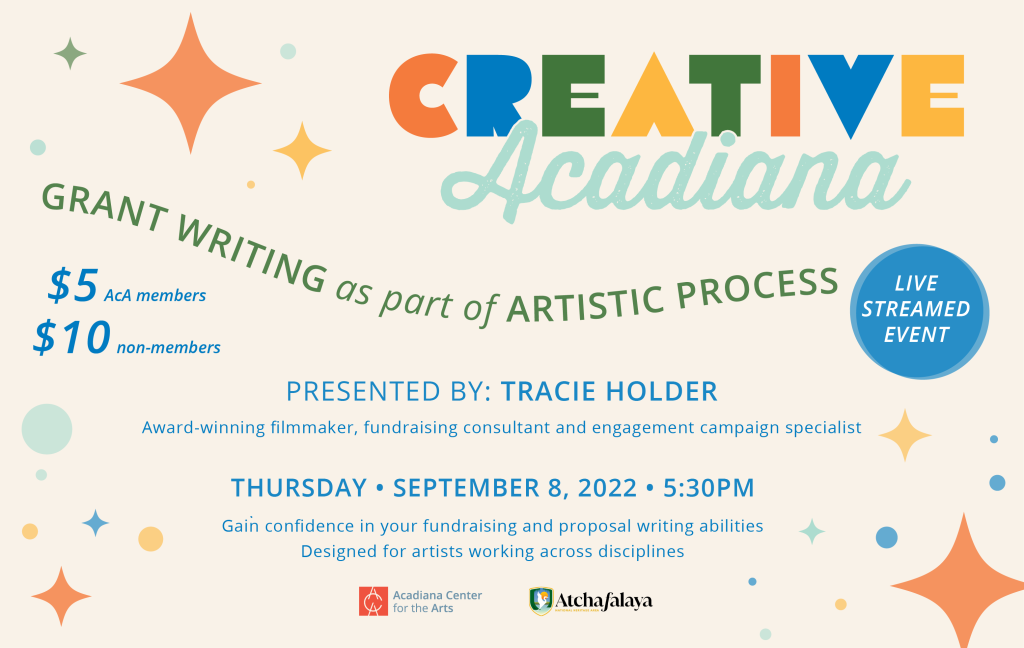 LAFAYETTE, La (press release) – Creative Acadiana kicks off this week at the Acadiana Center for the Arts.
First on the schedule is Grant Writing as part of Artistic Process on Sept. 8.
Session information:
Led by filmmaker Tracie Holder, this workshop is designed for artists working across disciplines. It will prepare you to put your best foot forward the next time you apply for a grant.
The goal is to help you gain confidence in your fundraising and proposal writing abilities by providing a solid road map to begin the process. We'll review the specific components of a proposal, how to convey ideas visually, and strike a balance between the big, broad brushstroke ideas and small details that make your project come alive on the page.
We'll also cover the most common mistakes made when writing grant fundraising proposals – and how to avoid them.
One main goal of this course will be to incorporate fundraising and proposal writing into your artistic practice so it becomes an organic step in moving your current and all future projects forward.
As an award-winning filmmaker, fundraising consultant and engagement campaign specialist currently working with Women Make Movies, Tracie has raised an impressive $2.4 million for her projects from a mix of government funders, private foundations and individuals. In this online workshop, she offers her tips about how to make grant writing a part of your practice.
This is a hybrid session. It will be live-streamed at the Acadiana Center for the Arts and streaming details will be available to those who are unable to join us in person. 
For more information, to register, and learn more about other sessions click here.