Cool for the Summer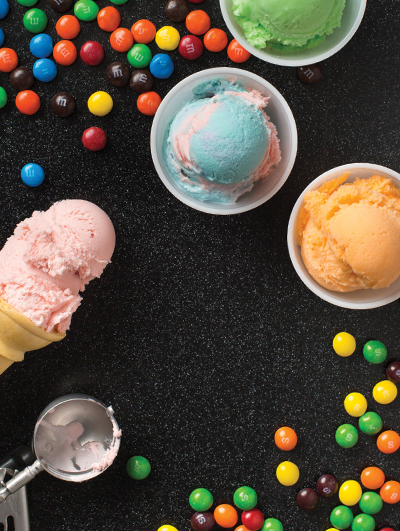 Sitting in Borden's Ice Cream Parlor you pretty much expect dorky Ward and the wasp-waisted June Cleaver to swing through the door with Wally and the Beaver in tow. Once ubiquitous, Borden's in Lafayette is the very last of its kind in America. Opened in 1940 by the Borden's Dairy Co. as part of a milk cooling station on a property owned by the Levy family, the Art Moderne-style shop still serves timeless ice cream concoctions – banana splits, sundaes, frappes, malts and shakes – and the innocent comfort that comes with the simplest of pleasures. When Flora Levy passed away in 1981, her will bequeathed the ice cream parlor to the University of Louisiana Foundation. The Foundation held the title to the property and rented the space to Borden's Dairy. Though the property had been owned for generations by the Levys, it's taken multiple generations of two different families, a university and one exceptionally devoted employee to preserve this treasure. The Foundation held the title to the building and property. Borden's Dairy continued to operate the ice cream business. In 2009, the Foundation sold the property, and Borden's sold the business to Lafayette businessman and preservationist Red Lerille, and his daughter, Kackie Lerille; the two of them restored the building, while adding a drive-through window and outdoor seating. Kackie now owns the business and manages the store. Ella Meaux has been an employee of the shop since 1961.
Candyland Cottage & Ice Cream Shoppe in Rayne lives up to its name: It feels like a childhood fantasy board game brought to life. The heavenly aroma of freshly made fudge hits you as soon as you open the door to the antique-filled shop that's cluttered with jars of all manner of candy – old fashioned jelly beans, pralines, chocolates, licorice, taffy, gummy this and that – including the largest Gummi Bear in the World, which is available for $150.
Ice cream flavors change frequently but include both classic and exotic offerings and they can be served as is or whipped into floats, cream slushes, or sundaes.
A Technicolor cool vibes stop, Caribbean Ice Company in New Iberia started in 2001 as an old fashioned snowball and homemade ice cream stand then blossomed to serve exceptional hamburgers, pizza, wraps, soups, and salads. As the business has grown so has the kitchen talent. The founders' sons
Matthew and Andrew Shensky were trained in Boulder, Colorado at Auguste Escoffier, a farm to table culinary school. Their daughter, Elizabeth Shensky, is a pastry chef trained at Apicius International School of Culinary Arts in Florence, Italy. All this and they still serve top-notch snowballs and homemade ice cream.

---
Bonus Bite

Hali Habetz and Jason Holder discovered the wonders of cold-pressed green juice while on vacation. Soon after returning home to Lake Charles the couple purchased a Norwalk Hydraulic Press for their home and marveled at the difference juicing made in their lives. They had more energy and their health improved. Soon they were making juice for friends and family.
Demand led them to establish Pure Press Juicery less than two years ago. They now have a devoted following for their chilled, unpasteurized cold pressed, glass bottled, locally-sourced, organic juices.
Each 12-ounce bottle of delicious raw juice is extracted from about 2 pounds of organic vegetables, the equivalent to eating 8 servings of fruits and vegetables. This pure, liquid nourishment is easily digestible, replenishes cells and boosts immunity.
Pure Press makes many varieties of juice blends. The Gerson Twist blends carrot, apple, and a twist of ginger. It is named after the father of Gerson Therapy, Dr. Max Gerson, and it has immunity strengthening, anti-cancer, anti-nausea, and anti-inflammatory properties. The carrot and pineapple in the Good Morning juice improves skin and vision and reduces inflammation
Juices are available at both the Cash & Carry and Charlestown Farmers' Markets.

---
Borden Ice Cream Shoppe 1103 Jefferson St., Lafayette, (337) 235-9291, bordensicecreamshoppe.com
Candyland Cottage 1319 The Blvd., Rayne, (337) 334-7210, candylandcottage.wix.com
Caribbean Ice Company 2905 Loreauville Rd., New Iberia, (337) 367-0094, carobbeanicecompany.com
Pure Press Juicery purepressjuicery.com