Comfort Foods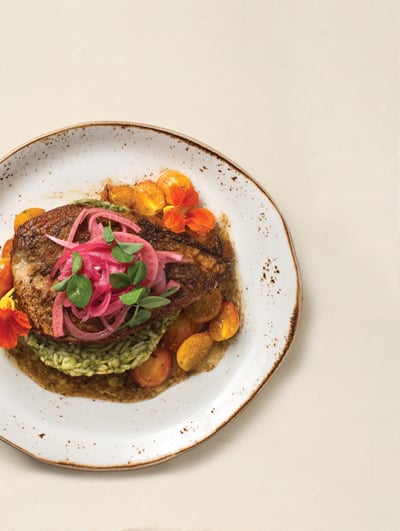 My late father was the cook when I was growing up, and he did this weird thing: he served the foods most of us in Louisiana eat over rice or grits — courtbouillon, shrimp Creole, grillades — over mashed potatoes. His father was born in Louisiana to Swedish immigrants who would have served everything at home over the customary creamed potatoes of their homeland while probably trying to integrate with the ingredients they found in their swampy new home. My father's mother, a New Orleans girl with a French heritage, would have served the French-Creole dishes she grew up with over mashed potatoes in order to please her husband, because that's pretty much what women did in the mid-1920s.
The annual holiday indulgence of butter and cream laden mashed potatoes with roux-based gravy is something I eagerly anticipate.
My husband, Andrew, grew up in a household with a father of English heritage who was from Mid-City, and a mother who moved to New Orleans as an immigrant from Belize. So Andrew grew up eating red beans and rice on Mondays only they were topped with pickled onions and served with handmade tostones. His mother did not cook with butter, cream or roux so his idea of comfort food is very different from mine.
I find the gumbo at Dark Roux in Lafayette to be enormously comforting. Made with Springer Farm chicken, Rabinbeaux sausage and rice from Crowley, it proudly lives up to its name. Conversely, my roux-averse husband found the pan-seared Gulf fish served with purple hull peas, grilled squash, and herb broth to be more soothing to his palate.

---

Fried catfish filets topped with crawfish étouffée over rice served with garlic bread at Sammy's Grill in Baton Rouge
---
My daughter, Cecilia, attends LSU in Baton Rouge as a pre-veterinary student and works as a vet tech in the large animal ICU at the school. I frequently head that way to stock her refrigerator then take Cecilia and her boyfriend, Matt, out for lunch or dinner. What could be more comforting to poor, starving college students than having someone show up offering to feed them? Given her druthers Cecilia usually picks a place with a heavy seafood menu, such as Sammy's Grill. Both the fried and grilled shrimp poor boys are stuffed to overflowing and the portions of Seafood au Gratin, Catfish Chardonnay and everything else on the menu are large enough to ensure plenty of leftovers to stock the barren collegiate refrigerator.
When Matt picks the place where we will eat he goes for the steak he and Cecilia never eat at home. As a large animal vet tech, Cecilia adores cows and vows to never eat one again. For gargantuan portions that ensure lots of leftovers, enter every LSU family's go-to comfort food emporium — The Chimes on Highland Road. Ordering crabmeat stuffed mushrooms ensures Cecilia they will go untouched by the mushroom-averse Matt. Conversely, ordering the 12-ounce Black Angus rib eye ensures Matt that Cecilia will not beat him to his box in the refrigerator when the craving hits in the middle of the night. Beyond these choices the menu is wide open for sharing — crawfish macaroni and cheese seafood fettuccine Alfredo, dense crab cakes, boudin-stuffed omelets with pepper jack cheese. The menu at The Chimes is extensive and after all, the sky is the limit when Mom is picking up the bill.
Dark Roux 3524 Kaliste Saloon Road, Lafayette, 337-504-2346
Sammy's Grill 8635 Highland Road., Baton Rouge, 225-281-1792, sammysgrill.com
The Chimes 3357 Highland Road, Baton Rouge, 225-383-1754, thechimes.com
---
Bonus Bite
The Chef John Folse Culinary Institute at Nicholls State University in Thibodeaux recently released the dates for the Fall 2016 dinners at Bistro Ruth. The dinners are prepared and served entirely by students from the culinary school and they range from buffet and à la carte style meals to those with Russian service. Check out the schedule of offerings at nicholls.edu/culinary/bistro-ruth or call 985-493-2700.