Christmas Travel: Dashing Through the Glow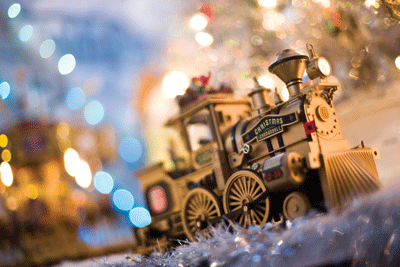 It's beginning to look like Christmas all over Louisiana. In all corners of the state, the holidays are being celebrated in culturally diverse customs and style. For some communities, it's towns and parks decorated to the hilt. In others, it's centuries-old traditions with bonfires on the levees or religious customs brought from Acadian ancestors. Whatever the festivities, the holidays are celebrated and cherished in our state. Here are events that will brighten your spirit:
Natchitoches Natchitoches Christmas Festival
As the second-oldest holiday celebration in America, the Natchitoches Christmas Festival hosts its 85th event this year. Beginning Nov. 19 with its Festival of Lights ceremony downtown on the riverbank, the stunning events continue until Jan. 6, 2012. The Blues Christmas Weekend, Nov. 26, features fireworks on the river and music by Johnny & the Nightcrawlers and Diddley Squat. The Cajun Christmas Weekend, Dec. 10, brings Brandon Ledet and the Jambalaya Cajun Band. Most of these activities are free and open to the public, with modest charges for some.
"We focus our music on Louisiana entertainers," says Iris Harper, executive director of the Natchitoches Convention & Visitors Bureau. "This state has a wealth of talent, and we showcase it every chance we get."
Visitors find this a user-friendly festival as most of the attractions are within walking distance. Front Street becomes a wonderland of "snow," a blizzard made of bubbles. Children sit in inner tubes and slide down a nearby hill made of ice.
There are tours of historic homes, carolers who roam the streets singing songs of the season and Lesson & Carols at Trinity Episcopal and Immaculate Conception churches.
The six-week celebration has an estimated $75 million economic impact for the parish and attracts more than 500,000 visitors. It's an economic boon to this town
of 18,000.
In a regional marketing effort, Natchitoches has joined forces with other North Louisiana cities to form the Holiday Trail of Lights, including Shreveport/Bossier City, Monroe/West Monroe, Alexandria/Pineville and Minden. Visitors are encouraged to take part in the holiday events in all these locations, making for a fun weekend trip.
Despite the entertainment and economic boost these events provide, the spiritual aspect of the season is not lost.
"This is where you can find the real meaning of Christmas," Harper says. "Just walk along the riverbanks and hear the music, watch families mill around and enjoy one another. This is what the holidays are about."
For more information , visit www.holidaytrailoflights.com
New Orleans Christmas New Orleans-Style
With more than 1 million twinkling lights adorning the gardens and oaks of New Orleans City Park's Botanical Garden, Celebration in the Oaks celebrates its 25th anniversary this year by bringing back old favorites and welcoming new ones. Each year, more than 120,000 visitors tour the gardens and experience the centerpiece of Christmas New Orleans-style.
There's plenty to see and do at Celebration in the Oaks, so plan to spend the evening riding the miniature train through much of the park's 1,300 acres, walking the gardens and listening to carolers from area schools and churches. A small café provides hot chocolate, gumbo and jambalaya, and a gift shop features locally made crafts and gifts. A life-size nativity scene solemnly depicts the spiritual meaning of Christmas.
Because the park gets no city funding and little state funding, Celebration also provides much-needed funds, almost 12 percent of the park's annual budget. It takes place Nov. 25, 26, 27 and nightly from Dec. 2 to Jan. 1, 2012.
As always, New Orleans does the holidays big! Visitors enjoy discounted hotel rooms and special Creole Réveillon dinners at some of the city's most sumptuous restaurants. Historic homes such as the Hermann-Grima, Longue Vue and Gallier houses are decorated in their finest embellishments of the periods, providing a peek at Creole culture through the ages. Free jazz concerts in the St. Louis Cathedral feature such classic performers as Ellis Marsalis, Irvin Mayfield and harpist Rachel Van Voorhies most nights. The Roosevelt Hotel, now part of the Waldorf Astoria collection, re-creates the Teddy Bear Teas of days past, and the hotel's lobby features a snow village made of gingerbread, depicting New Orleans scenes. Cooking demonstrations, led by some of the city's star chefs, are held in the new kitchen at the historic French Market. Even the beloved streetcars don garlands and ribbons as they rumble down St. Charles Avenue and in Mid-City. It's impossible to escape the holiday spirit in New Orleans, and once again, the city has lots to celebrate.
Visit www.celebrationintheoaks.com and www.fqfi.org.
Shreveport/Bossier City December on the Red
Twenty-six acres of lush rose bushes sparkle with 1 million lights at Shreveport's Christmas in Roseland, a hallmark event of Shreveport/Bossier City's December on the Red. It is here in the garden of the American Rose Center that visitors experience an impressive array of activities, from train rides for the children to holiday music sung by area choirs. The exquisite event benefits the garden, which is the national home of the American Rose Society.
But more holiday spirit waits in this North Louisiana city. A three-story Christmas tree welcomes holiday visitors to the Louisiana Boardwalk. The half-mile outdoor shopping area, which boasts more than five dozen shops, makes for an alluring stroll.
Fireworks light up Caddo Lake on Saturday, Dec. 3, and the festivities continue through the night with music by nationally known talent. The Barnwell Garden and Arts Center puts a modern spin on holiday lights with its Laser Light Show. "This is an unexpected holiday event as you don't often see a laser show in a nature conservatory," says Chris Jay of the Shreveport/Bossier CVB.
"It's sort of a Pink Floyd-meets-the-holidays moment." The month of events also packs an economic punch of nearly $50 million.
Sports fans are also in for a treat as Shreveport hosts the Independence Bowl when the ACC and Mountain West Champions face off on Dec. 26. Upward of 40,000 fans descend on the city, so make your reservations early. Visit www.holidaytrailoflights.com.
Lafayette
Noel Acadien Au Village, Lafayette, the heart of the Acadian culture, honors its heritage with two must-see events: Noel Acadien Au Village at Acadian Village and Vermilionville.
Acadian Village, a faithful reproduction of an 1800s-era South Louisiana town, is open year-round but pulls out all the stops during Christmas. Homes original to the era are furnished with period furnishings and accurately depict early life in southwestern Louisiana. It will be open Dec. 1-23.
Visitors find a glittery array of more than 500,000 lights decorating the 18th-century shops and homes and a small midway with children's rides and ponies. An art gallery featuring works by local emerging and established artists is worthy of a serious visit.
Acadian Village supports LARC, an organization that helps individuals with developmental disabilities. With state cutbacks this year, the event is more important than ever. "We help service more than 300 LARC clients with this event, and 100 percent of the profits go to the organization," says Joey Babineaux, the village's director.
Visit www.acadianvillage.org.
Vermilionville is another stop during your Cajun holiday experience. Here, another small Acadian village boasts 23 acres dotted with 19 structures, some dating back to the late 1700s. Visitors are treated to an authentic look at Cajun Christmas traditions. Artisans dressed in period costumes make cornhusk dolls, santons ("little saints") figures from bousillage (a plaster made of moss and mud) and nativity sets. Others spin, weave and make rosaries. Christmas hymns are sung in the manner in which they were written a century ago.
The Vermilionville celebration is open Dec. 13-16 during the day, a perfect school field trip that adults and children will treasure.
"Our celebration is exactly as the Cajuns would have experienced a hundred years ago or so," says Maria DelaCroix. "It's a quiet, reflective time, a time of simplicity and beauty."
Oh, cher, this is the place to be during the holidays. www.bayouvermilion.org
Monroe/West Monroe Christmas on the River
One of the newest holiday celebrations in the state is Christmas on the River, Nov. 26 to Jan. 1 throughout Monroe and its sister city, West Monroe. Begun only four years ago, the festivities now attract crowds from throughout the South.
The biggest weekend takes place Dec. 1-3 when a night-long Gallery Crawl invites visitors to explore the art galleries in both cities. "Monroe and West Monroe have growing arts communities, and our galleries feature something for everyone – paintings, photography and sculpture," says Sheila Snow, communications director for Monroe and West Monroe CVB.
Three parades dominate Dec. 3 when West Monroe hosts the Bawcomville Redneck Christmas Parade in the morning. At noon, pets of all kinds don holiday attire for the Paw-Rade. That evening the Kiwanis Club Christmas Parade travels through both towns and features decorated floats, area bands and Christmas Beauty Pageant winners. The night caps off with the Jaycees Fireworks Extravaganza.
If you cannot make it to North Louisiana that weekend, don't fret. There are activities and holiday sites to see throughout the month. The dancing lights that hover over West Monroe's Antique Alley are worth the trip. Make time to visit the elegant Biedenharn Home and ELsong Gardens Dec. 1 through Jan. 2, 2012.
"Our Christmas celebration has grown a lot very quickly," says Snow. "And it's been an economic boost [for] the area. But the most important aspect is that it instills community pride in the residents."
Visit www.christmasontheriver.org and www.bmuseum.org.
LAKE CHARLES and BATON ROUGE bonfires
If this isn't enough to brighten your holidays, travel to Lake Charles for Light Up the Lake and its lighted boat parade, Dec. 3, and Sulphur's three-day festival, Christmas Under the Oaks, Dec. 2-4, which includes lots of snow and family activities such as the Kiwanis balloon parade and the spectacle of lights (www.visitlakecharles/cajunchristmas.org). Baton Rouge toasts the season with its North Boulevard Festival of Lights with 500,000 lights illuminating downtown, a 5K Reindeer Run, ice-skating and 6 tons of "snow" in Snow Village. The old Louisiana State Capitol is decorated in its most elegant holiday attire.
And, of course, Lutcher's Festival of the Bonfires lights the way for Santa and his reindeer with its traditional lighting of holiday bonfires along the banks of the Mississippi River on Christmas Eve. Small hamlets such as Vacherie and Paulina also have bonfire traditions worth seeing, all saying "Merry Christmas" with an unmistakable Louisiana accent.