Chairman of the boards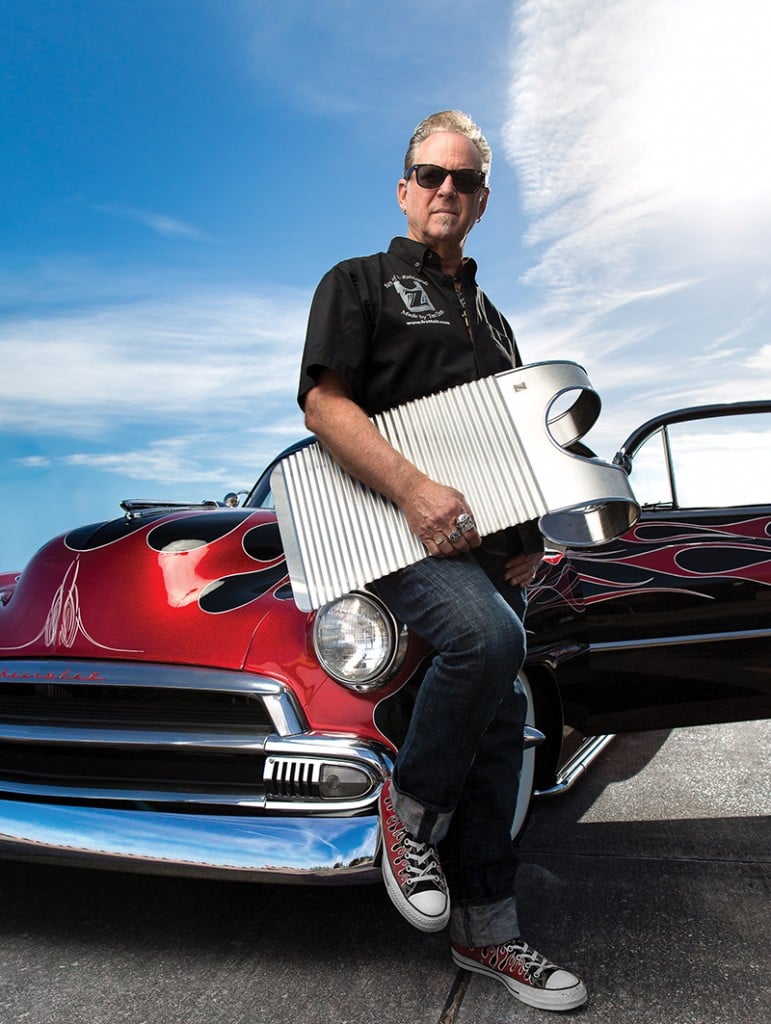 Silence is the soundtrack of this early Saturday morning. Tee Don Landry is wide awake. It's mid-October — the eye of Acadiana festival season — and 70 years worth of heritage, history and harmony from Key of Z Rubboards in Sunset, Louisiana, are carefully crammed into the back of a truck piloted by Landry, the conductor (if you will) of this little musical engine that could.
Ever since Landry's father, Willie, DIY'd the prototype in 1946, Key of Z rubboards have been featured on every Grammy Award-winning Zydeco album, wound up in the hands of headliners like ZZ Top, Rihanna and Kid Rock, and even found their way behind a display case at the Smithsonian Institute in Washington, D.C.
Yet here's Landry, at this ungodly hour, taking his show on the road, to Festivals Acadiens et Creoles on this particular day. When asked why he does it, Landry pauses briefly before answering with his own question: Why not?
"Booth-wise, there's never a dull moment," he says of setting up shop at weekend festivals. "I don't drink coffee, but I'm always ready. Get out there and let it roll!
"The rubboard brings an instant smile to everyone's face," Landry says. "When I used to play at festivals, (the rubboard) is what people point at. You've seen a bass, a guitar, you've seen an accordion and keyboards and all that stuff. But you can't imagine the amount of people who've never seen something like this. I think growing up around it, you sometimes forget that — that this rubboard is different, unique and something those who aren't from here haven't seen a lot.
"They look and go, 'What the hell is that?' It's instant curiosity and joy."
That's actually a good question, Tee Don: Just what the heck is this rubboard thing?
If we're being literal, a rubboard is a musical instrument strapped across the chest of the player, secured with shoulder harnesses. It can sound like the tap of a Civil War-era drummer boy or a poor man's xylophone, depending how it's played. The stainless steel portion of the rubboard almost covers the entire front torso of the musician, like a makeshift set of Cajun knight armor. Sound is created by striking a scratcher, one in each hand, on the board.
"Without the rubboard," Landry says, "there is no Zydeco music."
True. But Tee Don's rubboards, because of the craftsmanship involved in making each instrument, have become unintended collector's items and often double as art pieces for both paying locals and tourists alike. It's understandable. They're distinct. They're different. There's no denying, they're authentic — a cultural time capsule. Regularly, patrons walk into his shop or browse his festival booths not knowing how to play a rubboard and with no intention of ever learning. They're just fascinated by the board. Knowing this, Landry has begun adding color to his boards — black and gold, purple and gold, red and white dotted with fleur-de-lis patterns — to appeal to those less-musically inclined customers.
Beyond those few aesthetic differences, Landry's rubboards aren't that dissimilar to the one Willie made in 1946 for Zydeco pioneer Cleveland Chenier. The dimensions are the same. The design is the same, as is all the geometry involved with the cuts and grooves. Landry's rubboards have graduated from tin to stainless steel, and the folks at Key of Z have incorporated some laser cutting to give their busy hands an occasional rest, but otherwise, not much has changed.
The instrument, which starts as a flat sheet of metal, takes a few hours to form, and a few more hours to pass quality control, which boils down to checking to see if it's properly tuned, for lack of a better description. From there, edges are filed smooth and a chrome coating is added to the top lip so the board doesn't dig into the skin.
If the musician treats the rubboard with respect and care, it should last a lifetime.
"Now, there's more that goes into it, but I have some things I don't reveal," Landry says. "I don't know if it's as serious as a magician not telling how to do a trick, or a restaurant's secret sauce, but to get the sound that I expect out of my rubboards, yeah, there's some certain things I do."
He does it all with a sense of reverence, a standard of excellence to maintain, musically-speaking, but also the welcomed burden to preserve a bit of regional culture in an ever-homogenizing world. That's why Landry gets up on those early festival mornings, fueled on enthusiasm, not espresso, ready to answer every question, tell every story and carry on a tradition uniquely his and ours.
"Every board I make, it's like one of my kids…and you go and see them leave the house and do great things," Landry says. "I guess that makes me a proud father. You see 'em on TV, see 'em on stage, on the Internet, and I've shipped them all over the world. I got rubboards in so many places; I've forgotten where they are."