Cakes For Giving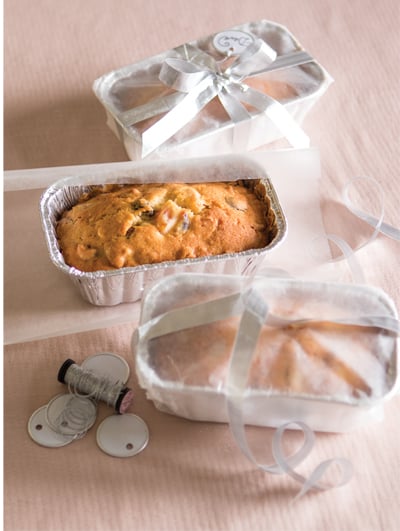 I recently cleaned out the catch-all drawer in my office and came upon a pin which read "I HATE FRUITCAKE" that be-longed to Mama. I chuckled as I remembered when she wore it religiously from Dec. 1 to Christmas day.
The first time I spied it pinned to the collar of her dress, she had stopped by for a mid-morning cup of coffee. The button was so out of character for her I burst out laughing. I was curious. Where did she get the button and did she really hate fruitcake? With a straight face, she went into a tirade about how she hoped no one ever sent her another fruitcake. She had eaten enough of those things in her life. Then she broke out into laughter and went on to tell me that when she was a little girl, one of her duties around the holidays was to punch tiny holes in the homemade fruitcakes that were given to her father every year by friends and relatives, (sometimes there were as many as four or five) and dribble in two to three tablespoons of bourbon per cake once or twice a week. She did this for years and hated this task. Except, she recalls, when she got older. Then she would give the cakes one or two tablespoons of bourbon and allow herself the remaining tablespoon.
"On the appointed days of 'feeding' the cakes, I enjoyed my nip!" she laughed. "Then, after I was married to your father, the same ritual was followed. Those darn old cakes would come as regular as Santa Claus. By then, the cakes were getting one tablespoon and I was getting two or three! But after your father died, the cakes stopped arriving. Thank goodness! Now I can't seem to look at one in the face. When I saw this button at a little gift shop, I knew it was meant for me."
We had a good laugh and I admitted that I too was not a great fan of those hard-as-brick, heavy-as-gold dense cakes. I recalled when I lived in Houston, an elderly gentleman who was my neighbor and a native of Corsicana, Texas (where thousands of fruitcakes are made for the commercial market) would bring me two or three a year, and not necessarily at Christmas time. I, too, dutifully poured in the bourbon on a regular basis. Once a week, the dear old man came for coffee (and sometimes an Old Fashioned) and we would visit over our slices of cake. But, would you believe, that even after he passed away, the guardian of his estate continued having cakes sent, until I moved back to Louisiana.
I do like to give something from my kitchen to neighbors and friends. My repertoire usually includes apple cakes, chocolate fudge, divinity fudge and for the last few years, these little loaf cakes shared with me by Emeril Lagasse. They're perfect for those of you, who like me, are not artists and have never mastered the art of cake decorating. Tie them up in festive cellophane or wax paper with a big bow or put them in tins for gift giving.
TIP
To make the gift look more aesthetically pleasing, consider wrapping the cake pan in semi- opaque wax paper instead of plastic wrap, and adorn it with a festive ribbon and card that expresses your holiday wishes to your friends and other loved ones.
---
Christmas Fruitcake With Whiskey Sauce
Ingredients
simple syrup:
2 cups granulated sugar
2 cups water
Strips of zest of 2 lemons (about 3 tablespoons)
¼ cup fresh lemon juice
the cake:
1 pound of a combination of dried (not candied) fruits, such as blueberries, cranberries, cherries, raisins, and chopped apricots
1 pound (4 sticks) unsalted butter, at room temperature
2 ¼ cups granulated sugar
4 ounces almond paste
8 large eggs
1 cup Grand Marnier or other orange-flavored liqueur
4 cups all-purpose flour
2 teaspoons baking powder
¼ teaspoon salt
¼ teaspoon ground cinnamon
⅛ teaspoon freshly grated nutmeg
1 cup slivered blanched almonds
1 cup pecan pieces
1 cup walnut pieces
½ cup bourbon
Make a simple syrup by combining sugar and water in a medium-size heavy-bottomed saucepan over medium-high heat. Add the lemon zest and juice and bring to a boil, stirring to dissolve the sugar. Boil for 2 minutes and remove from heat.
Combine the dried fruits together in a large mixing bowl. Pour simple syrup over them, toss to coat and let steep for 5 minutes. Strain and reserve the syrup.
Cream the butter, sugar and almond paste together in the bowl of an electric mixer fitted with a paddle at low speed, occasionally scraping down the sides of the bowl. Beat until the mixture is fluffy and smooth, about 2 minutes. Add the eggs, one at a time, mixing in between each addition on low speed and scraping down the sides of the bowl as necessary. Add ½ cup of Grand Marnier and mix to incorporate.
Combine flour, baking powder, salt, cinnamon and nutmeg in a medium-sized mixing bowl and blend well. Add ½ cup at a time to the butter mixture with the mixer on low speed, each time mixing until smooth, about 2 minutes. Scrape down the sides of the bowl as necessary. The batter will be thick.
Add the warm fruit and all the nuts a little at a time, mixing well. Scrape down the sides of the bowl and the paddle.
Preheat the oven to 350 degrees.
Lightly grease 12 1-pound loaf pans (you can find the disposable aluminum type in most supermarkets or specialty kitchen shops). Spoon about 1 cup of the batter into each pan. Bake until golden and the tops spring back when touched, about 45 minutes, rearranging them after 25 minutes if necessary to brown evenly.
Cool for 10 minutes in the pans. Remove cakes from pans and cool completely on wire racks.
Wrap each cake in a layer of cheesecloth. Store in plastic storage bags until they are slightly stale, 3 to 4 days.
Combine the reserved simple syrup with the remaining ½ cup Grand Marnier and the bourbon. Without removing the cheesecloth, make tiny holes with a toothpick randomly on the top of each cake. Pour 2 tablespoons of the syrup over the top of each cake once every 2 to 3 days until all the syrup is used. Let the cakes age for up to 3 weeks before eating.
Makes 12 cakes
---
Aunt Grace's Apple Cake
Ingredients
2 cups sugar
3 cups all-purpose flour
3 cups chopped apples (peeled)
1 teaspoon baking soda
2 teaspoons ground cinnamon
1 cup chopped pecans or walnuts
1 teaspoon salt
1 ¼ cups vegetable oil
2 eggs
2 teaspoons vanilla
My aunt Grace always presented me with of her special apple cakes every Friday after Thanksgiving. These are also made in loaf pans and are delicious for dessert, or for breakfast with a cup of coffee.
This makes 2 loaf cakes, which can be frozen. Completely defrost before serving. These are great when warmed a bit in the oven.
Preheat the oven to 350 degrees. Lightly oil two 9-by-5-by-3 inch loaf pans. Set aside.
Combine the sugar, flour, apples, baking soda, cinnamon, pecans or walnuts and the salt in a large mixing bowl. Stir to mix. Add the vegetable oil, eggs and vanilla and stir to mix well.
Spoon equal amounts of the mixture into the prepared pans. Bake until a tester inserted into the center of the cakes comes out clean, about 1 hour.
Makes 2 loaf cakes
---