Cajun Couple Wears The Culinary Crown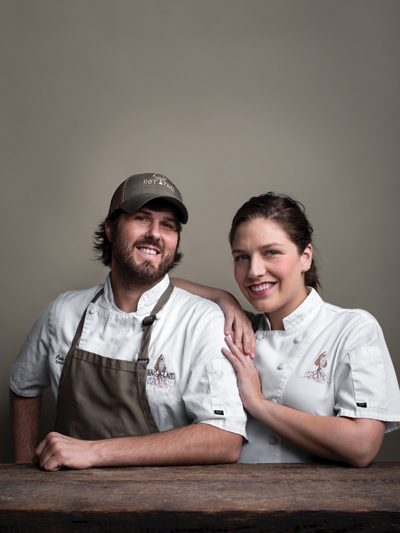 Love is a look.
More specifically, love is this look, the one Samantha Carroll is giving: a classic gaze of adoration reminiscent of a scene from a movie your girlfriend makes you watch.
The better half of Louisiana's "It" culinary power couple, Samantha can't keep her eyes off her husband/business partner, Cody. Operators and dual brain-stormers behind two of the hottest places to eat in the state, they'll get back to the ruthless restaurant grind right after this. But, for now, Sam hangs on Cody's every word, even though almost every word is, well, kinda gross.
Sitting together in a back room of their acclaimed New Roads eatery Hot Tails well before the dinner rush, Cody briefly presses rewind to tell a story from his childhood growing up on a humble grain farm in Pointe Coupee Parish – about how some days began with morning chores, not school.
"Before he'd go and get on the bus," Sam interjects, jumping ahead of Cody's set-up, "he'd have to deliver a baby calf."
Cody nods his head, like this is normal and no big deal.
"Yeah, it's called pulling the calf," he says. "And I had to run the cow into the squeeze-shoot, and you take a chain … and you'd have to reach up in there (you know where I'm talking about) and tie the chain and pull the calf out, help the cow. Then, stick your fingers in its mouth, and clear it, and slap it on its ass."
"And send it on its way," says Sam, who grew up in less-rural Gonzales. "Yep, he did that before school."
The couple laughs simultaneously at the story's punctuation. And that's why this works. All of it – the businesses and life after closing time as a couple with child – is tackled with genuine comfort knowing the person next to you "gets" you like no one else. Before, during and after the Carrolls said 'I do,' things have pretty much been better instead of worse. Meeting at the prestigious Louisiana Culinary Institute, Sam and Cody joined forces following graduation and ambitiously opened Hot Tails – a casual yet refined joint with a liberally spiced menu that regularly lures fascinated foodies from Baton Rouge despite the 45-mile trek. Rave reviews begot recognition from a host of publications and prestigious competitions, most notably the title of King and Queen of Louisiana Seafood at the 2013 Louisiana Seafood Cook Off. Riding that wave, the Carrolls flexed their food muscles in the already-swollen New Orleans culinary scene roughly a year ago with the opening of the high-end Sac-a-Lait in the Warehouse District.
"Working together, I don't wanna say it's easier, because it certainly isn't easy. But we get to bounce ideas and push each other as chefs and business owners," Cody says. "We feed off each other. Usually, if we collaborate on a dish, the dish comes out phenomenal. When it comes together, it just contains so much in the way of detail, and you wouldn't get that with just one chef.
"She'll tell me, 'That's an all right idea, but I have a better idea.' I do it to her, but I have to plan my attack."
"Yeah," Sam says, somewhat glaring.
"But if she's in a bad mood, I'm smart enough to know not to do it," Cody says through a smile that could sell anything. "If we're at home, it's always the best thing I ever ate."
"It always is, though," Sam says with a lighthearted fuss. "Whatever. He eats awesome at home. Don't let him say otherwise."
Cody and Sam began collaborating on a menu for Hot Tails while still at LCI. Instead of diving in and saying "Me too!" in an overcrowded marketplace, the Carrolls took the less-defined post-graduation path of opening something different some place different. Together they transformed an old convenience store in an understated tourist community into destination dining, brandishing a long list of classic Cajun and Creole cuisine that has been described more than once as "Hardcore South Louisiana."
"Our success here in New Roads can all be traced our attention to detail," Sam says. "In today's restaurant industry, everything is about going big and how convenient it is. Here at Hot Tails, we keep it simple but we keep it good – from the workers to the customers. I mean, heck, when we got married there were more customers than family (at the ceremony). They were just a part of the party."
A couple years later – 2013-2014 to be exact – the Carrolls took the food festivities across the country, serving as Louisiana Seafood ambassadors after capturing the crown at the Louisiana Seafood Cook Off in New Orleans.
"It's the biggest competition in Louisiana, and all you have to do is look at the people who've won it to know what a big deal it is: John Besh, Tory McPhail, these big-time chefs," Cody says. "And when we won, we're like, "Wow, so we're among these people? Are you sure?' That's special company."
The Carrolls prepared shrimp, crab and anything else indigenous to these waters to crowds in Atlanta and the Northeast as well as to entertainment big-wigs at the Sundance Film Festival in Utah.
"It was kind of like we were rock stars," Sam says. "But instead of touring, we just had big ice chests of food, you know?"
The Seafood tour injected the couple with the confidence to open a second restaurant, the type of place, as Cody mentioned more than once to critics, that wins national awards. In March 2015, the Carrolls opened Sac-a-Lait. The innovative menu contains daring choices like turtle boudin and drunk pheasant coupled with an one-of-a-kind drink list – all of it delectable examples of the Carrolls' nonstop culinary creative mind.
"You should just see the pages we have in our idea book, or the notes we have in our phone," Cody says. "We're inspired all the time, and it doesn't even have to be food-related. We'll see something off-the-wall and we'll incorporate it into food. It's just crazy. That's why my computer is running slow. So many notes."