Bringing Paintings To Life
St. Gabriel artist Connie Harris' murals and decorative finishes cover surfaces in Louisiana and beyond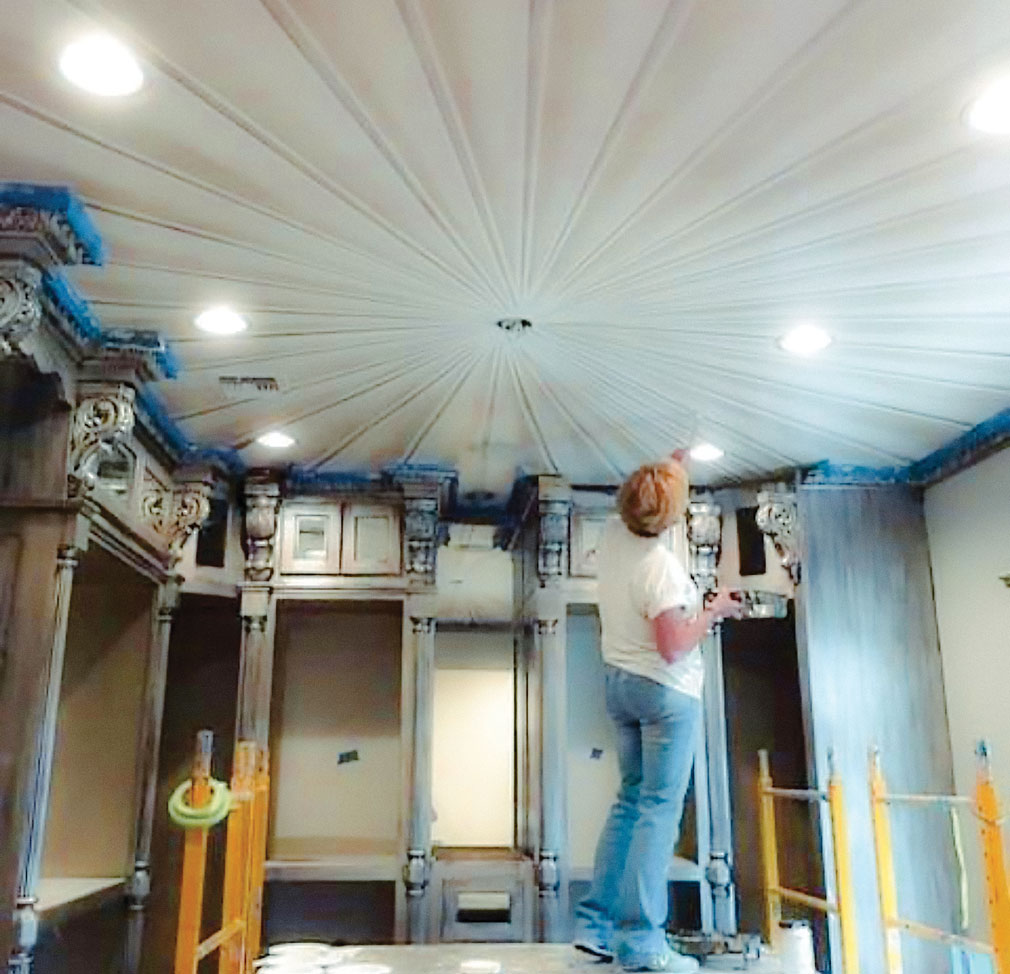 The famed Mexican muralist Diego Rivera once said a mural "is like a poem in colors." Artist Connie Harris of St. Gabriel in Iberville Parish has gained a large following, painting her own poems "in colors" on the walls of homes and public buildings in Louisiana and across the nation.
The Thibodaux native, who lives with her husband David Martin at Chatsworth Plantation in St. Gabriel, began her art career in 1989 in the hand-painted tile industry. What started as a hobby quickly became a business that branched out to creating elegant and detailed "faux finishes" on cabinets, furniture, walls, floors and ceilings as well as painting murals, her favorite art form.
"Murals bring the paintings to life in a bigger space," says Harris, a distant cousin of the French Impressionist Edgar Degas through his New Orleans-born mother Célestine Musson. "They are permanent and timeless. With canvases you pick them up and move them around. The murals are there to stay."
In addition to scores of private homes, Harris' brightly colored wall paintings can be found in numerous commercial spaces such as the Synergy Bank lobby in Houma. Long-time Baton Rouge area residents also might remember the large-scale mural she painted at the former Woman's Hospital before it moved to its current location on Woman's Way.
"That was fun," says Harris, a self-taught artist. "I did a mural of nursery rhymes on a 200-foot wall … As a baby was born, the parent could buy a little star and put on the wall. It's not there anymore because Woman's Hospital has moved. It was important to the new parents because they got to commemorate their new born baby in the Hall of Stars."
Painting commissioned murals in people's homes or commercial spaces is delicate process of visualizing a concept, execution and pleasing clients. Most of who, Harris says, already have an idea of the scene they want. Harris does her research and does a preliminary sketch of the scene that brings the concept, as she says, "to life." If she is doing a landscape, she then freehand draws the scene directly on a prepared wall. If the image includes animals and people, she first draws those figures on graphite tracing paper that she positions on the wall and then traces over the drawing to transfer the image.
Does she have favorite scenes that she likes to paint? Harris says she loves doing them all, but florals with lots of color are her favorites. Growing up in Thibodaux, she is also partial to South Louisiana landscapes.
"It's such a natural thing for me," says Harris. "I've done a lot of murals of the Louisiana landscape. At Philay's Catfish n' More restaurant in Gonzales, I did a 16-by-22-foot wall of a swamp scene all done in lavenders and purples. It was one of my favorites."
In addition to her art, Harris and her husband have restored the Chatsworth Plantation, which is filled with her art, and the 1760s Marguerite Plantation house next door, which they run as a bed and breakfast. It's her art, however, that wakes her up at night thinking about things to create.
"It's just in me," she says. "It's God-given, it's a gift. I just absolutely love what I'm doing. It's a joy and I'm so blessed to do what I love. I thank God every day for that. It's amazing."
MEET THE ARTIST
Connie Harris
Hometown Born and raised in Thibodaux
Residence Chatsworth Plantation, St. Gabriel
Born 1957
Inspiration French Impressionist Edgar Degas
Clients Private homes and commercial spaces
Painting Style Decorative faux finishes and murals
Favorite Imagery Floral scenes and Louisiana landscapes
Web connieharrisart.com