Bridges, Bourbon and Thoroughbreds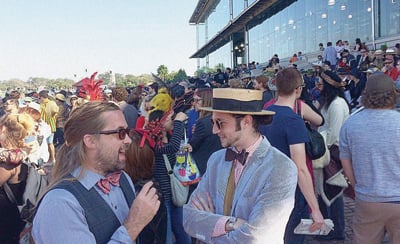 The festivities for Thanksgiving 2016 began on a pedestrian bridge overlooking Bayou St. John in New Orleans. A month earlier our friend group collectively realized we'd all be in town for the holiday. We also realized our friend Nicki's birthday fell on the same day and encouraged her to make reasonable and unreasonable holiday birthday demands. She took it easy on us however and the only direct order was that we had to wear hats. My response was, "Just try and stop me." The plan came together seamlessly. We would meet on the bridge at 10 a.m. bearing potluck brunch fare, set up the chairs, table and decorations while enjoying mimosas, feast for a couple of hours and then proceed to the New Orleans Fair Grounds for a day of thoroughbred horseracing.
Thanksgiving at the Fair Grounds is a New Orleans tradition dating back to the 1800s, but it turns out having Turkey Day brunch al fresco on a pedestrian bridge is brand new. This worked to our advantage in many ways. First, the bridge was available for reservation.
(Yes, you can reserve a bridge in New Orleans — it's a great time to be alive.) Second, fun, festive and extroverted passersby will in fact join you for a mimosa and conversation while out on their morning walk. Bonus: Fluffy, friendly dogs. Once we polished off the last of the bowl of bacon — yes, you read that correctly — brought by our brilliant friend Jonathan, we packed up and hit the track.
Having grown up in Kentucky, this yearly tradition in New Orleans of thousands of people converging upon the track to ring in the beginning of horseracing season is close to my heart. Considering there is a similar event at Churchill Downs (which also owns the Fair Grounds) in Louisville, Kentucky, I can't figure out why no one at my "home" track of Turfway Park in Northern Kentucky ever thought of it. For this, I will never forgive Turfway Park. The countless Thanksgivings I could have spent frolicking around the track in an adorable dress and stylish hat watching the ponies while my dad placed $2 bets for us are forever lost. Instead, my childhood memories are infused with countless turkey dinners consumed at a tiny metal and vinyl card table with my cousins and that one dejected adult who somehow ends up in exile at the kiddie table.
My husband Mark and I quickly adopted this yearly tradition when we moved to New Orleans in 2014. The first year, we didn't know very many people in the city, but our fellow track goers — many decked out in costumes — easily welcomed us into their conversations and lives, as Louisianians are wont to do. Each year, our attire slips more and more into costume territory and my hats get bigger and bigger. After getting gussied up, we toast and sip a celebratory glass of champagne. That first year we had our Thanksgiving dinner at the Fair Grounds. In 2015, however, we put a roast in the crockpot before heading out and came home to an incredible home cooked meal. It was one of my best ideas to date — until the 2016 pre-track brunch on the bridge came to pass. I wish I could take credit for that concept, but I believe that honor goes to our friend Jennifer, a nurse by trade and party idea machine by some mysterious and God-given natural gift. She also came up with the notion for us to stage an animal prom (for which we all dressed as animals wearing prom attire or some incarnation of it) in the French Quarter — complete with balloon arch — on Mardi Gras. But that's a story for another column.
This Thanksgiving, most of the members of our merry band of revelers will celebrate out of town, so we will have to wait for another enchanted brunch on a wooden bridge in the middle of a bayou. But one part of the plan will stay the same: You'll find Mark and me dressed to impress ringing in another race season at the Fair Grounds and giving thanks with a few thousand friends.