Bonne nuit, beaux rêves!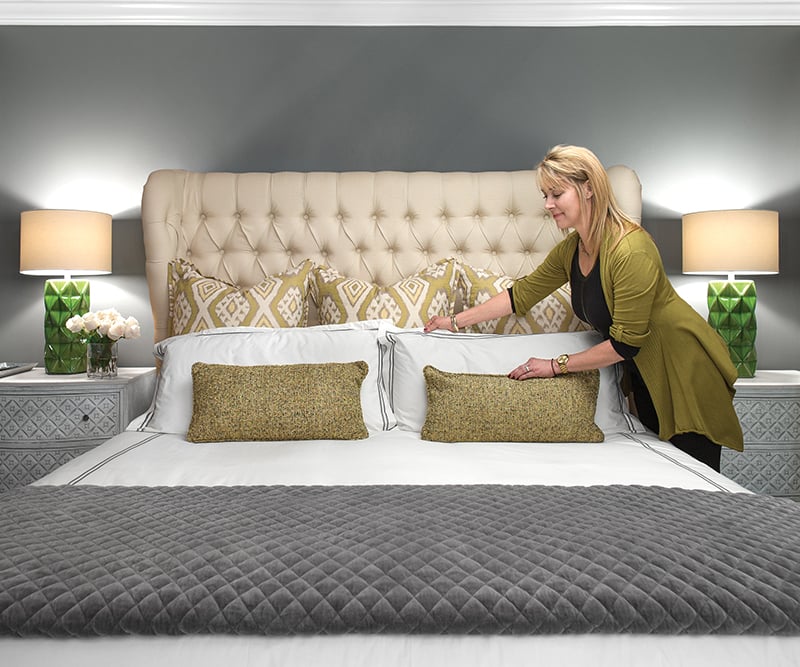 Upgrading your sleep space could actually result in more restful slumber, according to the National Sleep Foundation. While there's no magic color or bedding that's proven to cure tossing and turning, research reveals the most important thing is to create a space that gives you a sense of warmth and calm.
Designer Paige Gary could not agree more. She says although her job as a decorator is to focus on how things look, when it comes to designing a bed, her primary focus is how it's going to make you feel.
"There's a fine line between the two," says Gary.
Her go-to starting point is a neutral, Matelassé-style coverlet because it's versatile, washable and doesn't show wear. For sheets, she follows a similar checklist and opts for a premium brand, such as Peacock Alley.
Gary incorporates cozy,down feather pillows to bring in color accents and create layers of contrast. For example, if you have dark walls, she suggests a light headboard and then a row of Euro shams spanning the entire width of the bed. Gary says you get plenty of bang for your buck with custom shams in a bold fabric.
"A fabulous print — like ikat — can tie everything together," she says.
About three layers of coordinating pillows in descending sizes should do the trick, says Gary. This is the minimum amount with the most impact.
"If there [are] too many they might never make it back on the bed," she says.
Gary suggests completing the look with a textured coverlet in a rich fabric, like velvet, at the foot of the bed for added warmth and another pop of color.
Considering you'll likely spend one third of your life sleeping, splurging on these added comforts could go a long way.
steps
Well Arranged
1. Choose a neutral coverlet and sheets as your base.
2. Arrange about three layers of pillows in descending sizes and contrasting colors.
3. Use a coordinating print in your pillow shams to tie your color palette together.
4. Add a textured throw on the foot of your bed to ground the look.