Back to School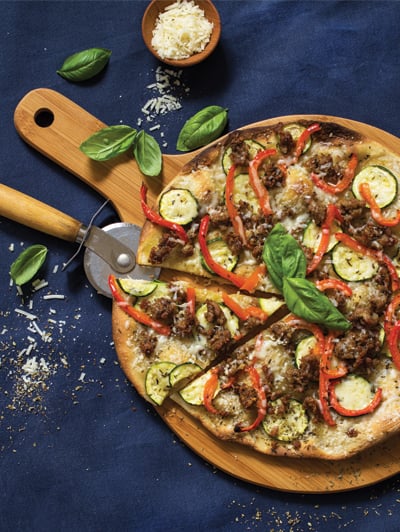 Where has the summer gone? Okay, it's not officially over, but school is about to begin, and although you might not have noticed it, the days are becoming almost imperceptibly but relentlessly shorter as the daylight wanes through the summer.
And with fall approaching the family's schedule will become more hectic and meals will most likely be taken on the run. Although it's always easier to go through the drive-thru at fast-food outlets, it's not always the healthiest alternative.
While it probably isn't realistic to think that the entire family will be available for meals taken together every day of the week, certainly one weekend day supper and a couple over the weekend isn't too much to ask for.
With a little planning and organization, family meals can not only be nourishing but also tasty and fun, yes fun. Get the whole family involved. Ask children for some ideas of what they like and have them participate in the preparation.
Homemade pizzas, pasta dishes, salads and simple desserts are a great way to introduce children of all ages to new ideas. Think pizza that incorporates sliced mushrooms, chopped vegetables (asparagus, zucchini, squash), and low-fat cheeses. Try different kinds of pastas with shrimp, cubed ham, or chicken. Salads don't have to be ho-hum. Rather than the usual salad greens, think of those made with fruit and vegetables. Ice cream is fine sometimes for dessert, but why not combine plain yogurt with honey, berries and nuts. Top store-pound pound cake with this mixture! Yum!
And don't turn up your nose at casseroles. Make a couple to stash in the freezer now and then to pull out when time is of the essence.
Another fun thing is to cook things en papillote (in a bag). Make a pouch with aluminum foil or parchment paper and fill it with fish or chicken and vegetables, shove it in the oven or slap it on the grill and you have a meal in no time.
And my favorite new thing is to buy one or two of those roasted whole chickens that are offered at many supermarkets. Bring it home, drizzle with a bit of good olive oil, sprinkle with your favorite dry herb (rosemary, thyme or oregano), loosely wrap it in foil and put in a 350-degree oven for 15 to 20 minutes. Voila! You can use any leftovers to make chicken sandwiches, chicken salad to plop on thick slices of tomatoes, or toss pieces with your favorite pasta, olive oil and some grated Parmesan cheese. Easy enough!

---
Sausage and Zucchini Pizza
Ingredients
¼ cup olive oil
12 ounces sweet Italian sausage, cut crosswise into ¼-inch slices
2 (10-ounce) portions frozen pizza dough, thawed
2 medium-size zucchini, thinly sliced
2 red or green bell pepper, seeded and cut into thin strips
½ teaspoon dried thyme
½ teaspoon dried basil
Salt and freshly ground black pepper, to taste
1 cup shredded Parmesan cheese
Arrange oven racks in lower and upper third of the oven. Preheat to 475 degrees.
Heat 2 tablespoons of olive oil in a large skillet over medium-high heat. Add sausage and cook, stirring, until all pink has just about disappeared, 3 to 5 minutes. Transfer to paper towels to drain. Roll out the dough on a floured surface to two 10-by-14-inch rectangles or 12-inch rounds and transfer to ungreased baking sheets. Put equal amounts of sausage on each of the dough pieces, and arrange zucchini and bell peppers on top of sausage. Sprinkle with thyme and basil, and season with salt and pepper. Drizzle with the remaining 2 tablespoons olive oil. Bake pizzas for 15 minutes and remove from the oven. Sprinkle with Parmesan cheese and return to the oven. Bake until the cheese melts, about 3 minutes. Remove from oven and let cool for a minute or two before slicing to serve.
Makes 4 to 6 servings

---
Turkey or Chicken Tetrazzini
Ingredients
3 tablespoons butter
3 tablespoons all-purpose flour
¼ teaspoon salt
¼ teaspoon freshly ground black pepper
1 ½ cups chicken broth (about)
1 (4-ounce) can sliced mushrooms, undrained
2 tablespoons chopped pimiento
2 cups cooked, chopped turkey or chicken
6 ounces cooked and drained spaghetti
1 cup grated cheddar cheese
¼ cup dry bread crumbs
Preheat oven to 375 degrees. In a skillet, combine butter and flour over medium heat and stir constantly for three to four minutes or until smooth. Add salt and black pepper. Slowly add broth, stirring until the mixture thickens. Add mushrooms and pimientos. Stir to combine. Lightly oil a two-quart casserole. Make alternate layers of turkey, spaghetti, mushroom sauce and cheese. Sprinkle the top with the bread crumbs. (At this point the casserole can be frozen.) Bake for 25 to 30 minutes, or until bubbly and golden brown. Serve immediately.
Makes 4 to 6 servings

TIP
FOR THE TETRAZZINI
You can substitute shrimp or fish, and even strips of beef or pork for the chicken here. Use whatever vegetables strike your fancy, or any leftover vegetables hanging around the fridge. If you have fresh herbs like basil, dill or oregano, by all means use them!

---
Chicken in a Bag
Ingredients
4 small red potatoes, thinly sliced
6 to 8 ounces fresh green beans, trimmed and cut into 1-inch pieces
2 medium-size ripe tomatoes, thinly sliced or cut into chunks
1 cup coarsely chopped onions
2 teaspoons mixed dry herbs (basil, oregano, tarragon)
1 ½ pounds boneless skinless chicken breasts, cut into strips
4 sprigs fresh parsley
Salt and freshly ground black pepper, to taste
¼ cup olive oil
Preheat oven to 450 degrees. Put potatoes in a saucepan and cover with water. Bring to a boil and then reduce heat to medium-low and simmer until potatoes are just tender 3 to 5 minutes. Remove from heat and drain. Set aside. Cut aluminum foil into four large (14 inches or so) rounds. Put equal amounts of potatoes, green beans, tomatoes and onions in the center of each round. Sprinkle each with an equal amount of the herbs. Arrange an equal amount of chicken strips over the vegetables and top with a sprig of parsley. Season each serving with salt and pepper. Drizzle each portion with 1 tablespoon olive oil. Bring edges of the aluminum foil together to form a pouch or bag and seal by crimping. Place the bags on a baking sheet and bake for 8 to 10 minutes. You can place each bag on a dinner plate and cut them open at the dinner table to add a bit of flair!
Makes 4 servings

---
Orzo Salad With Corn, Feta and Tomatoes
Ingredients

Dressing
2 tablespoons fresh lemon juice
1 tablespoon olive oil
1 teaspoon rice wine vinegar
1 teaspoon Creole mustard
½ teaspoon salt
¼ teaspoon freshly ground pepper
3 garlic cloves, crushed

Salad
1 cup uncooked orzo
2 cups fresh yellow corn kernels (about 4 ears)
1 pint cherry tomatoes, cut in half
½ cup sliced red onions
½ cup sliced black olives
½ cup hearts of palm, cut crosswise into ½-inch pieces
1 cup crumbled feta cheese
Combine dressing ingredients in jar and shake vigorously to blend. Cook orzo in large pot of boiling salted water, stirring occasionally, about 8 minutes. Add corn and cook about 2 minutes more or until the pasta is still firm to the bite. Drain and place in large bowl.
Add half the dressing and toss to coat. Cool a bit, then add the remaining ingredients and the rest of the dressing. Toss to coat. Cover and chill until ready to serve.
Makes about 8 servings
This pasta salad may sound a bit exotic for youngsters, but give it a try; they just might like it because of the pasta shape that resembles rice.