Baby, It's Hot Outside!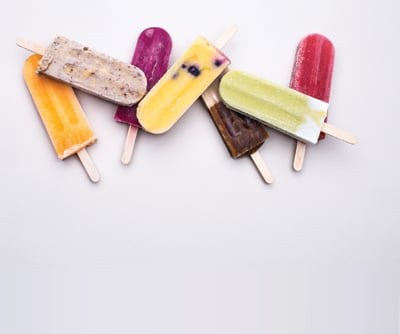 Sophisticated palates, a continuing explosion in small-scale culinary entrepreneurism and a ceaseless demand for sweet relief from the heat of summer leave us with more options than ever.
Synonymous with summertime, snowballs, like king cake, are a seasonal Louisiana indulgence, given that most of the stands and small shops that sell them are closed in the colder months and operate from sometime around St. Patrick's Day (March 17) to sometime shortly after Labor Day. Ironically, the hot-weather treat originated in cold winters of Italy.
"Snowballs are very Italian," says culinary historian Liz Williams, president of the Southern Food & Beverage Museum. "Flavoring real snow with syrup goes back to the Romans." Originally handmade by shaving block ice with a planning tool, it was a lot of work to make a snowball. "But," says Williams, "the shaved ice used today is produced by the SnoWizard, a commercial shaving machine invented by George Ortolano, the New Orleans-born son of Sicilian immigrants."
Ortolano's 1936 invention made it possible for anyone to open a snowball stand, and it produces ice that's thinly shaved to fine powder, resulting in a lighter, creamier texture than the crushed ice used for the snow cones consumed in other parts of the country. Further differentiating our snowballs from their Yankee brethren is the vast array of flavored syrups in which they are saturated. While it is possible to buy pre-made syrup, the best stands make their own. Traditional flavors like strawberry and spearmint are still available but new, exotic tastes with spices, savory elements and fresh juices are increasingly popular. Besides the ice and syrup, some really guild the lily and offer snowballs topped with ice cream, condensed milk, evaporated milk, cherries, crushed pineapple, strawberries and even whipped cream and marshmallow cream. Fortuitously, throughout the state, snowball stands can be found operating in most neighborhoods. Just keep an eye out for happy faces and little houses decorated in bright colors with long lines of people and cars out front.
One of our Acadiana favorites is Murph's Olde Tyme Snowballs located behind Old Tyme Grocery in Lafayette. There are traditional snowball flavors like cotton candy, polar punch and pink lemonade, as well as "stuffed" versions filled with chocolate, Pink Lady or pina colada ice cream.
Also in Lafayette just off the main drag of Johnston Street, Cajun Sno is so popular as to have warranted a special lane set up to direct traffic in and out of its drive-through. In addition to snowballs, they offer ice cream sundaes, banana splits and other frozen confections. Nearby Sneaux Shack, also off Johnston, features organic flavors, sugar-free options and an array of toppings and flavors including blueberry cheesecake and something called Monster truck fuel.
Though it is unlikely to ever trump the snowball in as the popular favorite for a summertime chill, the highly versatile popsicle is making an increasingly visible show.
Robbie Austin and Nick Villaume grew up together in Lake Charles, and they share a love of '80s music, glitz and culture. Last summer they morphed their passions into Pops and Rockets, a line of gourmet popsicles inspired by '80s music. They've already sold over 5,000 pops and, thanks to a successful crowd-funding campaign, an expansion is underway and rapid growth is anticipated.
Some of Pops and Rockets' flavors include "Back in Blackberry," made with blackberry, coconut and raspberry flavors and riffing on AC/DC's hit "Back in Black," "Chicory and Ivory" with chicory coffee and cream for Paul McCartney's "Ebony and Ivory," and "Cran Halen" (cranberry and satsuma) for a fun-poke at Van Halen.
Villaume is the crazy guy in the kitchen, and Austin spearheads marketing. Look for them at the Cash and Carry Farmers' Market or place an order to be picked up at their "factory" in downtown Lake Charles.

Cajun Sno 4303 Johnston St., Lafayette, (337) 981-3342 // Murph's Olde Tyme Snowballs (located behind Murph's Olde Tyme Grocery) 218 West Saint Mary Blvd., Lafayette, (337) 235-8165, oldetymegrocery.com // Pops and Rockets 104 W. Pujo Street, Lake Charles, (404) 822-5847, popsandrockets.com (Cash & Carry Farmers' Market, located at the corner of Enterprise Boulevard and Broad Street) // The Little Big Cup 149 Fuselier Road, Arnaudville, (337) 754-7147, littlebigcup.com // Sneaux Shack 106 Roselawn Blvd., Lafayette, (337) 412-1357.

---
Bonus Bite
Looking for a substantial meal with a cool drink? Arnaudville's beloved and popular spot The Little Big Cup has excellent iced coffee drinks including Iced Latte, Iced Mocha and Frappes and an impossible to beat Sunday Breakfast/Boucherie brunch menu that's loaded with real-deal Cajun, home-cooked favorites like stuffed pork roast.