An Evolution of Sound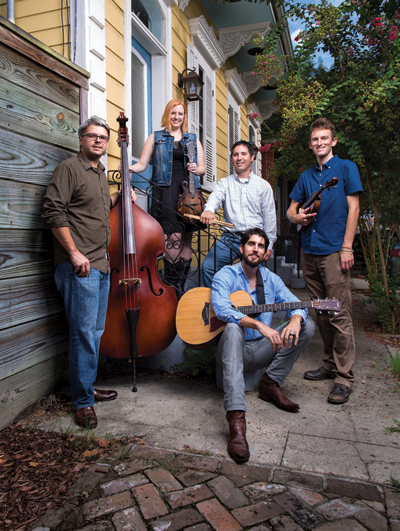 Drummer/percussion Eric Ledet of The Necessary Gentlemen fondly remembers growing up in Marksville. "We had this little station, KLIL, that had this little show called the 'Swap Shop,' and before and after the show they used to play Cajun music, and I just fell in love with it," swoons Ledet. "My grandparents were huge Cajun music fans and they loved to dance. So from very early on I heard that music playing in my grandparents' home. The Necessary Gentlemen have tried to stick to those influences more. You hear it in the stringed instruments, in the fiddle playing."
The Necessary Gentlemen's Cajun country influence is apparent on the group's song "Love, Anyway," with its simultaneously wailing and lilting fiddle line. "We definitely appeal to those who grew up on the kind of Cajun country made famous on the Louisiana Hayride," promises the Gentlemen's primary songwriter and bandleader Jonathan Skavarka.
The bandmembers hail from all parts of Louisiana, but create their old-timey sound in New Orleans. Mainly a country and bluegrass band, The Necessary Gentleman, formed in 2009, and had been playing for two years before adding several more members, including singer and mandolin player Tiffany "Fefe" Byram. "They made up the name before I joined," jokes Byram. "The boys now like to say that I'm the 'necessary' part."
Bandleader Jonathan Skavarka unintentionally founded The Necessary Gentlemen with some friends who also played at the famous regular bluegrass jams at HiHo Lounge on St. Claude Avenue. Skavarka, who grew up in rural Pennsylvania listening to old-time country music, admits, "I never thought I'd end up playing bluegrass in New Orleans. "
Skvarka's band's bluegrass is tinged with the longing of Americana, the narrative bent of outlaw country and the simple structure of singer/songwriter folk. The band describes itself as "a familiar sound with modern sentiment," its lyrics addressing "heartbreak, women, loneliness and other realities of modern life."
"What we try to do is create the mountains here in New Orleans," says Skvarka. "In an urban area, everyone faces issues that are apparent. So I wanted to have this familiar sound, the melodies and the roots sound, while also telling a story about being part of New Orleans in its post-Katrina landscape – these modern kinds of concepts, but then do it in a way that's familiar to us as a band."
As the group's content has evolved so has its instrumentation, says Skavarka: "We were able to add new members who play banjo and harmonica, and we also have a fiddle player – when we have the banjo and harmonica player it really leans toward bluegrass, even though the chord progressions are more country and pop. Our banjo player recently moved to Arkansas so we're once again evolving into something more like country music than true bluegrass – more mainstream, modern music."
When asked what Byram has brought into the group as one of its newer members, she quips, "Well, obviously some estrogen… But I also sing harmony with John. John is main songwriter, and I am also really good at critiquing him," she laughs, while acknowledging that most artists could benefit from a trusted editor. Byram grew up attending a tiny musical church in Rocky Mount, Louisiana. "My grandfather was the music leader at that church. And it was so small you could walk up on stage and sing. So I been singing on stage since I was old enough to crawl up there. I brought my guitar to church and it sounded horrible for six to eight months, until finally it started sounding good. Then piano came next in 3rd grade.
"Now I play several instruments, but there wasn't a lot of room in the band for me to add more guitar," admits Byram. "The only space left for me to fill was the mandolin – which is what I play now in the band because that's what they needed."
The Necessary Gentlemen often perform on the Northshore, but play most regularly at the Neutral Ground Coffeehouse on the second Friday of every month at 9pm. "We've done that particular gig for two years now and it's been really great for us," says Skvarka. "Starting out, we used to play bars where very rarely did people sit and listen to what we were trying to sing. At Neutral Ground, people can really hear the music we're trying to convey… Our songs definitely have lyrics you need to hear to really appreciate the music."
That lyrical focus continues on the group's upcoming new album Hard To Leave, out this November. But the record also marks a turning point for the band. "On this album we stretched out pretty far, adding electric components for the first time, and creating a more complicated sound," says Skvarka, who claims the group's musical evolution inspired the album's title: "It was hard to leave the sound we were used to, with acoustic instruments, three or four chords. But then lyrically it's also about how it's hard to leave memories, and hard to leave New Orleans, and hard to leave the comfortability of the single life."
Both Skvarka and Byram are most proud of their collaborations on Hard to Leave. "'Hold Onto the Light' is our swampy New Orleans song," says Byram. "My favorite part is the drummer has two kitchen pans he's banging together. We also co-wrote 'Creole Gypsy,' which is our love-song to New Orleans."
"'Creole Gypsy' is a real simple country tune," Skvarka elaborates, "about how New Orleans is a beautiful place, a beautiful joyous place…but get ready to have some scars at the end of the day."