An Endeavor of Grace and Tranquility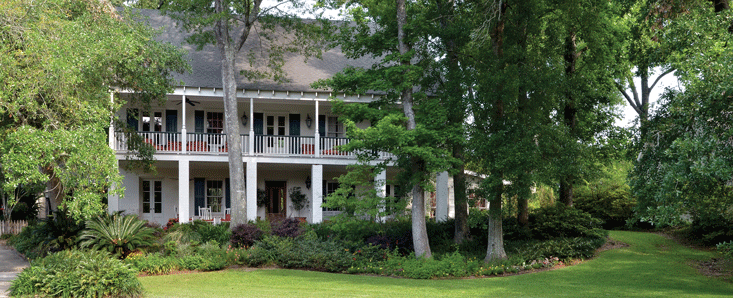 As she gazed through her kitchen window for the first time, Lea Carleton initially felt like she was looking down from a treehouse. The sloping land behind her new home was filled with trees that showed the growth that had occurred in the 50 years since the house was constructed.
But it was her husband, Kurt, who had found this haven. "I was attracted to its proximity to the Vermilion River and all the outdoor space," he says.
The gated property situated at the end of Vista Drive in Lafayette provides an impressive setting for the plantation-style home complete with spacious balconies for river-viewing. During the 12 years of residing here, the Carletons have extensively landscaped, enhancing the natural state that pre-existed. The panoramic effect of their achievements can be appreciated from indoors as well as from the many areas designed for relaxing on the grounds.
With a desire for the interior to be in sync with the essence of exterior, Lea and Kurt have modified the contemporary design that reflected the taste of previous owners.
"We wanted to instill a feel of Southern comfort with Old World charm and be able to share with friends our culture and inheritance," Lea explains.
To accomplish such a change meant a complete alteration. Small windows were replaced with larger ones, allowing a greater amount of natural light to filter through. Walls were covered with stucco and painted in a light caramel tone. The tops of doorways were softened by making them arched, with each side rounded as a finishing touch. Beams were installed across ceilings, generating a more rustic appeal.
"Remodeling changed the look to something that now matched our personalities – an atmosphere that is warm and relaxed enough for someone to feel they can put their feet up on the coffee table," Lea says.
Influenced by their European travels, the Carletons have furnished their home with French pieces, each displaying a rich patina, and combined these with hand-woven rugs that originated in Pakistan, Persia and Russia. Art pieces that they discovered on these trips serve as colorful accents. "Although most of our furnishings were selected by us, at times I have asked for help from a designer for a fresh eye," Lea says.
Art by local artists also occupies space in the Carletons' home. The works of such talented people as Elemore Morgan, Janie Bayard, Toni Daigre, Sue Billet and Joyce Linde are proudly displayed.
Hung in Lea's meditation room is a sculpture depicting an angel by Kelly Guidry of Lafayette and a watercolor by Dennis Paul Williams of St. Martinville, who is known to paint to instill peace of mind in the observer. Special to Lea is the prayer altar containing crystal rocks, a Tibetan horn, a Buddha and an artifact of a fertility goddess. Her career as a naturopathic doctor, or ND, has inspired her to seek a designated place for personal reflection.
Lea's friend and neighbor, Frances Chunn, is an artisan who creates bamboo lamps. Several can be found in the Carletons' home, all fitting well with the intrinsic values of the owners.
An independent oil and gas operator, Kurt enjoys the freedom of working from home: Terra-cotta-colored walls displaying handmade masks from Panama encircle the heavy teak desk in Kurt's office. Facing this is a carved and distressed wardrobe from Indonesia. Completing the look is a silk Turkish rug bearing similar hues drawn from other furnishings.
A bit of wanderlust can be detected in the Carletons' demeanors, though, as they relay the fact that they also have residences in New Orleans, Colorado and Panama. "We have a city home, a mountain home, a beach home and a country home," says Lea with a smile.
Even so, a perfect scenario for Kurt and Lea is settling down here in the late afternoon, maybe with binoculars in hand, to enjoy the great outdoors.