Zeus Café Opens Crowley Franchise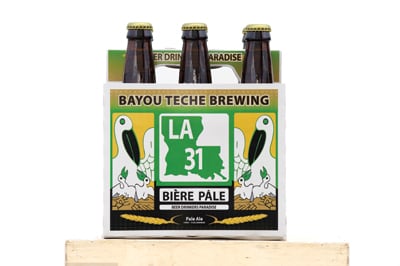 CROWLEY – Local restaurateur Nidal Balbeisi figures if the good people in Lafayette and Lake Charles gobbled up the then-foreign concept of quick, affordable Mediterranean and Greek cuisine, why not try a location between the two?
Balbeisi's popular Zeus franchise recently opened its newest location on 512 N. Parkerson in Crowley, offering full dining for lunch all week and full dining for dinner Monday through Saturday.
This addition plants another flag in Balbeisi's budding dine-in Zeus empire. Other sit-down locations include spots in Lafayette's Oil Center, downtown on Jefferson Street, along the busy Ambassador Caffery stretch, the aforementioned Lake Charles restaurant and now the Crowley location. Zeus also has four express locations in Lafayette (ULL, River Ranch, Pinhook and Johnston), one in Carencro and one in Youngsville.
For exact addresses, menus and hours of operation, visit www.zeuscafe.com
---
Arnaudville's Biere Pale Named as Top 10 Southern Beer To Look Out For
ARNAUDVILLE – Sure, the magazine's subject matter might be a little different, but that didn't damper the mood at Bayou Teche Brewery when Garden & Gun named the Knott brothers' LA-31 Bière Pâle as one of the "Top 10 Southern Beers to Look Out For." Bayou Teche was the only Louisiana-based brewery to make the list.
"Bready and smooth like fresh-from-the-oven biscuits and balanced with a slight grassy bitterness, this beer is made to complement the flavors of classic Louisiana dishes like jambalaya or red beans and rice," the magazine reported.
Bayou Teche's Bière Pâle came on the market in 2010 and was the then-blossoming brewery's first commercial beer. Described by its creator as a "bronze-colored (beer) with a biscuity malt center, herbal hop flavors and a gentle, mellow bitterness," Bière Pâle's taste was designed to complement the unique taste of Louisiana cuisine.
---
Raceland's New Community Center
RACELAND – Parish officials, local community leaders and state politicians were on hand for the opening of the Raceland Community Center, a new educational facility completed just before the start of the 2013-2014 school year.
Situated on La. Highway 308, the community center has 4,000 square feet of floor space and features an auditorium, conference rooms and classrooms for the Lafourche Parish Head Start program. Kids currently in the Lockport Head Start program will now attend the new community center, as well. After school hours, the community center will host civic events and adult recreational and continuing education activities. In the event of a natural disaster, the community center could also serve as an emergency shelter and/or preparedness headquarters.
Future concepts for the $1 million project, which was originally approved in 2009, include a community garden, regularly scheduled community dinners and activities arranged by the parish rec department and organizations like Community Action and the Council on Aging.
---
A Junior Golfer Makes Team USA
Breaux Bridge – Jonathon Simons was one of eight junior golfers selected to the Team USA squad that battled against competitors from Canada and Europe in the International Junior Golf Tour's Euro Cup held in historic St. Andrews, Scotland.
In the final round of match play, Simons bested Alex Corrigan 4-up with three holes remaining. Despite Simons' strong showing, though, Team USA finished the three-day event in third place behind Canada and Scotland.
Since its inception in 1995, the International Junior Golf Tour has been a launching pad of sorts for several professional golfers including PGA Tour members Rickie Fowler, Hunter Mahan and Morgan Hoffmann plus LPGA Tour stars like Paula Creamer and Song Hee Kim. Simons was the only Team USA member from Louisiana.
Prior to the trip to Scotland, Simons competed in three domestic IJGT events: The Hilton Head Open, The Shootout at Colleton River Plantation, and he notched a 9th-place finish at The Florida Swing at Harmony Golf Preserve.