Writer's Choice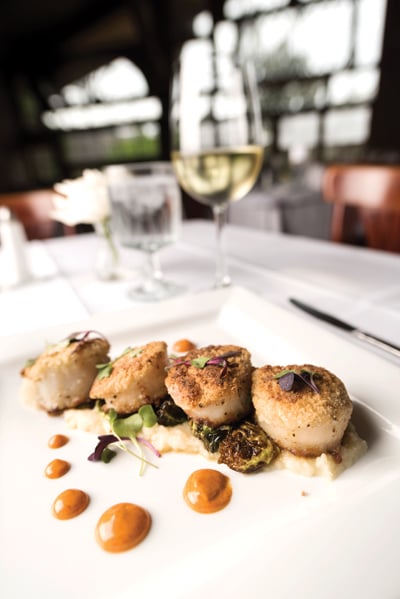 Darrell Bourque grew up in Sunset. His long career as a writer and professor at the University of Louisiana-Lafayette has given him a deep understanding of the region.
Bourque was appointed Louisiana Poet Laureate by then-Gov. Kathleen Blanco in 2007 and then reappointed by Gov. Bobby Jindal in 2009. He served in the position through 2011.
But his Louisiana accolades continue. On Nov. 1, he was awarded the Louisiana Book Festival Writer Award.
"I am the 50th recipient of the award. Earnest Gaines was the first. I am really humbled by the company I'm in," Bourque says.
He knows Acadiana, its people, its stories and its food. When it comes to what to eat and where, Bourque said it all depends on what kind of experience he wants on a given day. He shared several of his favorites across the region:

---
Café Vermilionville
1304 West Pinhook Road
Lafayette
(337) 237-0100
Along with many other Acadiana residents, when Bourque and his wife are ready for a romantic dinner, they head to Café Vermilionville in Lafayette.
While the lovely establishment represents the essence of Louisiana style and sophistication today, the site has a history linked to one of the earliest settlements in the area – years before the Acadians arrived in the area. Situated near the Vermilion River, Café Vermilionville's roots are anchored in the long-ago time when the river was the chief means of travel for Native Americans, trappers and traders. Originally an inn (the first in the area), it became a private residence in 1853 and was occupied by Union troops during the Civil War.
These days, Bourque is among many to agree that the food is consistently good.
"What draws me there is the romantic café. Even when the house is full, they maintain a beautiful ambiance," Bourque says. "It's relatively quiet. I don't get frazzled when I go there. It has a peaceful ambiance. It's such a beautiful place inside and out. The training they give to their wait staff is among the best. The food is always good, and I like the portions they serve."
Highlights of the lunch menu include roasted corn and crab bisque and a wonderful wedge salad, with crispy prosciutto, sun-dried tomatoes, red onion, walnuts with Gorgonzola dressing. The veal tortellini is another lunch favorite. It's panéed veal, mushroom, cherry tomato and asparagus ragout, shaved Manchego with cheese tortellini.
The dinner menu presents an array of choices, but one local favorite is the macadamia crusted scallops, served with celeriac puree, Brussels sprout chips, white truffle oil, smoked paprika and tomato aioli. The combination of aromas and flavors is something special.

---
Little Big Cup
149 Fuselier Road
Arnaudville
(337) 754-7147
When Bourque is looking for a restaurant to spend time and eat a meal with his extended family, he heads to Arnaudville to the Little Big Cup.
"If I'm taking my grandchildren and family out to eat, we go to the Little Big Cup," he says. "The crab cakes are among the best I've ever eaten."
The restaurant, located in Arnaudville, is a blend of rural roots and big city sophistication. The establishment's owners, Kevin Robin and Sanjay Maharaj, met in New York City, but Robin has deep Arnaudville roots. Five generations of Robin's family have run Russell's Food Center across the street from the restaurant. When they decided to leave the city and move to Arnaudville, Maharaj asked where he would be able to get a good cup of coffee.
The pair opened a coffee job, which became one of the most popular restaurants in the area.
Bourque can name most of the Little Big Cup's staff by name. "Cricket, who does the cakes, does an incredible chocolate lava cake, Italian Cream Cake and an amazing berry cake."
He's referring to Cricket Frederick, Little Big Cup's head waitress and maker of delicious desserts. With great pride, Frederick tells patrons that she's been a part of the Little Big Cup since Day One. She shares her admiration for Robin and Maharaj — from the food they serve, the Friday and Saturday evening surf and turf buffet and the Sunday brunch.
If you're wondering what's on the Sunday brunch menu. Just ask, Frederick. She rattles off the 19+ items in what seems like a single breath. "Cinnamon rolls, biscuits, eggs, bacon, sausage, frittata, crème brulee French toast, grits, breakfast potatoes, fruits, white gravy, pork stew, pork roast, pork ribs, jambalaya, baked beans, sweet potatoes and boudin – plus, we have live music," she says with a speed once reserved for kids reciting "two-all-beef-patties-special-sauce-lettuce-cheese-pickles-onions-on-a-sesame-seed-bun."
However, Frederick is not alone in her high regard for what's happening in Arnaudville, and at the Little Big Cup, Bourque shares her enthusiasm. "I like the place and its food and the people who run it and their vision for changing a community. It has a country sophistication that is unparalleled. It's different than anywhere I've ever been to."
Bourque says he understands the great popularity of the Little Big Cup's Sunday brunch and buffet, but he prefers eating there during quieter moments.
"I've been for the Sunday brunch and the Friday/Saturday night surf and turf, but for me there's almost too much,"says. "We always walk the line and examine the buffet, but I go for lighter fare than that. Sanjay, Kevin and the chef do incredible work for the buffet and on the menu."
On Friday and nights, the surf-n-turf menu includes an amazing array of dishes – including Gulf fried shrimp, pork shanks, broiled catch of the day served over crab rice, seafood stuffed mushrooms and seafood pasta, Cajun-style catfish courtbouillon, praline chicken, oven-roasted blackened prime rib and a beautiful salad bar. The buffet doesn't look like a typical buffet. It is displayed with great style, and the color and variety of food boggles the mind.

---
Pujo Street Café
901 Ryan St.
Lake Charles
(337) 439-2054
As Louisiana's Poet Laureate, Bourque traveled the state from north to south and from east to west. In Lake Charles, he discovered the Pujo Street Café.
"Whenever I'm in Lake Charles, I always make it a point to eat at Pujo Street Café," he says."The quality of the food, combined with their well-trained wait staff makes a difference."
Pujo Street Café's tilapia Puttanesca is a local favorite. It is a grilled tilapia filet, topped with a traditional Puttanesca sauce, served over angel hair pasta. Another popular pasta dish is the chipotle pepper linguine. It's a spicy chipotle cream sauce served over linguini with the choice of chicken, crawfish, shrimp or grilled vegetables.
The chicken Mykonos is another popular choice at the Pujo Street Café. Made of fresh spinach, feta, Parmesan and panko, stuffed inside a juicy chicken breast and then baked and topped with a feta-cream sauce.
"My leaning is toward seafood, but I've never had a dish at the Pujo Street Cafe that I didn't thoroughly enjoy. I particularly like the pasta dishes, and I have to go back to the crab cakes. They are incredible there."

---
Tsunami
412 Jefferson St.
Lafayette
(337) 234-3474
Another of Bourque's Lafayette favorites is Tsunami.
"I think it's partly because it's one of the classiest restaurants around," he observes. "The food is always superb and artfully presently."
Tsunami's history of great food and service has created a legacy of upping the region's restaurant game – a rising tide lifts all boats.
From their bento boxes to the vast variety of rolls – including the legendary John Breaux roll (spicy crawfish and avocado) or the Don Tuan (tuna, crunchy shrimp, cucumber, topped with snow crab, avocado, graham cracker, Kazan and Sriracha sauce), Tsunami serves up delicious lunches and dinners.
"They train their wait staff in a way that the experience is always pleasant," Bourque says. "I think that's really important in a restaurant that you don't feel harassed or overly taken care of. Plus, Tsunami's presentation and the quality of their food is something special, not to mention the freshness of the food and its varied flavors."