Worth a Second Look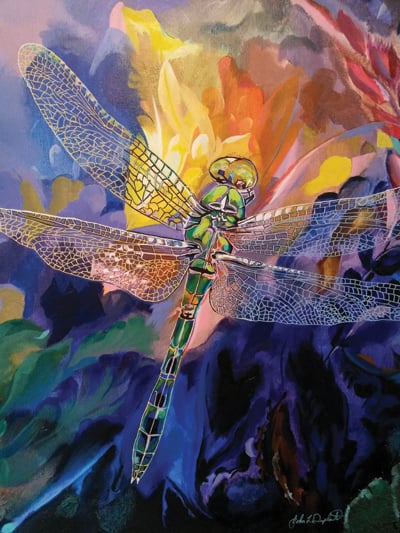 Look at the shotgun house, the orange one with the yellow door forever captured on canvas by John Duplantis.
Pretty familiar, right? The popsicle-colored exterior. The frame so slim an emphysemic wolf could blow it over. The lace curtains pulled back ever so slightly, either an invitation to peek inside or monitor the troublemakers outside. You've probably seen it, or one like it, before and as you keep browsing you're about to see it again.
There it is. Look at this shotgun house. It's the same orange-colored home on the same canvas. Same narrow design. Same curtains … but the whole painting is different. As Duplantis explains, that's done on purpose.
Comprised of blotted-on color square prints rather than precise, calculated brushstrokes, the second Duplantis shotgun-house painting arrives at the same destination as the first but takes an alternate route, summoning different emotions and interpretations along the way.
"I don't like doing the same thing, even though some of these things are the same thing," Duplantis says. "The subject matter doesn't have to change for it to be a completely different experience. That might mean the exact same subject matter, or it might be different subject matter that are all bonded by their relationship to my upbringing in southeast Louisiana.
" Whether it's a drawing, a painting or a photograph, I have to feel something. If it doesn't produce a feeling, I'm probably not interested in capturing it."
Drawing from a treasure trove of childhood weekends spent at his grandfather's camp, Duplantis' art catalog is sprinkled with local flavor. There's a sunset on the marsh, a paddle boat, an elevated summer cottage, a New Orleans balcony, a reed-covered duck blind. Duplantis doesn't see the need to apologize for painting the natural and manmade splendor all around him. It's aesthetically pleasing and eye-catching. So it's been done before. So what? It's never been done like this before.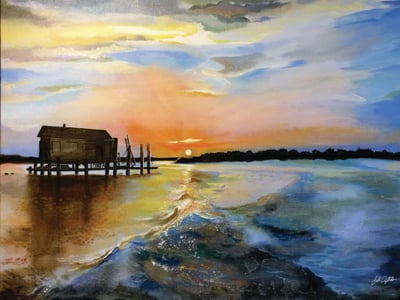 "I had a guy a couple weeks ago comment, 'You know, I've seen these shrimp boats painted before, but never from this strange view. It looks like the boat is following me.'" Duplantis says. "You'll see them on the side or a slight angle, but painting from a different perspective can make you look at stuff you've seen everyday – stuff you identify as being from this area – and see it all over again."
Much of Duplantis' interaction with admirers or potential customers occurs on the weekends in one of two places – the Frenchmen Street Art Market or Houma's Downtown Market near Courthouse Square. A special education teacher by day, these semi-regular public forums offer the perfect low-stress environment to showcase his works and overall talent. If he sells a painting, cool. If not, no biggie.
"I can take my time on this, slow down," he says. "There's not a quota to meet. There's not a bill this painting is intended to pay. There's no rush, so there's time to spend on the image – one image. I don't have four or five paintings going on at the same time. It's this one. This is my focus from start to finish.
"I tried doing two (paintings) at once, and it just doesn't work for me. I kept going to the one I liked better," he continues laughing. "All these years later, that thing still is unfinished."
Inspiration comes two-fold to Duplantis, depending on how you define it. His talent comes on loan from his mother, Dolly, and his passion to paint was fueled by his grandmother's modest commissions (a couple dollars when Duplantis was tiny, a couple hundred when he was older).
As for what actually lands on canvas, well, there's no real method to that. Subjects come and go. At first, Duplantis enjoyed painting local architecture because of its uniqueness and because, "you can't mess up the color scheme. No matter what combination you pick, you'll eventually find a house like that," he says.
Sometimes, inspiration simply fits the blank space. Duplantis' recent fascination with painting indigenous crabs sparked from the purchase of oddly-shaped canvases wide enough to contain extended claws. Much like the aforementioned shotgun house paintings, a couple of the crabs are almost exact copies but composed of varying colors and styles, mixing realism with the abstract.
"It just hits you, I don't know," he says.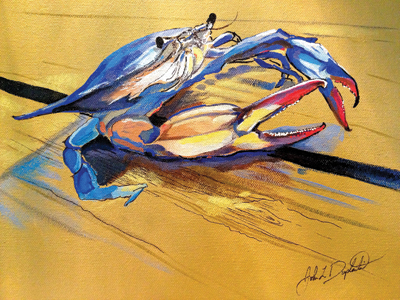 Like this past summer, for instance. Duplantis' Houma property was overrun by swarms of dragonflies.
"I call them mosquito hawks," he says, laughing. "There were hundreds or thousands of them buzzing around the yard and they were big. One landed near my porch, and I did a snapshot of it. I said, 'This would make a great painting.'
"I wanted to use colors that portrayed a feeling of summer. It was a bright day. I wanted it so you can feel something instead of saying, 'Oh, that's pretty.' If someone comes around and sees a painting and the first thing they say is, 'That reminds me of …' That's a success, to me."