Wine Accessories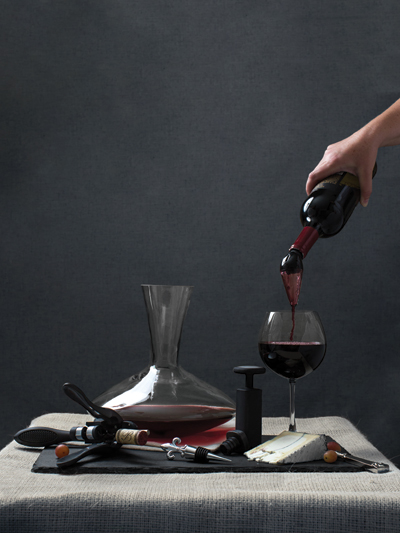 It takes years of tasting, training and probably a lot of natural talent to be a true wine connoisseur, but the rest of us can appreciate the art of imbibing. regardless of expertise. Here are some helpful tips – and handy devices – that you can use while hosting your next wine-and-cheese gathering. Cheers!
1. This Original Rabbit Corkscrew is a classic favored by the professionals. It can pull a cork in three seconds and then automatically release it. Its ergonomic design allows it to open any size wine bottle, and it comes with a 10-year warranty. Available at Bed, Bath & Beyond, 3617 Ambassador Caffrey Pkwy., Lafayette, (337) 988-5423.
2. A slate cheese tray is attractive and easy to clean, from World Market, worldmarket.com.
3. A decanter is used for serving wine, especially if it contains sediments. Its long slender neck opens to a wide body, increasing the exposed surface area of the wine, allowing it to react with air and "open up."
4. A decorative bottle stopper with a tight seal preserves age and freshness of leftover wine.
5. If you don't finish the bottle and plan on re-corking it, look into purchasing a Rabbit pump with two stoppers. It removes air from opened bottles of wine, preserving the taste until the bottle is reopened. From metrokane.com
6. Rabbit Aerating Pourer improves the flavor and bouquet of the wine. From metrokane.com
Avoid cleaning your decanter with soap. The decanter's shape makes it difficult to get the residue out. Instead, try using a mixture of crushed ice and coarse salt ­— they'll remove any residual wine without leaving behind their own aroma.