Where to Go for Soup in Acadiana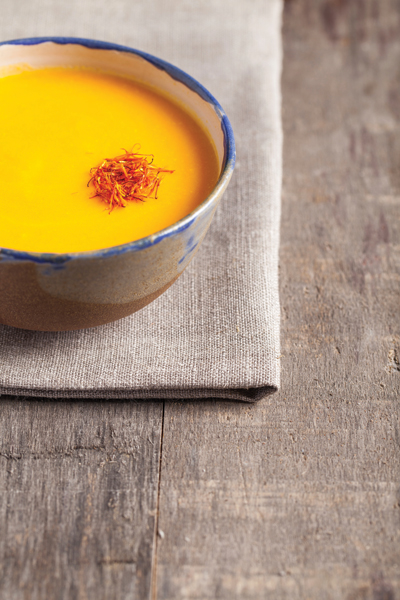 Louisiana's cold days may be few in number, but when they hit, it's to-the-bone chilly. For many of us, gumbo is the go-to food on wintry days – sometimes defined as any day under 70 degrees.However, life beyond gumbo is a reality, and a number of Acadiana restaurants serve additional types of soups that can warm the body and soul.
Village Cafe
1 Degaulle Square, Lafayette
(337) 981-8085 | villagecafelafayette.com
Village Café in Lafayette has a solid menu with a variety of great options, but when I'm in the mood for soup, Village Café's tomato basil soup is my go-to option. The soup is proof that excellent food doesn't have to be complicated. It's got that simple, but hard-to-come-by, just-right combination of tomato, basil and cream.
Of course, there are plenty of other reasons to go to Village Café too. I have become obsessed with the hand-fried potato chips and homemade ketchup they serve complimentary at every table. The wait staff prides themselves on excellent service.
Other Village Café favorites include the seared tuna, the meatloaf lunch special, and the crab cake sandwich. Their apple salad is also a tried-and-true winner.
If you're in the mood for a great wine, Village Café's selection and sommelier do not disappoint.
---
Creola Cafe
284 E. Martin Luther King Jr. Drive
Grand Coteau | (337) 662-3914
While we're on the subject, Creola Café in Grand Coteau also serves a delicious tomato basil soup. It's a local favorite and legendary among many students in the area. Creola Café's tomato basil evokes a certain sentimentality in Theresa Zaunbrecher of Rayne, who's a senior at Academy of the Sacred Heart in Grand Coteau.
"My grandma takes us to Creola Café every year for Grandparents Day," she says. "About two years ago, I tried the tomato basil soup my cousin had ordered, and I couldn't get enough."
Zaunbrecher and others agree that the soup is perfectly spiced.
"We've made it a tradition to go there every Grandparents Day until I graduate," she says. "This year will be my last Grandparents Day at Sacred Heart. It's bittersweet."
---
The French Press
214 E. Vermilion St., Lafayette
(337) 233-9449 | thefrenchpress.com
The French Press is one of Acadiana's most acclaimed restaurants. In fact, chef owner Justin Girouard is a two-time James Beard nominee. To continue the celebration that is The French Press, in October, Girouard was named one of six "Chefs to Watch" by Louisiana Cookin' magazine.
All of that is well and good, but if you're wondering what that means for you personally, let me clarify that news.
The French Press has a daily soup special. Neither I nor they can tell you the next time they'll have their butternut squash soup, but here is the thing: It is worth making regular stops by the restaurant throughout winter to hit it on the lucky days when the butternut squash soup is available.
The French Press' butternut squash soup is a thing of beauty and wonder.
"It's almost impossible to describe, but it's so much more than butternut squash," says Elizabeth Lyons of Lafayette. "The thick soup has got a salty-sweet flavor combination with lots of layers of flavor beneath that. It's complex, but it is wonderful."
One of the best things about The French Press is that even with all of its accolades, its lunch menu is still very reasonably priced.
Dinner is lovely too, but lunch seems like a real bargain
---
Cafe des Amis
140 E. Bridge Street, Breaux Bridge
(337) 332-5273 | cafedesamis.com
There are so many reasons to go to Café des Amis – the Wednesday night singer/songwriter nights, the Saturday morning zydeco brunch, the bread pudding, and the list goes on. But if you haven't tried Café des Amis' turtle soup, what's stopping you?
You are in Louisiana, after all.
Stella Theriot, of Gueydan, loves to go to Café des Amis for the turtle soup. She says the dark, flavorful and comforting soup is one of her favorites.
"The accompanying cognac offered in a tiny silver pitcher elevated the soup to an even higher culinary level," Theriot says. She believes Café des Amis' overall charm and menu reminds its patrons of a simpler time.
Tiffany Wyatt of Lafayette appreciates the dish's cultural uniqueness and says Café des Amis "serves it up perfectly."
---
Suire's Grocery and Restaurant
13923 Louisiana 35, Kaplan
(337) 643-8911
More turtle soup! If you want to try some fine turtle sauce picante, go to Suire's Grocery & Restaurant, just south of Kaplan on Highway 35. They sell it hot or frozen. Take your ice chest and bring some home. (While you're there, do yourself a favor and try the chicken salad sandwich.)
---
Longhorn Steakhouse
4248 Ambassador Caffery Parkway
Lafayette | (337) 981-8549
Yes, Longhorn Steakhouse is a chain, and we generally focus on locally owned restaurants, but if you've ever been to the Longhorn Steakhouse on Ambassador Caffery Parkway, you probably are as smitten as I am. I don't know how this restaurant trains its staff, but it works well. The staff is friendly but won't linger too long. They're attentive but not bothersome. And they're Johnny-on-the-spot with service. If you're looking for a great lunch option, check this place out.
While you're there for lunch, do yourself a favor and order the French onion soup. It's served steaming hot with a deep beef flavor and wonderful croutons. It's got crusty cheese around the edges and wonderful sautéed onions. It really is a great choice for soup as the weather approaches Louisiana's version of cold.
Also, Longhorn offers each table a complimentary basket of delicious bread and soft, creamy butter. Lunch is a reasonable price and overall, a very enjoyable experience.