Wedding Wisdom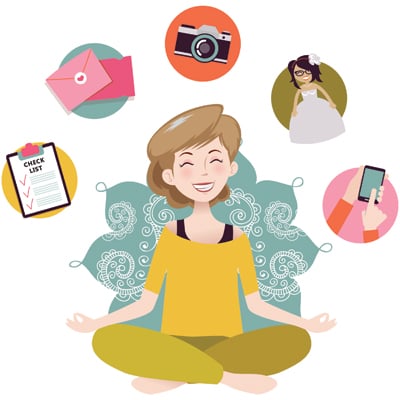 As my daughter's wedding approaches in July, and I'm making yet another list for keeping my house guests entertained for a week, all the Cinderella dreams have finally turned into realities. I give thanks to that essential timeline notebook that has become my daily meditation guide – as well as their year-long engagement.
As the wedding planner and caterer, I've found that it is essential to follow lists, not just make them. As the mother of the bride, part of my job is reducing the stress that comes with planning a wedding for a couple with extremely busy careers. You need to be a diplomat, play all sides and put out those fires, from that first "I'll never-talk-to-her-again" bridesmaid drama to the multiple family guest list debates. Keeping a sense of humor and sharing a laugh on the side is key. Your job is to lighten things up and serve as emergency back-up. And to take great, embarrassing pictures.
What started as an intimate seaside wedding in Destin, Florida, changed to a 200-plus gala at a lavish historic landmark, and ended as a twilight ceremony under moss-draped oaks and a south Louisiana-themed, summer poolside reception featuring Cajun cuisine for around 150 guests. Thankfully, I'll be in silk instead of sandy flip-flops.
Through all the tasks, my daughter looking for a wedding gown was the most memorable, fun and emotional decision of the entire production. It took around four months. She ended up finding the most gorgeous, flattering dress of all (and reasonably priced) on a tip about a "great little place." Among the best shops to visit in Acadiana are Sposa Bella and A-Net's Dream in Lafayette, Lemon Drop in Broussard and Bella's Bridal in Lake Charles. In Metairie, it's Bustles & Bows, David's and Pearl's.

---
Here are six essential tips for the Mother of the Bride:
1. Organization and Budget! Create a monthly, weekly and daily timeline calendar. Then stick to it, and the budget as well. That's the hardest part. You can be her Jimmy Cricket when it comes to the countless temptations along the way, from booking a band that's twice the price to stopping that fleeting "ahhh" moment for a couture gown that's just as lovely as the one she tried on last week.
2. Proofread everything, from the invitations to the program and announcements to avoid reprints, starting with the save-the-date announcement (hers came back with the wrong address).
3. Make appointments well ahead of time with the bridal shops, so that you have a knowledgeable consultant (instead of a newbie) that can find what you describe upon arrival. So, if your daughter wants a sheath-silhouette design in silk with a scoop back, a ball gown with a beaded tulle bodice, or a trumpet gown with Alençon lace and sparkle at the waist, they'll know exactly where to find it, and in your price range. Take pictures of the bride in each dress, so she can remember. If she is petite, explain that they'll be using clamps; most dresses on the rack come in larger sizes. Include the cost of undergarments, shoes and jewelry in the budget. Also, beware of online sales items at bridal shops, because they often aren't offered once you get there.
4. Keep a photo and video diary of memorable moments to share with wedding "fans" along the way and afterwards.
5. The best advice I can give parents is to not insist on their own points of view, but rather, to be supportive.
6. As the mother of the bride, you are her "mini-me." Have your cell phone on at all times, even at night. Be that shoulder to cry on, that friend to laugh with, and the one who will always be there, no matter what, as time goes by.