Warming Effect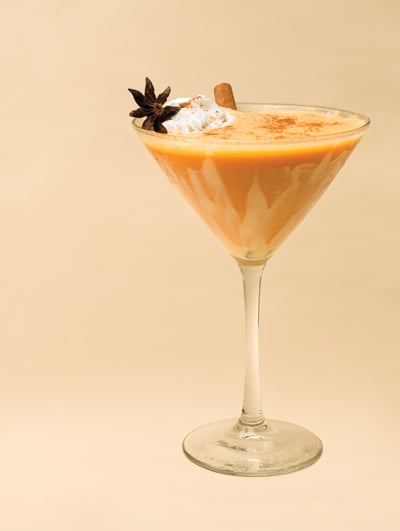 When the wind howls through the marsh well into February, we yearn for hot soups and comforting drinks to stay cozy until spring's first kiss. Blu Basil Wine & Grill in Lafayette has a new cocktail that is sure to diminish the chill. The refreshing drink is equally apropos for the warmer days ahead. Less than a year old, the popular 120-seat Vietnamese restaurant has a full bar and a soothing ambience enhanced by glass waterfalls and cherry blossoms. Live music attracts after-5 p.m. diners who enjoy small plates like duck sliders and buttery crab claws paired with creative craft cocktails.
From Carnival to St. Patrick's Day and beyond, Blu Basil's Thaitini is fitting for any celebration. With hints of cinnamon and vanilla, it will bring out your inner child, with a nice little adult kick. The cool, subtle sweetness of condensed milk harmonizes with a dash of spiced rum that adds a comforting, warm sensation, while a shot of vanilla vodka enhances the long, tingling finish. Executive Chef and co-owner Dang Nguyen complements such elegant cocktails with steaming bowls of Pho (opt for the filet mignon add-on), plus simmering hot pots with cook-your-own meats, seafood and vegies, festively served fondue-style.

---
Chef Dang Nguyen and Chris Nguyen also own the more casual, 45-seat Saigon Noodle (2865 Ambassador Caffery Parkway, 337-456-3317. saigonnoodles-lafayette.com), which was the first Vietnamese restaurant in town.

---
Thai Tea Spiced Martini
Place a scoop of ice in a cocktail shaker and add 4 ounces freshly brewed Thai tea, ½ ounce condensed milk, 1.5 ounces vanilla vodka, 1 ounce spiced rum, 1 ounce heavy whipping cream, a splash of vanilla extract and a splash of simple syrup, and shake the mixture hard for at least 10-12 seconds. Strain liquid into a martini glass rimmed with a light drizzle of condensed milk, sprinkle a pinch of cinnamon on top, and place a cinnamon stick in the drink laid on its side with a star anise floating in the cocktail for a spirited treat.

Blu Basil Wine & Grill 5451 Johnston St.. Lafayette. 337-456-1120. blubasilwineandgrill.com