Wanderlust Weekender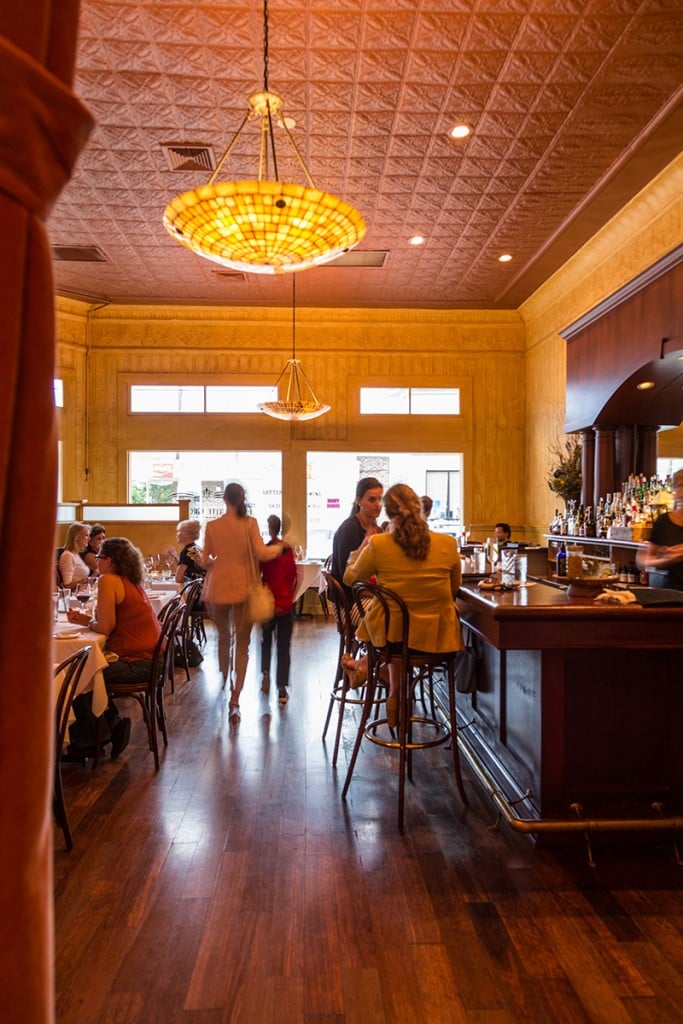 N
othing quite does the trick like travel. Whether you're heading to New Orleans during an action-packed Saints game weekend designed for a near-constant state of jubilation, or you're planning a laid-back, family-friendly, meat pie reunion inspired by the Festival of Lights in Natchitoches, it's best to plan with an insider's acuity. Friends will invariably follow.
NEW AND NOTEWORTHY IN NEW ORLEANS
For your next weekend getaway in the "big city," consider a few new downtown attractions sure to spark interest, even turn heads.
Who wouldn't want to come face-to-face with a live shark and live to tell the tale? Take your chances at the Aquarium of the Americas, where a 60-foot-long, 13,000-gallon "Shark Discovery" touchpool exhibit debuts in October, allowing visitors to both feed and touch "trained" live zebra sharks, coral catsharks, whitespotted bamboo sharks and rays.
If you're taking the party to Harrah's, check out the posh new Fillmore, a live music venue on the second floor (run by Live Nation, famed for the House of Blues) complete with a massive mural of Louis Armstrong. Visit the National WWII Museum's stunning new Bollinger Canopy of Peace landmark rising 148-feet above the museum's center (with a lighting system designed to rival the Superdome's) plus the snazzy rooftop bar at their new 230-room, eight-story, Higgins Hotel, opening in December and complete with Art Deco design elements.
Do you want to learn a few cocktail tricks? Head to the interactive, five-story Sazerac House cocktail museum opening in October (free), featuring a high-tech microdistillery, tasting rooms and virtual bartenders showing guests how to make cocktails on Canal Street.
Even the best home chefs are signing up for the New Orleans Culinary and Hospitality Institute's two-hour, hands-on "Enthusiast Courses" for non-professionals, held in the stunning five-story, 90,000-square-foot state-of-the-art school for culinary and hospitality professionals that opened in January (near the WWII Museum).
In City Park, the New Orleans Museum of Art (NOMA) has completed an elaborate six-acre expansion of the Sydney and Walda Besthoff Sculpture Garden with an outdoor amphitheater, and Café du Monde is now open in the newly renovated Casino Building (serving beignets until 1 a.m. on weekends). Steps away from NOMA, couples linger beneath the giant branches of the majestic Singing Oak, where dangling sculptural chimes ring dreamily in the pentatonic scale (it's a favorite spot for popping the question).
As a million dazzling holiday lights flicker in the park's giant oak trees starting Nov. 29 (kicking off the 33rd annual Celebration in the Oaks), families flock to the $47 million Louisiana Children's Museum that is newly situated on 8.5 acres in City Park, featuring a kids' farm-to-table culinary lab, hourly interactive mist sculpture shows, a Mississippi River simulation and an interactive coastal erosion area plus Acorn, a new café by restaurateur Dickie Brennan.
NOLA'S BEST BITES
It would be impossible to take in everything new the city has to offer in one weekend, but for those looking to dig into a plate of New Orleans' best, consider trying some of the top (Instagrammable) restaurants that are currently all the rage.
If you've ever spent a romantic Sunday afternoon sipping fine wines and sampling small plates while listening to gypsy jazz in Bacchanal's twinkling Bywater courtyard, you'll find their new Faubourg Marigny hot spot, Elysian Bar (a 2019 James Beard Award semi-finalist) is the place to be. It's tucked within a circa-1875 rectory belonging to a familiar provenance: the former Sts. Peter and Paul Catholic Church complex that has been transformed into the stunningly renovated Hotel Peter and Paul (named one of the "best new hotels in the world" by Travel & Leisure in 2019).
Masterminded by Bacchanal's proprietors, the buzzworthy Elysian Bar features specialty cocktails (try a Parisian Mai Tai if you dare), niche wines and acclaimed Chef Alex Harrell's intricate, evolving small plates (best bets: baked sunchoke custard with shaved asparagus and warm bacon vinaigrette; crispy beef cheeks in hot and sour broth with pickled peaches). The ambitious dessert program introduced in August is led by new pastry Chef Bronwen Wyatt, formerly of the James Beard award-winning restaurants La Petite Grocery, Shaya and Willa Jean.
Drapery-ensconced double parlors with Italianate marble fireplaces and Parisian banquettes (facing chess tables) flank a center hall leading to the buttery yellow, candy-red-tiled dining room with French doors overlooking a tropical courtyard. Keep going. Step outside and grab a courtyard table overlooking the church's towering stained-glass windows. The adjoining bar (a romantic sanctuary), staffed by local mixology stars, was abstractly sculpted from images of cypress trees.
Before joining Elysian Bar, Chef Harrell was asked to helm The Franklin, a recently reopened, art-filled gastropub that's worth a look in the Marigny. After Harrell chose the Elysian, Chef Dane Harris (formerly of Cochon) was chosen for The Franklin. The interior was stylishly revamped with contemporary art, and a notable new owner joined the team: Ken Jackson (Herbsaint's original partner with James Beard Award-winning Chefs Donald Link and Susan Spicer). This might explain the superb small plates (Herbsaint's calling card). A hidden local gem, it's a cozy spot for meeting up with friends before heading to nearby Frenchman Street for live music (check wwoz.org/calendar/livewire-music for schedules). Order a Jungle Cat cocktail, nibble on the "bar snacks" (smoked fish rillettes, duck liver mousse), get a round of fresh oysters or some beef tartare with pho garnishes to get the evening started.
If your bucket list includes giggling with the girls at a drag brunch, The Country Club guarantees a highly entertaining Saturday. The vibe at this local Bywater pool and dining complex has changed considerably since the swimming-in-the-nude option ended in 2014. But it's still wildly popular, LGBTQ-friendly and fun for all.
In the French Quarter, the utterly Parisian Justine is the biggest thing to happen since the $20 million rebirth of Brennan's in 2014. Once part of the Hurwitz Mintz furniture store, the elegant 200-seat brasserie from La Petite Grocery's James Beard Award-winning Chef Justin Devillier has been drawing Francophiles since opening in January.
Enjoy a progression of distinctly different areas: a casual café, an elegant formal front dining room, a sleek bar with a DJ station, a rear dining room with Parisian murals and a candlelit patio with an absinthe-spout fountain, plus burlesque shows. Expect the classics: croque monsieur, filet au poivre, foie gras, moules frites.
For a fabulous lunch, set your sights on Gianna, the hottest new Warehouse District haven and the latest from Chef Donald Link's Restaurant Group (since Peche Seafood Grill opened in 2013). Gianna's Chef Rebecca Wilcomb earned a Best Chef: South at the 2017 James Beard Awards while she was a chef at Link's first triumph, Herbsaint.
Simply put, Gianna dazzles. It is at once elegant and youthful, capacious and chic, enhanced with a massive unicorn sculpture that seemingly rises from twisted branches, and a giant octopus painting creating an illusion of crawling behind the long, gleaming bar. Rustic southern Italian dishes (from Wilcomb's grandmother) are given an unexpected spicy boost with bold New Orleans seasonings. Full-time forager, Ashley Locklear, scours local farms for the freshest produce used for antipasti and small plates (begin with tuna-stuffed peppers, crisp panelle chickpea fritters with honey and the oyster and artichoke gratinato). To enjoy the chef's full spectrum of flavors, ask for the "Feed Me" menu with fresh pastas, to be sure. There is an extensive bar menu and the wine list includes specialties from the Veneto region (Wilcomb's family still resides there).
Out of curiosity, you may want to explore the latest novelties while in the Warehouse District: The rapidly expanding Oprah Winfrey-backed True Food Kitchen featuring vegan, vegetarian and gluten-free options arrived in September in the The Julia, a new $50-million mixed-use development. Pop into the New York-linked Otra Vez for innovative, upscale tapas. Better yet, visit the fashionable Bar Marilou, which opened in fittingly grand fashion in the Maison de la Luz guesthouse by Atelier Ace, courtesy of Paris-based Quixotic Projects. Think caviar and bubbly. Hang around long enough, and you can almost hear the tiger carpets growl beneath rows of stilettos as chic millennials gather to sip and savor in the sultry, salon-like setting.
If you're feeling nostalgic about the recent passing of Art Neville or former Gov. Kathleen Blanco, look closely within The Grill Room's marvelous murals on the second floor of the Windsor Court Hotel.
Uptown, places are opening at a wild clip. Get a taste of the ultra-casual, rustic Thalia orchestrated by an acclaimed chef duo. The kid-friendly, 37-seat eatery offers creative interpretations of salads, pastas and snacks (plus a cool alligator mural). Opened by Coquette owners, Chefs Kristen Essig and Michael Stoltzfus (recurring nominees for Best Chef: South), who decided to move Coquette's Ana Castro (James Beard semi-finalist for Rising Star of the Year in 2019) to Thalia's nascent kitchen.
The owners of Tujague's recently launched Claret, a stylish new wine and cocktail bar with minimalist décor in the Farmhouse building on Magazine, and Drink Beauty is the city's first matcha-focused hybrid café with an L.A. vibe, complete with neon lips over the beverage bar and a no-cash policy (joining a string of recently opened places not accepting cash).
NOSTALGIC NATCHITOCHES
When you want to slow down, disconnect from technology and reconnect as a family, Natchitoches provides an ideal setting. The oldest settlement in Louisiana, this picturesque haven is filled with historic homes and holiday happenings.
Celebrate 30 years of "Steel Magnolias," the beloved Southern flick featuring Shirley MacLaine, Sally Field and Julia Roberts that was filmed in Natchitoches, during Blush and Bashful Weekend (Nov. 8-14) complete with a red-carpet movie premiere, an armadillo cake contest and the unveiling of the Natchitoches Film Trail featuring various site tours.
Take the family for a weekend of holiday cheer during the 93rd Annual Natchitoches Christmas Festival, which has evolved into a six-week-long celebration (Nov. 23-Jan. 6). During Festival of Lights, children of all ages are dazzled by 300,000 Christmas lights and 100 lighted set pieces illuminating the Natchitoches Historic District and Cane River Lake every evening at dusk.
Each weekend also brings a Holiday Kids Fest to the downtown riverbank with live music and Saturday night fireworks. The celebrations continue with a Christmas Tour of Homes, special holiday concerts and caroling lessons, boat parades, street parades, visits with Santa and the separate Christmas in the Park event featuring more than 250,000 LED lights and decorations, holiday treats and nightly Christmas character meet-and-greets. Step into a magical winter wonderland as Dark Woods is transformed for the holidays into four acres of enchanting, lighted walkways that include a candy cane lane and twinkling canopies complete with light shows that are synchronized to traditional holiday tunes.
Natchitoches also has a 33-block National Historic Landmark District with antebellum homes and abundant bed-and-breakfasts (don't miss a visit to the Steel Magnolia House B&B).
A walk down brick-paved Front Street appointed with wrought-iron balconies (similar to the French Quarter) brings quaint shops, restaurants and art galleries. A must while in town is Lasyone's Meat Pie Restaurant, the iconic eatery for the finest version of this beloved local fried pastry. While Mama's Oyster House serves terrific oyster poor-boys and blackened catfish (with a backdrop of moose heads and neon signs), opt for the more upscale Mariner's Restaurant, a nautically-themed seafood haven with a splendid view of sunsets and succulent, salty oysters on the half shell.
One of the newest attractions is the Louisiana Sports Hall of Fame heralding Louisiana's top athletes. For a step back in time, there are several notable plantations nearby, including Melrose dating back to 1796. Owned by a freed slave, it's where celebrated folk artist Clementine Hunter blossomed; her murals and paintings are displayed throughout the picturesque plantation.
Natchitoches and New Orleans will always attract those seduced by weekend wanderlust. Only four years apart, both cities celebrate their heritage, yet are worlds apart in temperament: Natchitoches is the settled, stately matron with a flair for entertaining, refined and cultured, yet playful with a side of sass; New Orleans is her sexy younger sister, constantly reinventing herself, complex and messy, yet hauntingly beautiful and impossible to forget.
NEW ORLEANS
Aquarium of the Americas
1 Canal St. • 800-774-7394
audubonnatureinstitute.org
Fillmore New Orleans
6 Canal St. • 504-881-1555
fillmorenola.com
National WW II Museum
945 Magazine St. • 504-528-1944
nationalww2museum.org
Sazerac House
101 Magazine St. • 504-910-0107
sazerachouse.com
New Orleans Culinary
and Hospitality Institute
725 Howard Ave. • 504-891-4060
nochi.org
City Park
1 Palm Drive • 504-482-4888
neworleanscitypark.com
Louisiana Children's Museum
15 Henry Thomas Drive • 504-523-1357
lcm.org
Bacchanal Fine Wine & Spirits
600 Poland Ave. • 504-948-9111
bacchanalwine.com
The Elysian Bar at Hotel Peter and Paul
2317 Burgundy St. • 504-356-6769
theelysianbar.com
La Petite Grocery
4238 Magazine St. • 504-891-3377
lapetitegrocery.com
Shaya
4213 Magazine St. • 504-891-4213
shayarestaurant.com
Willa Jean
611 O'Keefe Ave. • 504-509-7334
willajean.com
The Franklin
2600 Dauphine St. • 504-267-0640
thefranklinnola.com
Herbsaint Bar and Restaurant
701 St. Charles Ave. • 524-4114
herbsaint.com
Country Club
634 Louisa St. • 504-945-0742
thecountryclubneworleans.com
Justine
225 Chartres St. • 504-218-8533
justinenola.com
Gianna
700 Magazine St. • 504-399-0816
giannarestaurant.com
Peche Seafood Grill
800 Magazine St. • 504-522-1744
pecherestaurant.com
Otra Vez
1001 Julia St. • 504-354-8194
otraveznola.com
True Food Kitchen
801 St. Charles Avenue • 504-555-3900
truefoodkitchen.com
Bar Marilou
544 Carondelet St. • 504-814-7711 barmarilou.com
Grill Room at Windsor Court
300 Gravier St. • 888-897-6345 windsorcourthotel.com
Thalia
1245 Constance St. • 504-655-1338 thalianola.com
Coquette
2800 Magazine St. • 504-265-0421 coquettenola.com
Claret Wine and Cocktail Bar
1320 Magazine St. • 504-766-9425 claretnola.com
Drink Beauty
3424 Magazine St. • 504-766-0873
drinkbeauty_nola.com

NATCHITOCHES
Blush and Bashful Weekend
natchitoches.com/event/blush-bashful-weekend
Christmas Festival
natchitocheschristmas.com
Festival of Lights
holidaytrailoflights.com/natchitoches
Christmas in the Park
4343 University Parkway in Dark Woods
christmasintheparkla.com
Steel Magnolia House
320 Jefferson St. • 318-238-2585
steelmagnoliahouse.net
Lasyone's Meat Pie Restaurant
622 Second St. • 318-352-3353
lasyones.com
Mama's Oyster House and Papa's Bar & Grill
608 Front St. • 318-356-7874
mamasandpapasnatchitoches.com
Mariner's Restaurant
5948 Hwy. 1 Bypass • 318-357-1220
marinersrestaurant.com
Louisiana Sports Hall of Fame
500 Front St.• 318-238-4255
lasportshall.com
Melrose
3533 LA-119 • 318-379-0055
melroseplantation.org