Unfinished Business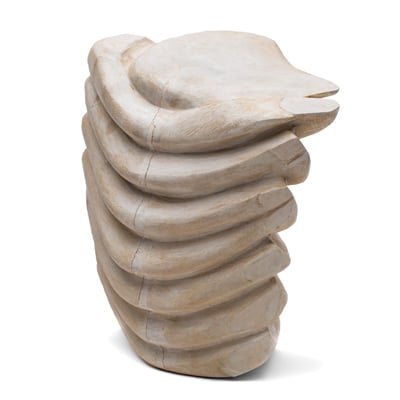 To the impressionable child, art imitated life – the life she would one day live, which conveniently enough would be a life of art.
Actually, Chryl Savoy can probably explain the first chapter of her story much better than that tongue-twisting sentence.
"See, really, this all started with a movie, Moulin Rouge," she begins.
Right, Moulin Rouge. Not the cheesy recycled flick from a couple years ago with that Christina Aguilera song that played insistently when you were stuck in traffic. Savoy is speaking of the original, the 1952 classic directed by John Huston and starring a young Zsa Zsa Gabor, the one she watched with her family in a theater outside their hometown of Mamou.
In a movie filled with memorable scenes and quotable lines, the sequence that Savoy couldn't shake involved main character, Henri de Toulouse-Lautrec, a struggling French artist who takes a nightclub owner's offer to sketch a promotional poster in exchange for free alcohol for a month.
"I thought, 'Well, you can draw when you're little, but when you get older you have to do adult things, like being a doctor or a lawyer,'" she recalls. "But when I saw that, that was it. Oh, wow! You can do that? I was totally into drawing and painting and sculpture. Art was part of my life from that moment."
Like, literally that moment. Immediately after the movie, Savoy closed the door to her room and sketched the entire evening. Finished drawings were left on her bed and fell to the floor when Savoy slept. Her parents made her pick them up the next day.
From the floor, Savoy's art has been displayed in museums both near and far over the course of her four-decade (and still counting) creative voyage – from just down the road at UL's Hilliard Museum or the New Orleans Museum of Art to all the way to Monterrey, Mexico at Galleria de Academia de Artes Plasticas. Savoy studied abroad at The Academy of Fine Arts in Florence, Italy and received degrees from LSU and Wayne State (Michigan).
In May 2015, Savoy retired as an art professor at UL, ending an accomplished teaching tenure that dated back to the 1970s. Along the way, besides inspiring others to follow her career path, Savoy was recognized by the university, receiving the Outstanding Advisor Award and the Beacon Club Teacher of the Year Award.
Savoy also was awarded the BORSF Grant for the development of an Interdisciplinary Foundry and Mold-Making Studio, as well as two Instructional Improvement Grants for the Development of an Experimental Drawing lab.
As far as awards Savoy earned off campus, well, there's a bunch: Best of Show at the 1st Marjorie Morrison Sculpture Biennial, Hammond Regional Arts Center (Hammond, LA); Sculpture commissioned by the Alexandria Museum of Art, 1993, for sculpture at the 27th Annual Juried Art Exhibit, Tom Peyton Memorial Exhibit in Alexandria; for drawing at the Premiere National Annual Exhibition, World Trade Center in New Orleans; the Patron Award for painting at the 19th Annual Tom Peyton Memorial Juried Art Exhibit in Alexandria; the Samuel Weiner Sculpture Award, 51st Regional Exhibition, R.S. Barnwell Garden and Arts Center in Shreveport, along with honorable mentions for the two sculptures at the 13thAnnual Piedmont Sculpture and Painting Exhibition, Mint Museum of Art in Charlotte, North Carolina and a sculpture recommended for the Purchase Award, Artists Biennial, New Orleans Museum of Art.
---
---
Currently, though, Savoy's focus is finishing a 5-piece sculpture series that began in 2010 and has progressed slowly because of family issues and Savoy's health. The theme, inspired from days spent taking care of her father, is human limitations.
"Three of the sculptures are done," Savoy says. "I like working in series because it helps collect your thoughts, but this has been hard, because when it hangs around, those thoughts never leave you alone. I'm finally getting my studio together, and once I get (the materials for the sculptures) I finish the series. It'll be nice to feel normal, again."
Interesting choice of words considering Savoy is the daughter of a doctor and went to LSU originally as a pre-med major. Plus, she says, growing up in the northern parts of Acadiana – the Cajun Prairie areas of Louisiana – art wasn't really a part of everyday life.
"In Mamou, let me tell you, there was one art book in the library, ONE," Savoy says. "And that's why I really had no exposure to art until I saw that film (Moulin Rouge). It wasn't accessible. I was doing it on my own. And that's why, in college, art was going to be just a side thing, a hobby. But I took one art elective course and it was, 'Oh no. I have to do this. I have to switch.'
"My Dad nearly lost his mind," she continues, now with a laugh. "I used to watch him in surgery and he'd say, 'There's my daughter the beatnik.'"
It didn't bother Savoy. In fact, she's had both influencers and detractors throughout her time in art, particularly sculpting. She speaks glowingly of the professor with the German accent who introduced to the medium, teaching in a way that made her "float back to the dorm room." In the next breath, Savoy talks about the difficulty of breaking into a predominantly all-male sculpting world, and the verbal cheap shots that were uttered to her along the way to her.
"I got into this, sculpting, as an enthusiastic spirit, and I remain an enthusiastic spirit," Savoy says. "Dealing with resistance, and finding a way to do things is something I've always dealt with well, and that's because my attitude has always been right and I have a real curiosity. That's enough to get you through."