Trynd-Setter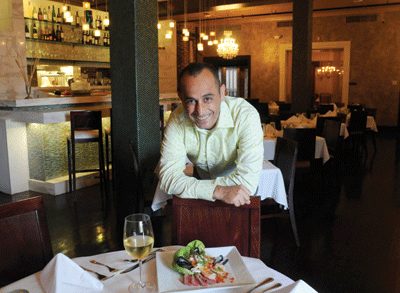 Nidal Balbeisi stands on the aging steps of an architectural outlier, a red-brick temptress on a street of urban conformity.
A single iPod ear bud dangles from his neck. His designer shirt is pressed, unbuttoned one button past business casual. His fingers are engaged in an eloquent dance with a pack of Marlboro Reds, fidgeting like children in the backseat of a station wagon. Eyes that have witnessed the fickle ebbs and flows of the Lafayette restaurant scene are shielded behind sunglasses, protected from the glare of a day so beautiful it should be bottled and sold.
One look at the entire package, and it's clear Balbeisi exudes an aura of grown-up cool – displaying the type of panache that turns diners into regulars … once he drops his child off at school every morning.
It is through this desirable image that Balbeisi has constructed a restaurant empire in Lafayette; in doing so he's achieved a level of celebrity unmatched by his local culinary contemporaries. Less than a decade ago, Balbeisi opened Zeus on Pinhook Road across from the Oil Center, introducing Middle Eastern fare such as shawarma and moussaka to a community that already has its own famous food identity. Needless to say, the concept was a gamble.
But the gamble worked. Zeus has multiple locations in town, including a couple of express restaurants in River Ranch and Johnston Street.
Then, Balbeisi tried his luck (and succeeded) in the saturated niche of Mexican eateries with Agave – a popular downtown indoor/outdoor dining and drinking oasis facing Parc Sans Souci.
But those ventures are dwarfed by the complexities involved in and the immense planning (not to mention financial commitment) that went into Balbeisi's edible opus, Trynd, a hip Italian fusion restaurant neighboring Agave on Vermilion Street. With its surplus of exposed brick and generous use of Italian marble and leather, Trynd pulls off the neat trick of offering exclusivity without coming off as snobbish.
Earlier this spring, Balbeisi formally christened his new establishment by hosting a charity fundraiser featuring New Orleans Saints coach Sean Payton called "The Trynd of Giving." Guests posed for pictures alongside the shiny Lombardi Trophy while Payton emceed a sports memorabilia auction.
"That night was very special, very beautiful," Balbeisi says. "It was everything we hoped it would be. But it was one night. There was a night after that and a night after that, and there will be a night tonight. Each night is an opportunity, and that's the challenge: Make your customer happy, which makes yourself happy."
Trynd is housed in a two-story century-old Masonic Lodge littered with original design nuances not seen in any of its downtown building brethren. Balbeisi sheepishly smiles when he says he fell in love with the place – then a beer-splattered nightclub called Stan's – immediately upon moving to Lafayette. It's just so different, he thought. So full of potential. "This building was calling out to me: 'I'm here for fine wine. I'm here for a great steak. I'm here to be seductive. And I'm here to sit the sitters,'" Balbeisi says. "Downtown was craving, I believe, a good upscale restaurant for the high-end personnel that work in the businesses around here.
"When I acquired it, we went over and over and over how are we going to respect the originality of this building while designing it to our needs?" he continues. "You cannot ignore the history of the building. If anything, we wanted to bring the history back while accommodating the modern world."
Months of planning went into overhauling the vast space. Dark woods and leathers are staples throughout, though the four pockets that comprise the first and second floors exude their own styles and personalities. To the left of the entrance is the main dining area, complete with a marble-laden "raw bar" that's candy to the eyes. There, happy-hour patrons can down raw or char-broiled oysters while enjoying a drink. In the other direction on the main floor is Trynd's modern martini bar, complete with pub-style chairs, televisions, shelves of alcoholic selections and plenty of room to socialize both inside and outside on the patio.
Up the stairs is a cigar bar with a walkway to a spectacular second-level balcony area that affords patrons the opportunity to soak up Lafayette's palatable weather. Back inside, Balbeisi shows off the main reception or banquet room – the dance floor area in the old Stan's club. The space occasionally features live music acts and is replete with a large cabinet for Trynd regulars to keep their favorite wines, liquors or cigars.
It was in this room that Balbeisi publicly thanked those responsible for his success during the charity function featuring Payton, sharing with everyone the story of his humble beginnings and exponential professional growth. In the early 1990s, Balbeisi escaped the turmoil in the Middle East by coming to the United States, where he enrolled at LSU. Carrying less than $100 when he arrived, Balbeisi found work as a waiter.
"I learned something: If people like you and love you, they will forgive you if you make a mistake," Balbeisi says. "I found a love for the restaurant business and a love for people. This business is the hardest business ever because you are dealing with a human being and each one is completely different. You can go to school, you can learn about it, but if you just don't have it, you don't have it."
As one of the more visible restaurateurs in town, Balbeisi has energy and passion that tends to be infectious, providing that little extra something that separates his brand from the sea of competition.
"Is it going to be the food? Well, other restaurants have food. They might even have better food than I do. Is it going to be the tables, the chairs, the ambiance? Well, they all have that," Balbeisi says. "What other restaurants don't have is me and my staff, making people say 'wow!' when they walk in and out of your place. A wise man told me, it's about the 'wow.' It's not about the money; it's about the 'wow.'"