Traces of Home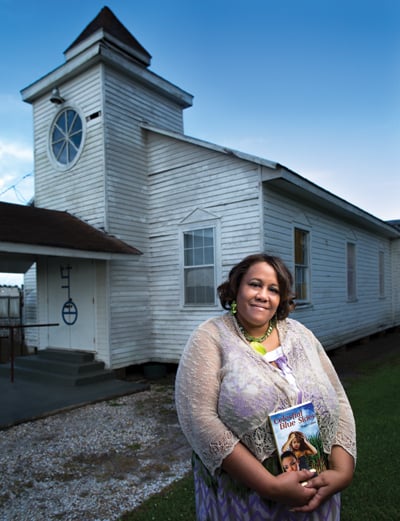 Before she gleefully shows off her 206-page paperback baby, author Maggie Perrodin Collins takes a moment to tell us about the labor of love.
"Eight years," she answers when asked how long her novel, Celestial Blue Skies, took to complete. "I would just get on that computer and peck away, just forgetting all about the time. Didn't even look at the clock. I just got so engulfed in these characters; I lost myself in them – so many characters, so many nicknames, but you feel like you know them. They become family."
Speaking of family, the same can be said of the editors and staff at Battered Suitcase Press, who shepherded Collins' project through rewrites, plot shifts, perspective changes until it was finally put to bed last year.
Since then, Celestial Blue Skies has not only received glowing online reviews, but has also fared well in some of the most esteemed literary competitions in the country. Collins' book was a finalist in the William Faulkner Creative Writing Contest, shortlisted for the Ernest Gaines Award and nominated for the Pushcart Prize, which recognizes the best small-press publications.
On top of that, there have been various book signings throughout South Louisiana, plenty of book club speaking engagements and a steady sales thanks to word-of-mouth recommendations. And while this has all been quite flattering, the attention and recognition can't match the equal mix of joy and pride Collins felt when she first laid hands on her finished work.
"Oh, it was wonderful," Collins says of holding the book. "When I saw that cover for the first time, it's like (the publishers) read my mind. They cradled and comforted my baby. Ohhhh, they gave it the best passage out of that birth canal, because it's just so beautiful."
Set in the fictional town of Belle Place, Louisiana – a community you can't go to, but will undoubtedly recognize because of its resemblance to rural outposts found in Iberia, St. Landry and Vermilion parishes – the novel tells the coming-of-age tale of Celeste Bastille. Reared in a poor region by a mentally ill mother who earns money in the world's oldest profession, Celeste struggles with her sense of identity and purpose. Often caught in an emotional tug-of-war between chasing her own ambitions and taking care of family, Celeste quickly becomes an empathetic heroine to most readers who often pepper Collins with questions about how much personal truth is contained within this work of fiction.
"Everyone always asks me, 'Is this real? Is this really your life! Because the characters are so real,'" Collins says. "It's certainly not autobiographical, but I did take my rural roots and my Francophone culture and let that be my guide. I like to write about what I know.
"Not too many people write about Acadiana who are from Acadiana, you know? I wanted to write a piece of fiction, but still have it feel authentic," Collins continues. "Because if you're from here, you own a piece of this place. It's part of me. It's part of my blood. It's part of who I am … This is a true Louisiana novel."
Collins grew up the quintessential small-town girl. She jokes she was "born in the sugarcane fields," and while that might be a bit of a stretch, it's not too far off from her glorious but gritty childhood in Loreauville. She describes her family as a small-town Brady Bunch – close-knit, strong, dependent on each other because frankly, they didn't have much else. Hot water was boiled on the stovetop. As a young child, Collins' house didn't have a phone. Most trips into town were traveled on foot.
The book mobile that occasionally came through town really fostered Collins love of the written word.
"It was a life like Celeste's life – not luxurious but lovely," Collins says. "And it's not like I'm talking about the olden days. Heck, I'm only 45 years old."
Collins majored in English at UL, writing for the student newspaper and the yearbook to hone her talent. While working as an educational diagnostician in Jefferson Parish, Collins began pounding out the opening chapters of her novel, which was originally titled The Curse of the Mulatto. The first excerpt of Collins' book appeared in a 2009 issue of Louisiana Cultural Vistas magazine. Five years later, she finished it.
Because completing one book was more marathon than sprint, Collins is intentionally vague when asked what lies in store for Celeste next. To be honest, there's still shelf-life in Celestial Blue Skies, evidenced by the book signing hosted at the New Iberia Library this spring. All Collins really knows for sure is that she'll write again, because there's more to Celeste's story.
"Celeste is very complicated," Collins says. "She almost wants to hide her beauty, because she doesn't want to be like her mother. She has to grow up quickly to take care of the family. I don't want to spoil the story, but Celeste is going to do some very strange things. I recall a book club read my book and they told me, 'I would have never done what Celeste does at the end.' I like hearing that, because it means they lost themselves in the novel."

To learn more about Maggie Collins, visit her facebook page at facebook.com/CelestialBlueSkies