Tops of Acadiana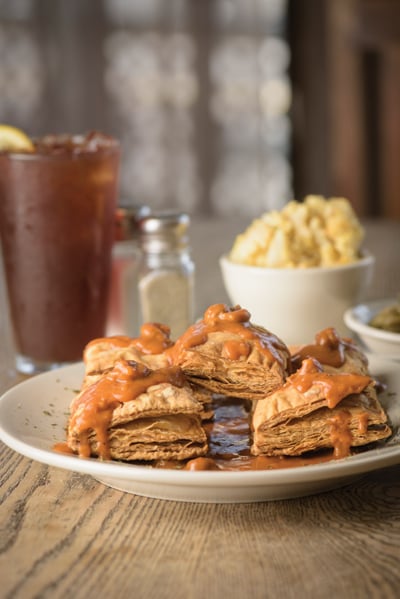 In Acadiana, there's no shortage of delectable food, boogie-down music, talented individuals, stylish shops, tasty brews and places for cultural enlightenment or entertaining adventures. Which makes it nearly impossible to pick and choose favorites. Perhaps we are gluttons for punishment, however for the sake of discovery and debate, we once again put ourselves in harms way to poll readers and the Acadiana Profile staff and contributors for our annual Tops of Acadiana feature. Fortunately, none of the readers came to blows (that we know of) and the newsroom remains a fisticuffs-free zone, but we can't promise there won't be continued deliberation as you pore over this year's list. We plan to keep this one handy all year round for those moments when we ask the age-old question, "What do you want to do?" From boudin and bed and breakfasts to beer, bands and everything between, we offer up the 2016 Tops of Acadiana Reader's Choice and Editor's Choice picks.

EDITOR'S CHOICE
Place for Live Music
Café Des Amis
Doing the zydeco hop with a side of eggs is one of our favorite ways to start the day. Each Saturday morning, the lines start at around 7 a.m. for the rollicking zydeco breakfast at Café des Amis in Breaux Bridge, where folks yell "Wanna dance?" over grilled crawfish biscuits, "got boudin" and "don't mess with my tasso" omelets served at packed communal tables. Hot zydeco bands unleash foot-stomping frenzies among two-stepping regulars circling the crowded dance floor.
140 East Bridge St. • Breaux Bridge • 337-332-5273 • cafedesamis.com

---
Meteorologist
Rob Perillo of KATC
The sun will come out, tomorrow. Wait, or will it? To find out, tune into KATC because you can bet your bottom dollar weatherman Rob Perillo has the answer. One of Acadiana's most recognizable faces, Perillo not only dispenses advice on whether we'll need a jacket tomorrow, but calmly shepherds south Louisiana through major hurricanes and other weather phenomena like the recent late summer floods. Fueled by enough caffeine to power a lawnmower, Perillo's longest emergency shift lasted 44 hours. Even more impressive: "I vividly recall every one of those hours," he says.

---
EDITOR'S CHOICE
Chef
Chef Mohammed Chettouh at La Truffe Sauvage
Before opening La Truffe Sauvage in 1998, the affable French-speaking Algerian Chef Mohammed Chettouh honed his culinary skills at such landmarks as the famed La Tour d'Argent in Paris and Houston's Ritz-Carlton. We love it for dinner classics, including Pot au Feu de Poissons and Blanquette de Veau, trailed by sorbets, French cheeses, intense chocolate soufflés and the utterly sinful white chocolate crème brûlée.
815 W. Bayou Pines Drive • Lake Charles • 337-439-8364 • thewildtruffle.com

---
Local News Station
KATC
Considering KATC's roster already possesses Acadiana's favorite anchor and favorite meteorologist, it's of little surprise that it's also the region's No. 1 news station. Besides Perillo and Wirtz, KATC also features trusted 2014-2015 Tops of Acadiana winner and everyone's best friend Marcelle Fontenot, her nightly co-anchor Jim Hummel, sports director Travis Webb along with StormTeam 3 members Dave Baker and Daniel Phillips. KATC.com

---
News Anchor
Tracy Wirtz of KATC
Forget that $4 cup of coffee with your name butchered in black Sharpie. Tracy Wirtz — a smiling, seemingly perpetually upbeat, pixie-cut blonde percolator — is just the jolt all of Acadiana needs to start each day. The longtime host of KATC's "Good Morning Acadiana," Wirtz is up before the sun, cheerfully giving us the news while we foggily reach for our glasses from the nightstand. Wirtz keeps those positive vibes flowing after the credits roll, too. Wirtz heads up KATC's St. Jude Dream Home endeavor each year and is deeply involved with other projects that benefit the children's research hospital.

---
Pizza Joint
Deano's Pizza
When most think of Louisiana cuisine, pizza doesn't immediately come to mind. The folks at Deano's, though, are trying darn hard to change that. Deano's menu features your typical toppings and typical specialty pies like a meat lover's choice cleverly named the Tee Rex. However, what puts this place a slice above the rest are regional takes such as the Cajun Canaille, topped with shrimp, Louisiana smoked sausage and jalapeños. Or how about the Muffalata Pie, which is basically a thin-crust version of the popular sandwich, complete with the signature Italian relish. deanospizza.com


Deano's calls this slice of heaven the Cajun Canille, one of a handful of specialty pizzas on the menu at Acadiana's premier pie destination.

---
Boudin Spot
Billy's Boudin & Cracklins
Raise a rice-and-meat-filled link in the air like LeBron holding a trophy, because it's back-to-back for Billy's Boudin. Easily our most spirited and delicious category is topped again by the little shop that could in Scott. Because Billy's knows you need your Boudin fix fast, they offer traditional walk-up service plus a drive-through window for those capable of chewing and steering at the same time. billysboudin.com

---
EDITOR'S CHOICE
Band/Musician
Lost Bayou Ramblers
We love the riotous Cajun rock of the Grammy-nominated Lost Bayou Ramblers. They will perform their revved up, sizzling hot Cajun hits Oct. 16, during Festivals Acadiens et Créole in Lafayette. The wildly popular local touring group blends traditional Cajun with a medley of punk and rock. Fiddler and front-man Louis Michot keeps the language going by singing lyrics in his family's beloved Cajun French.
Visit lostbayouramblers/bandcamp.com for album and flood fundraiser info.

---
Golf Course
Le Triomphe Golf & Country Club
For one Spring weekend, bright and budding golfers congregate at Le Triomphe Golf and Country Club for the Chitimacha Louisiana Open — one of two PGA sponsored events held in Louisiana. The other 51 weeks see much shorter drives and higher scores from the rest of us. Still, it's a gorgeous 18 holes. For more than 20 years, the Robert Trent Jones, Jr., signature course has been rated as a top five play in the state by both Golf Digest and Golf Week magazines. The beautiful grounds are also home to the Le Triomphe Teaching Academy, a world-class indoor training facility. letriomphe.com

---
EDITOR'S CHOICE
Spa
Spa Du Lac at L'Auberge Casino Resort Lake Charles
After an afternoon swim in the heated pool and tall cocktails in private cabanas, we can't think of a better activity than getting pampered at the luxurious Spa du Lac with detoxifying seaweed wraps and exfoliating micro-derm facials. Next, cozy up near the roaring fire in Ember's piano bar, then hit the dance floor at Jack's, where the party often spills outside near the lazy river.
777 Avenue L'Auberge • Lake Charles • 337-395-7777 • llakecharles.com


The mouth-watering, 42-ounce prime "Tomahawk" ribeye steak is wood-grilled to perfection and ceremoniously carved tableside at the romantic Embers Grille in L'Auberge Casino Resort.

---
Casino
(TIE) Cypress Bayou Casino & L'Auberge du Lac
They say a tie is like kissing your sister, which when you think about it is gross, so let's focus on great gambling spots instead, OK? Cool. Located in Charenton, Cypress Bayou Casino has 1,300 slot machines, 35 different table games, plus high stakes Indian bingo once a month. To sustain patrons who burn a bunch of calories from carrying a thick wallet or purse around, Cypress Bayou features six places to nourish up: Mr. Lester's Steakhouse; Tsunami; Loco Mexican Grill; Mabel's Kitchen; Fresh Panini Sandwich & Coffee Bar; and Café Delphine. Since you're on a hot streak, might as well press your luck at L'Auberge Casino Resort in Lake Charles. It too features world-class gaming, world-class dining and world-class entertainment, along with a luxurious hotel with beds big enough to accommodate sleeping next to your piles of cash. cypressbayou.com, llakecharles.com

---
Museum
Children's Museum of Acadiana
Hey kid, step over that velvet rope, break that glass case, and get your gooey fingers ready to touch everything! Wait, don't actually break that glass case. Do it figuratively. The rest, though, should be taken literally since practically all exhibits are hands-on at the Children's Museum of Acadiana. There's a full-sized ambulance with enough sirens and lights to annoy even the most tolerant of parents, a ton of cool building block areas, and a replica TV newsroom so you can hone your skills and bump Perillo and Wirtz from this list in 20 years. childrensmuseumofacadiana.com

---
Boutique
Sisters of New Iberia
Whether it's for work, play or some hodgepodge of both, Sisters of New Iberia can dress any woman up for any occasion. The clothing boutique features tops, skirts, pants, shorts and shoes made by national brands and smaller independent designers. Be sure to check Sisters' various social media platforms for regular sales and specials. facebook.com/sistersofnewiberia

---
Bed and Breakfast
(TIE) Bayou Chateau & T'Frere's
Another tie! Guess that means tourists and locals alike will have to sleep in two beds and eat two breakfasts to say they've experienced the best Acadiana offers. Bayou Chateau is nestled right in the heart of downtown New Iberia, offering spectacular views of Bayou Teche. The facility is also pet friendly. T-Frere's, a historic bed and breakfast dating back more than a century, can accommodate up to 20 guests nightly, and is a popular destination for paranormal fans as the place is rumored to be haunted. iberiatravel.com/where-stay/bed-breakfast/388, tfrereshouse.com

---
EDITOR'S CHOICE
Party Venue
The Alligator Bar
The handsomely restored 10,0000-square-foot historic building overlooking a 250-year-old church in downtown St. Martinville was the home of Ma Maison restaurant and the unique 35-seat circa-1890s, all-cypress, alligator skin-topped Alligator Bar that featured live music. We are suckers for a great reinvention story and the Alligator Bar has it in spades. Most recently, it was transformed into a special events venue that is now popular for parties, rehearsal dinners, weddings, business meetings and family reunions. Put on your party hat for stiff cocktails and fun in downtown's finest setting.
100 N. Main St. • St. Martinville • 337-342-2593

---
Seafood Restaurant
Don's Seafood Hut
For more than 80 years, the good folks at Don's Seafood Hut on Johnston Street in Lafayette have been filling our stomachs with the bounty of good eats found in the waters of south Louisiana. The menu is a hybrid of traditional Landry family recipes coupled with modern takes such as Zydeco Shrimp. The place swells with patrons during crawfish and oyster seasons. Weeknight dine-in specials along with a 2-for-1 happy hour also seems to regularly draw a crowd. donsseafoodonline.com

---
EDITOR'S CHOICE
Local Brew
Bayou Teche Brewing
Son-of-a-gun, we gonna have some beer and fun on the bayou, especially if it's happening at our pick for Best Local Brew. The best time to visit Bayou Teche Brewing and sample the popular 24 beers on tap (including top seller LA 31 Biere Pale) is on weekends with free live music on the front porch. Knott family members lead the colorful Saturday morning tours that often include tales of their bootlegging great-great-grandfather and his beer-drinking monkey.
1106 Bushville Highway • Arnaudville • 337-303-8000 • bayoutechbrewery.com


Bayou Teche's LA-31 Bière Pâle is utterly refreshing with a mildly bitter afterglow.

---
EDITOR'S CHOICE
Sandwich
Poor Boy at LeBleu's Landing
Adjoined to the family-style LeBleu's Landing, known for its first-rate seafood, steaks and generous buffet, is a terrific specialty meat department featuring alligator tail meat, turduckens, stuffed chickens, boudin and a variety of excellent sausages (ask for the earthy grilled deer sausage poor boy, not on the menu). It may not be the first place you think of when craving a sandwich, but it's one of our go-to haunts. Try the mini crawfish pistolettes and the ample fried oysters.
202 Henning Drive • Sulphur • 337-528-6900 • lebleauslanding.com


Enjoy perfectly fried Gulf shrimp on the over-stuffed poor boys at LeBleu's Landing.

---
EDITOR'S CHOICE
Spot for Coffee
Rêve Coffee Roasters
An oasis for java lovers and much-needed fuel for our editors and writers, Rêve takes its single origin and blended coffees seriously. The locally owned micro-coffee roaster offers specialty grade beans that are shipped to retailers on the day they're freshly roasted. Enjoy latte art competitions, live music, poetry readings, breakfast burritos and a mouth-watering pork belly BLT in this spacious, hip haven. Say hi if you see us hovering over a story and a pour over.
200 Jefferson St. • Lafayette • 337-534-8336 • revecoffeeroasters.com


The alluring aroma of freshly made coffee at Rêve Coffee Roasters puts visitors in a trance at downtown's latest java spot.

---
Italian Restaurant
Marcello's Wine Market Café
Instead of peeling back the plastic film on zapped lasagna and dining in with your DVR, why not swing down to Marcello's in South Lafayette? The dinner menu is loaded with choices unavailable in the frozen-food aisle, like mozzarella impanata, fresh mussels, linguini tritone and lamb ragu. The dessert menu consists of five items — tiramisu, cannoli, Anna tutta panna, limoncello mascarpone cake and cioccolatissimo. We suggest ordering all of them. marcelloscafe.com

---
Steak House
Ruth's Chris
What's better than a steak? A steak served on a 500-degree platter that sizzles upon arrival like a band of trumpeters announcing forthcoming red-meat royalty. That grand entrance is reserved for every cut of butter-topped beef presented at the high-end Lafayette restaurant on West Pinhook Road. Don't get too distracted, though, because there are plenty of mouth-watering sides that deserve attention, too, like the creamed spinach and mashed potatoes. ruthschris.com